They say a lot can change in a year. Contrary to that popular belief, Kim Jaejoong's fans have proven their loyalty and support for him can withstand the test of time.
It took over a decade for Jaejoong to return to the Philippines, and 14 years to finally meet his fans through a fan meeting in the country. Since his debut in 2003, the singer-actor has been blessed with various TV appearances, dramas and two full-length solo albums under his belt. After his busy schedule from the recently concluded drama Manhole, he was able to pull off a way to thank his fans personally through a series of fan meetings around Asia.
The 2017 Kim Jaejoong Asia Tour Fan Meeting, which kicked off in Seoul last October finally made its way to Philippine shores on Thursday, November 30 at the Smart Araneta Coliseum in Cubao, Quezon City.
The night was not only intimate – the fans were clad in their favourite sleepwear like cute animal onesies, fiery red satin nighties and colourful pairings of pajamas – but also armoured in thousands of beaming glow sticks that filled the venue in a sea of red when the show began.
The night's host, Kring Elenzano-Kim, opened the show and welcomed whom she fondly called, "mga lumang tao ng K-pop" which translates to the "old people of K-pop". The title was warmly received and was totally relatable by the fans present.
Jaejoong swept his fans off their feet, collecting his thoughts and reminiscing the first time he set foot in the country. He was excited to see for himself what Filipino K-pop fans are known for – the loudest cheers and happiest screams.
While dubbed a pajama party, the event felt more like a housewarming party, one where we Filipino hosts welcome our Korean guest with trivia and stories, before serving food and drinks and capping it all off with dancing.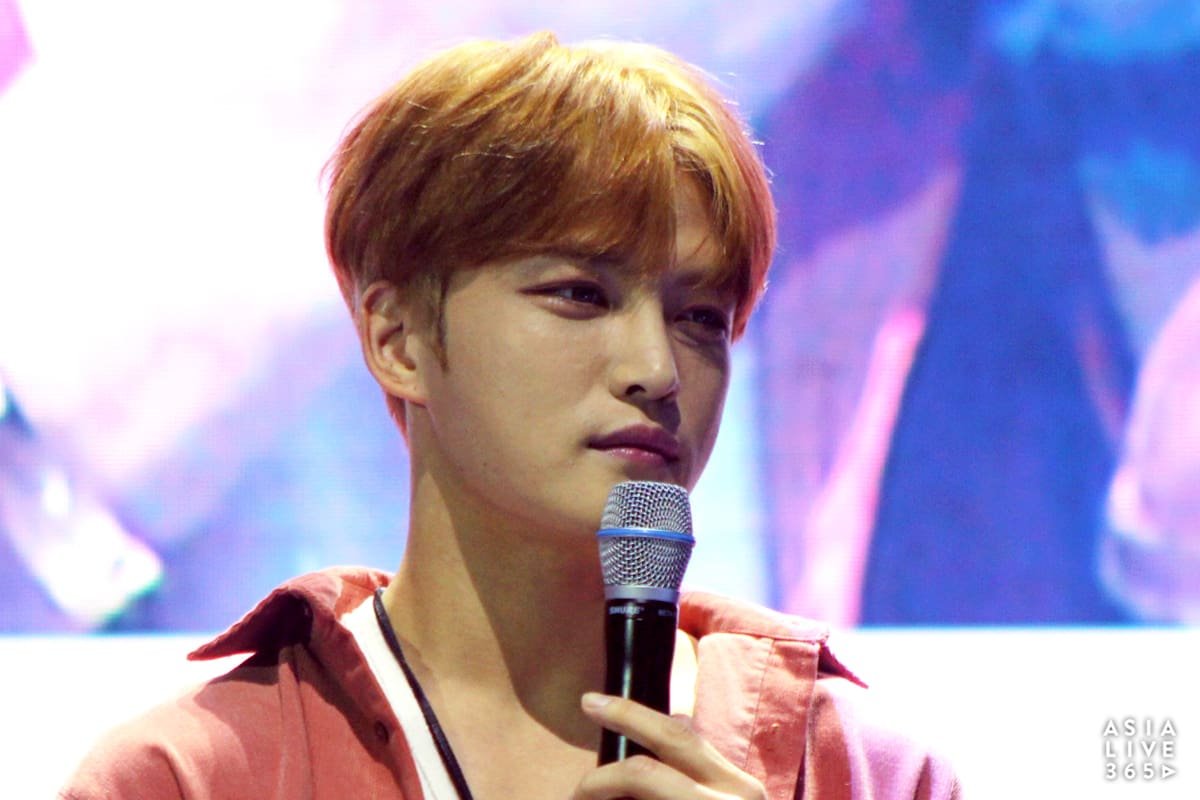 Before the show started, fans could submit their photos in the designated drop box for a chance to ask Jaejoong questions. The lucky few who were chosen received merchandise items which the "Love You More" singer signed right there and then.
The next segment was "payback time", as Jaejoong took the opportunity to see how well his fans know him. He asked questions such as the place he loves to go to, the thing that he was losing as he grew older, what Filipinos were good at and famous for, and a description for his fans in audience. (The answers are derma clinic, stamina, singing and "in their 20's", respectively).
Following the trivia section was a game loved by many – charades. Three lucky female fans in their respective sleepwear had a chance to get up close and personal with Jaejoong, playing the game which required the heartthrob's full attention.
After an hour of breaking the ice through quizzes and games, it was time to finally invite the guest to try favourite pub grubs such as sisig (sizzling pork dish), papaitan (beef soup), kinilaw (raw seafood salad) and chicharon bulaklak (deep fried ruffled fat), that go well with the locally made, world-famous beer Jaejoong was able to identify after taking the cup and saying, "Tagay!" ("cheers").
The dishes with the plates marked "Yes" meant that Jaejoong would have to take dares from a bowl filled with suggestions from fans. These include writing his name using his butt, dancing to Bruno Mars's "Versace on the Floor", while attempts at aegyo were among the "punishments" he served. The former also danced briefly to TVXQ's 2005 hit "Rising Sun" which gave everyone a legitimate #ThrowbackThursday treat.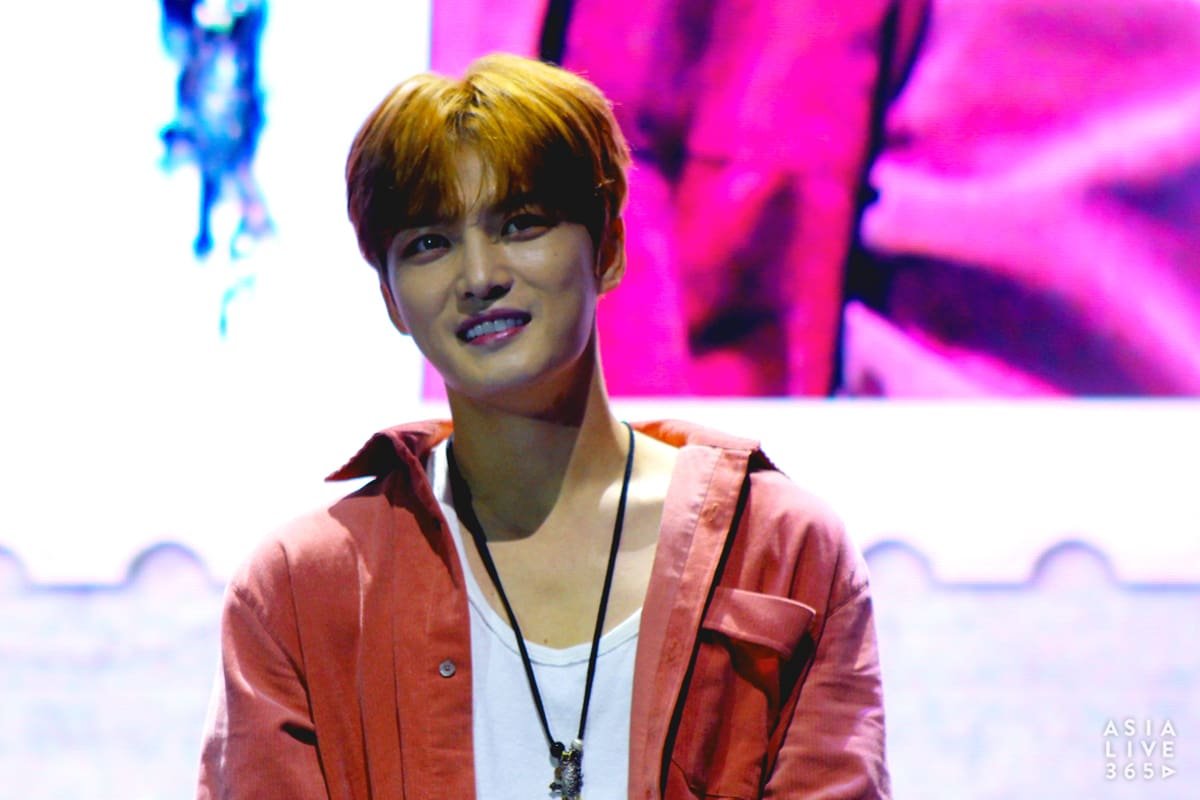 Once all talking points had been covered, it was time for Jaejoong to perform and showcase his unmatched dancing and singing chops.
The K-pop veteran first wowed everyone with his quick pick-up of dance steps from Filipino novelty songs. He then expressed a concern for children as he asked why the music videos had children dancing in it, to which Kring later clarified that novelty songs are for the whole family and enjoyed by many Filipino viewers.
Jaejoong was also made to listen to popular Filipino songs and make the audience guess what songs he was listening to by humming them. His prowess was obvious. He was able to convey the melodies note to note, making it easy for the fans to guess the titles correctly.
The last hour of the show were all about Jaejoong's solo works. He serenaded the fans with songs from his albums, including "You Know What?", "My Only Comfort", "Runaway", "Now Is Good", and the song that kept everyone dancing and singing along, "Good Morning Night".
Undoubtedly, the show brought fans a euphoric night which took years in the making. Love was truly sweeter the second time around and fans are now holding on to his promise of coming back to the country for another beautiful night filled with laughter, taste tests, dance craze and lots of singalongs.
The 2017 Kim Jaejoong Asia Tour Fan Meeting in Manila is presented by Unusual Entertainment and supported by Fangirlasia and Showtime Thailand.
Special thanks to Gigi Melodias and Paola Ebora for inviting us to the show.
For more concert coverage and reviews from AsiaLive356, click here.
Have something to add? Tell us!