After teasing K-pop fans across Southeast Asia with the teaser promising the largest Korean music festival in the region, finally, Hallyu Pop Fest has revealed location, lineup and schedules for its 2018 edition.
See also: K-pop group GFriend are returning to Manila for their first full concert
Organised by H.A.H. Entertainment, Hallyu Pop Fest will be happening on  Friday-Sunday, September 7-9 at Singapore Indoor Stadium. Throughout this 3-day event, K-pop fans are promised with South Korean ear candies and daebak dance extravaganza from over hundred of K-pop artists.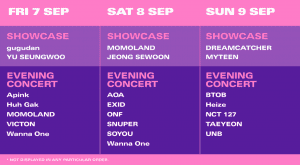 Lineup & Schedules: On Friday, the festival will kick-start with showcases from Gugudan, and Yu Seungwoo. While the girl group APink will be filling Friday's evening with a full live performance alongside the boy group Wanna One. Besides these two, the stage will also be welcoming Huh Gak, Victon and Momoland.
Meanwhile, on the next day, Momoland will again be joining the festival. The girls will be hosting a showcase alongside Jeong Sewoon. For evening's entertainment, Wanna One will take the stage for their second concert. The boys will be sharing the stage with AOA, EXID, ONF, SNUPER and female pop and R&B artist Soyou.
Don't miss: 2018 Lee Seung Gi in Singapore
On the final day of the festival, the audience will get to enjoy the showcases from girl group Dreamcatcher and boy band MYTEEN. Whereas, BTOB and Taeyeon will be leading the evening concerts. The two will be joined by female rapper Heize and two boy groups NCT 127 and UNB. The shows are believed to earn a big smile and huge applause from the audience.
Tickets: SGD148 (CAT5) / 198 (CAT2) / 238 (CAT3) / 268 (CAT2) / 298 (CAT1).
For Daebak Pass A and B will be on-sale at SGD498. All tickets available as 1-day pass only. Bookings will start on Saturday, July 7 via phone at +65 3158 7888 and online at SingaporeSportsHub at 10AM onwards.
Is there any your dream lineup on the list? Share us what you think!
Have something to add? Tell us!