Greener Pastures and Symmetry Entertainment announced that indie band Of Monsters and Men are heading to Singapore and Asia in January next year!
Consisting of members Nanna Bryndís Hilmarsdóttir, Ragnar "Raggi" Þórhallsson, Brynjar Leifsson, Arnar Rósenkranz Hilmarsson and Kristján Páll Kristjánsson, the Icelandic band were last in Singapore in May 2016 for their Beneath The Skin Tour, where they performed to a full house at The Coliseum at Hard Rock Hotel Singapore.
In fact, it was one of the most packed houses that The Coliseum had seen.
The band went from the talk of Iceland to the top of the global conversation on their 2011 debut, 'My Head Is An Animal'. Not only did the record go platinum, but it also produced an international smash in the form of "Little Talks." The breakthrough single earned a quintuple-platinum certification from the RIAA, made history as "the first song by an Icelandic band to cross 1 billion streams on Spotify," and landed the band a performance on Saturday Night Live. The group appeared on official soundtracks for franchises such as "The Hunger Games", "The Walking Dead", and "Beat Bugs", to name a few.
In the midst of this rapid rise, 2015's 'Beneath The Skin' bowed in the Top 3 of the Billboard Top 200 and the band starred in an episode of HBO's Game of Thrones in the same year.
In July this year, Of Monsters and Men released their third album 'Fever Dream.'
"Alligator" is the first single from OMAM's upcoming album Fever Dream. On the empowering anthem Nanna Bryndis Hilmarsdóttir, writer and co-vocalist reflects "The song is a mix of many different emotions that come together to create a confusing chaotic state. We wanted the song to feel like a train that keeps going, like an alligator that is rugged and heavy and charges at you. The lyrics tell a story of being completely lost in a "fever dream" state and embracing the chaos that comes with it. It's a song that embraces femininity and the feeling of being vulnerable yet strong, because ultimately, that is the same thing."
The video has had over 1.5 million views to date on Youtube.
On 17 October 2019, just four days ago, the video to the infectious 'Wild Roses' was released.
Listen to the wonderful piece here:
Fever Dream was co-produced by Rich Costey (MUSE, Vampire Weekend, Chvrches).
So look out Singapore! The band are set to bring their Fever Dream album to the stage at Fort Canning Park on 18 January 2020.
We, at AsiaLive365, are beyond excited!
OMAM in Singapore is presented by Greener Pastures and Symmetry Entertainment.
OMAM are also heading to other parts of Asia as part of their Fever Dream Tour.
Asia dates below:
12 January – Bangkok – Moonstar Studio 8, Pre-sale tickets are available on October 29 via

Ticketmelon

 
14 January – Hong Kong – Macpherson Stadium
16 January – Taipei – ATT Showbox
18 January – Singapore – Fort Canning Park, Pre-Sale tickets are available on October 25 via

iGo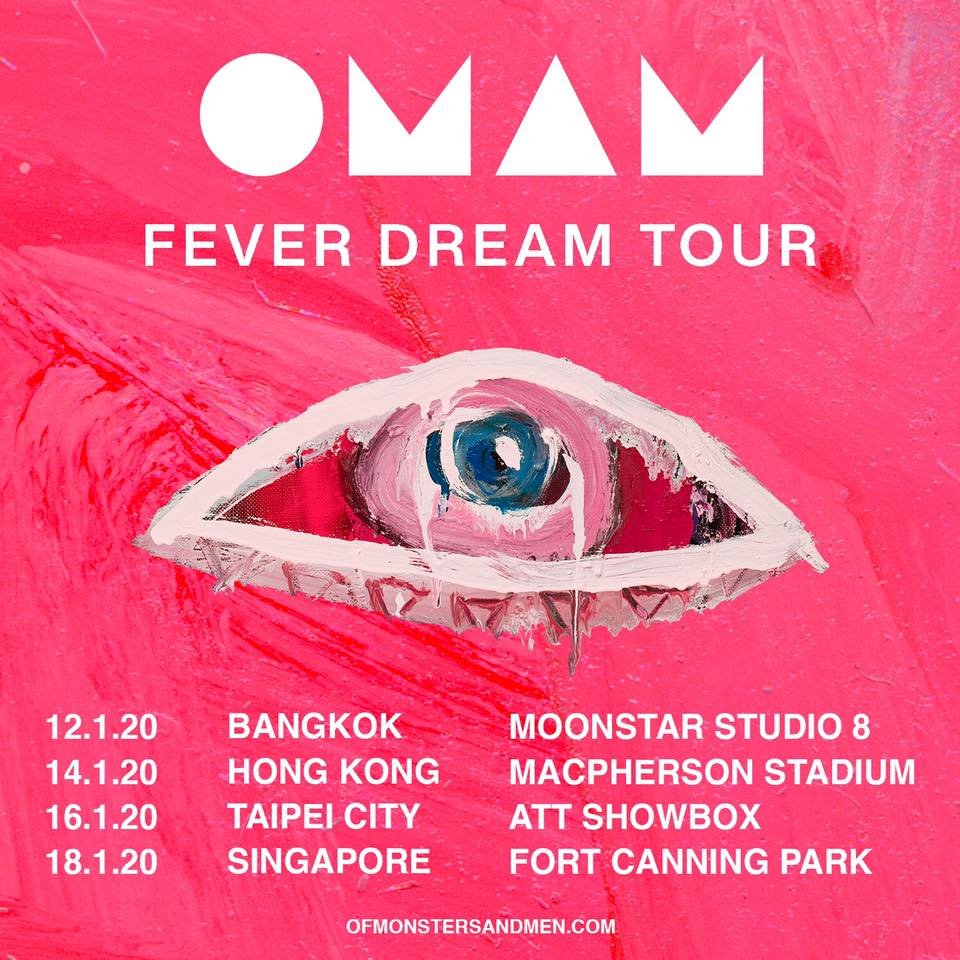 Have something to add? Tell us!