The Livescape Group has announced a merger of the two-day celebration of Rockaway Malaysia MotoGP Weekend.
The music festival, initially set to take place throughout this weekend, will now receive avid rockers and headbangers on Saturday, October 29 at B Hillstand, Sepang International Circuit, Kuala Lumpur.
See also: Another stop revealed for Metallica's 2017 Asia tour – Hong Kong!
Scorpions is helming the roster this year as part of their 50th anniversary tour. The German legends will share the stage with Wolfmother, The Darkness, Wings, and Muzza's Mayhem.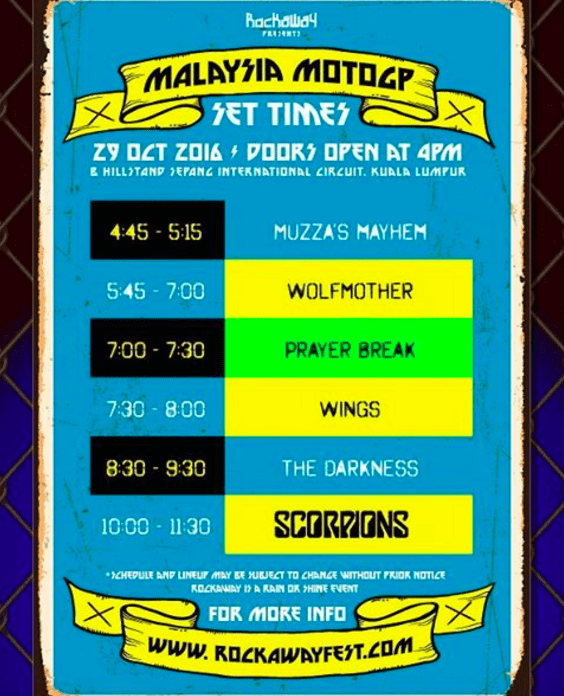 The Livescape Group said the decision to merge both days of the festival into one was due to scheduling conflicts. "We have decided to merge the two-day festival to just a one-day event due to a scheduling and production conflict with one of the headlining acts," Director of Events Rahul Kukreja explained. "However, this may well be a blessing in disguise as our fans ultimately benefit from this. With the merger of both shows, single-day ticket holders will now also be able to catch more international acts on a single billing."
Single-day passes purchased for both Day 1 (Oct 29) and Day 2 (Oct 30) will be valid and honoured at the merged show. Refunds are available for Day 2 single ticket holders. Fans can contact and send inquiries to the Livescape Group at [email protected].
See also: Yellowcard to round up two decades of career with final shows in Asia
A follow-up to this month's Rockaway Festival, dubbed Rockaway: the Saga Continues, will happen as announced on Saturday, November 19 at Extreme Park, Bukit Jalil.
Third Eye Blind, Taking Back Sunday, The Get Up Kids, Alleycats, Zainal Abidin, Oh Chentaku, Artefacts, and many more local acts are scheduled to perform.
Head to Rockaway's official website for the latest updates and the purchase of tickets to both Rockaway Malaysia MotoGP and Rockaway The Saga Continues. Or follow the festival on Facebook and Instagram.
Have something to add? Tell us!