Back for a stellar second round this year (with an earlier edition in August), Baybeats at the Esplanade – Theatres on the Bay returns from 6-8 November 2020.
For the very first time, the festival will be moving into Esplanade's crown jewel, the Esplanade Concert Hall, and the magnificent Esplanade Theatre.
The Esplanade Concert Hall will feature the livestreams of six Baybeats Buddings Bands who will make their debut at the festival after two months of mentorship.
These bands include Allegiance, Approaching Aphelion, per[sona, Remnants, Spacewalk, and Terrestrea. 
Over at the Esplanade Theatre, bands including veteran electronic duo .gif, Math rock band Forests (who we last saw open up for UK band Delta Sleep last November), dream pop starlets Subsonic Eye, theatrical metal band Cockpit, electronic pop sextet Riot !n Magenta and punk metal veterans Opposition Party will be live-streaming their performances. 
At the Esplanade Annexe Studio, a special two-way live streamed experience will be created. Audiences will be able to be part of an experience that comes the closest to a live gig. (Oh boy are we excited about this one!)
Heavyweights such as indie rock band Astreal, all-star group Hanging Up The Moon and hip hop stars THELIONCITYBOY feat. Amthakid and ABANGSAPAU will be performing in two-way livestreamed sets with live audiences projected on screens around the performers. Other lit acts include M1LDL1FE (who we did an interview with back in June for their new hit Small Lanes) as well hip-hip collective Mediocre Haircut Crew.
That is not all. Overseas bands will be joining Baybeats this year from afar. The rocking line-up will include indie rock band bedchamber and dance electronic duo Bottlesmoker from Indonesia, veteran Hilera and indie pop star Zild (who is also the frontman of IV of Spades) from the Philippines, and finally American rock band Cloakroom.
Last but not least, the Baybeats Budding initiative (of which I was a part of in 2016!) – continues to welcome more of Singapore's homegrown talent—not only in music-making but also in other creative fields like music journalism, gig photography and video arts—into the Baybeats family.
My my! We're certainly excited for this year's unique hybrid experience!
More information can be found here.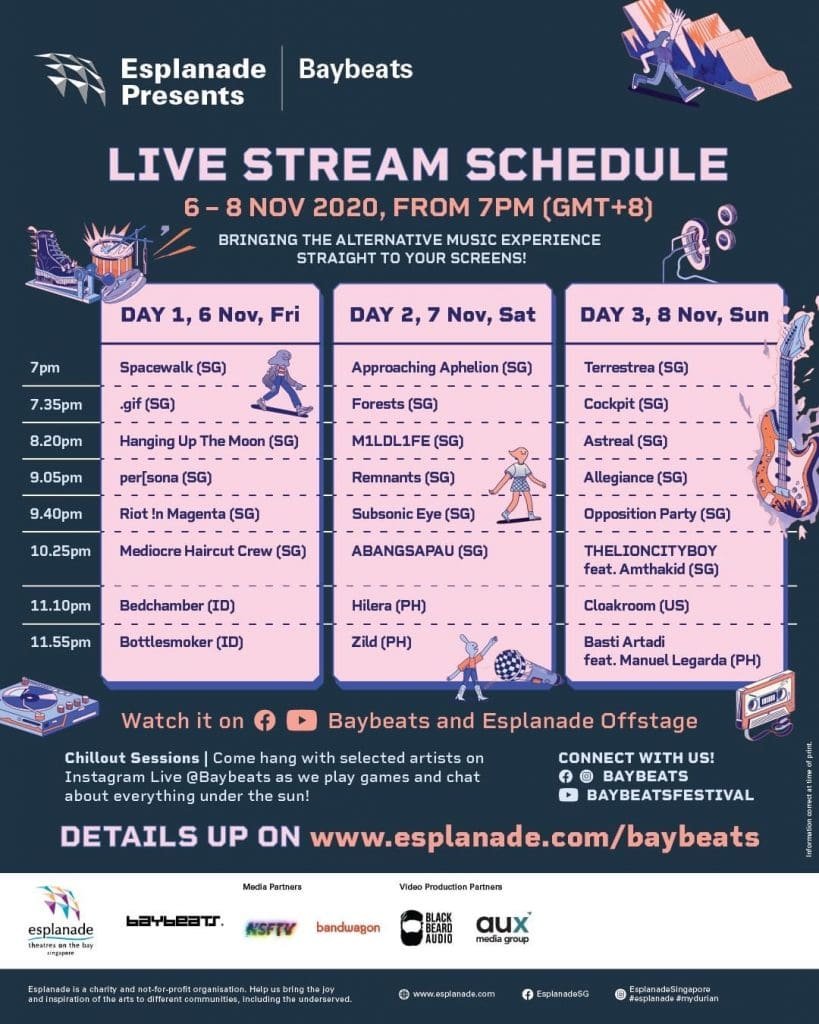 Have something to add? Tell us!