(5 / 5)
The English rock band who recently won Best Live Act at the NME Award 2020 and Best Group at the Brit Awards 2020 proved their diligent mastery in putting up a helluva show as the energy and vibes of their electric set rippled through the night like bursts of lightning in a thunderstorm.
Members Yannis Philippakis, Jack Bevan, Jimmy Smith, Edwin Congreave, along with touring members Kit Monteith and Jack Freeman threw festival-goers a pulsating celebration of songs, from all their six albums, in a performance that was stonking, formidable, and tight!
They truly are a live act to be reckoned with!
The opening piece 'The Runner' pulsated with the ardour of a thousand brushstrokes of igniting beats, and a rising set of vocal embers that fired through. It was one of those great openers that you could immediately head-bang and sing out loud too – shrill voice and all!
We were all falling…deep into the chasm of what was to come that epic night…
Little did we know…as we just kept on Running…
Each song that night was cladded in a tight fist of rock, indie rock, alternative rock, and math rock.
Even their older popular hits like 'Mountain at My Gates', and 'My Number' – both of which have had over 100 millions hits on Spotify, were lit.
There was a dynamism about the band, both sonically and almost psychically that accentuated the band's live show.
Percussion and riffs were spot on!
The vibes were real, and boy were they good!
Visually they were an impact too, with a set-up that included placing members strategically, clever lighting design and tree props, that created a wonderful depth of field on stage!
It looked like the tranquillity of a Spanish Sahara…
I say this in reference too, to the song, as it was the only piece that was placidly juxtaposed against the heavier set of songs.
The opening of 'Spanish Sahara' could be one to bring tears to the eyes, for its textural colours and ambient vocals.
Then 'Inhaler' was played and the major moshing began. Perhaps the fans knew that their 80-minute set was coming to an end.
Planting myself at the centre barrier right in front and for their entire set, also gave this writer and photographer a first-hand feel of the entire excitement.
The experience was surreal and not one that I would exchange for anything else in the world, battle scars and all.
Philippakis certainly got the crowd in frenzy each time he walked past us or climbed towards us, as fans clamoured to reach out to him or touch his arm.
At one point, as he literally stood on the railings of the barrier, barely inches from me, I was wondering if he was debating on whether to jump into the crowd to surf or were we pulling him in.
There were so many hands on his legs and arms at this point, that I could not judge if it would be forward or backward.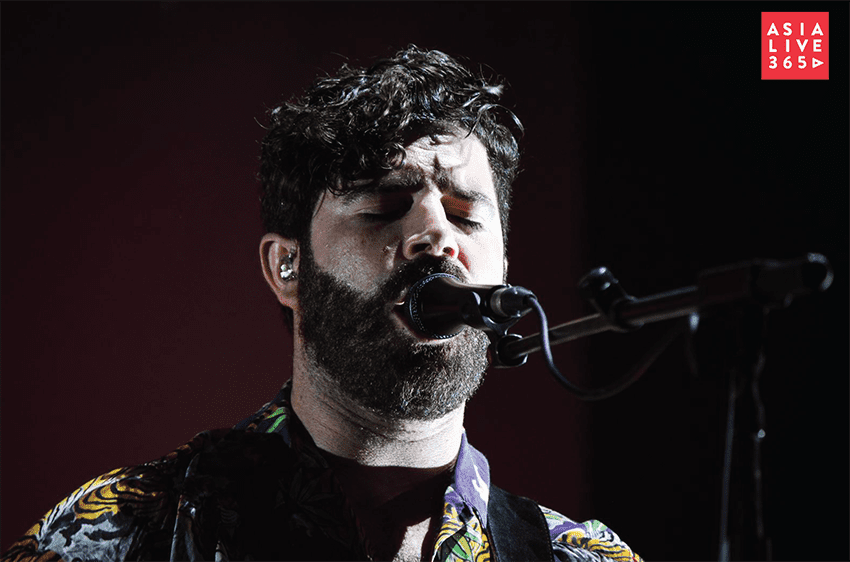 Alas, he "retreated"…
Indeed the potency effect of being at a Foals set was contagious.
Many had travelled out for the band, coming from countries such as Indonesia, Malaysia, Australia and Scotland.
We were, after all, the first city and country on this current tour!
Perhaps my favourite song of the night was 'Exits'.
In an almost interview with the band, I had wanted to ask the members on the conceptualisation of this texturally intricate piece.
As a listener, it feels like you pretty much go into the song not knowing what to expect. Then it continues and the vibes are wow! No surprise that it is also the Top 5 streamed song on Spotify!
Needless to say, that song made my day, as I sang, almost cried out loud (in happiness) to it.
Perhaps my only disappointment, if any of the night was that the band did not sing 'Into The Surf'. Or that the techie quickly kept all the remaining picks onto the pedal board when the stage was struck.
Awww, I wanted a pick to wear around my neck…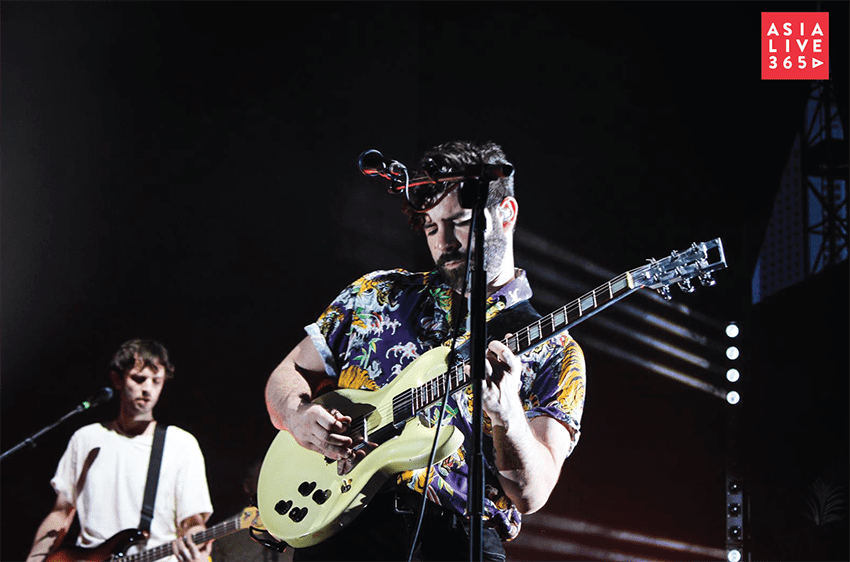 With drinks in hand, and a much cleaner grass area, due to the ban of any single-use plastic at the venue, and food being sold near Sunshine Stage instead of the Garden Stage, it was evident what a blast everyone had – as Foals stormed through our hearts like a Black Bull On The Luna!
Would I recommend going to a Foals gig or set in the future?
Oh yes!
They are definitely one act not to be missed!
A well deserved and well-proven Best Live Act award – won twice, first at Q Awards in 2013 and now at NME Awards 2020!
I started 2020 hardly knowing any of the band's songs, but ended the Leap Day loving everything about the band!
Thank you to the Garden Beats Festival Team for bringing them in.
And bless you Foals for not cancelling your set at Garden Beats Festival 2020!
Until the next one!
Setlist:
1. The Runner
2. Wash It Off
3. Mountain at My Gates
4. Olympic Airways
5. My Number
6. On The Luna
7. Exits
8. Spanish Sahara
9. Birch Tree
10. In Degrees
11. Inhaler
12. Black Bull
13. What Went Down
14. Two Steps, Twice
Have something to add? Tell us!