Fans and guitar enthusiasts in Thailand won't have to book a flight to Singapore after all – Joe Satriani is also strumming and shredding his way to Bangkok with Surfing to Shockwave Tour 2017.
Promoter Prart Music Group announced Satriani will be performing in Thailand for the first time on February 19 at Centerpoint Studio, Sukhumvit 105.
See also: Bangkok is the latest city added to Goo Goo Dolls' Asia Tour
Don't miss the chance to witness the historic debut of the biggest-selling instrumental rock guitarist of all time in Thailand. Tickets are THB2,000 and THB3,500 (VIP) and will be sold through Ticket Intelligent January 7 onwards.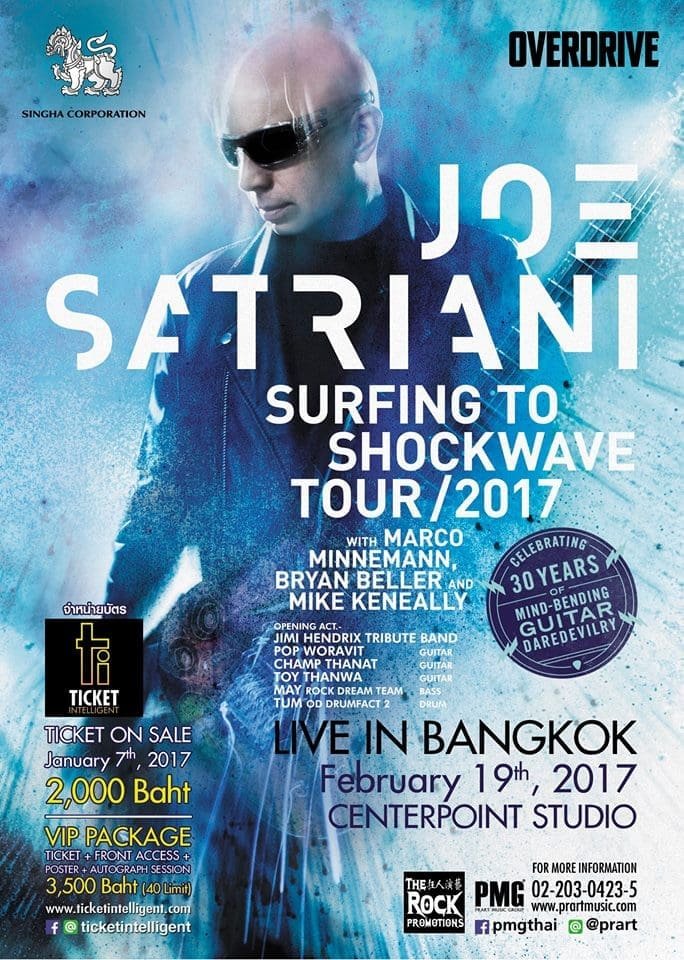 The Surfing to Shockwave Tour will celebrate Joe Satriani's over-thirty-year career and will feature music from Not of this Earth (1986), one of the most successful rock instrumental albums to date, Surfing with the Alien (1987), all through his latest and fifteenth solo album, Shockwave Supernova (2016).
The tour promises to be a highlight for any Joe Satriani fan. Of course, the set list will contain fan favourites, but the legendary guitarist also promises to include some gems, pulled from the "Satriani Songbook" which may not have ever been performed live, or in some cases, for a very long time.
See also: It's This Lifetime after all: Guns N' Roses confirm Bangkok concert in 2017
Songs such as "Big Bad Moon", "Friends", "Crystal Planet", "Not Of This Earth", "Luminous Flesh Giants" and "If I Could Fly" have been confirmed as part of the set list.
Satriani's touring band remains Marco Minnemann (Steven Wilson/Aristocrats) on drums, Bryan Beller (Dethklok/Aristocrats) on bass and Mike Keneally (Steve Vai/Dethklok) on keys and guitar.
Have something to add? Tell us!