IMC Live Global's AL!VE Vol 6 was a resplendent night that showcased artists who brought with them a spirit and magic of what we all miss about live gigs. 
If Saturday night's show was any indication of the resilience and versatility of the music industry that we miss, then I can only say that I look forward to even more of such vibes and utter euphoria that descended onto the hall of Capitol Theatre that evening.
The venue was lit – both literally and figuratively, as we waved our complimentary red light sticks in the air – almost like a K-pop concert, but not exactly.
AL!VE VOL 6 with Fariz Jabba, Mediocre Haircut Crew, THELIONCITYBOY was a hip-hop one!
Also read: We spoke with the artists of IMC Live Global's AL!VE: Volume 6
With each act taking to the stage for an average of 30 minutes, the changeover itself was pretty slick and fast, making it also one of the most succinct gigs (of multiple sets) that I have been to.
First into the house were the guys from Mediocre Haircut Crew – omarKENOBI, mickeyLEANO and daniKIDDO who took to the stage with their old school nostalgia and riveted energy.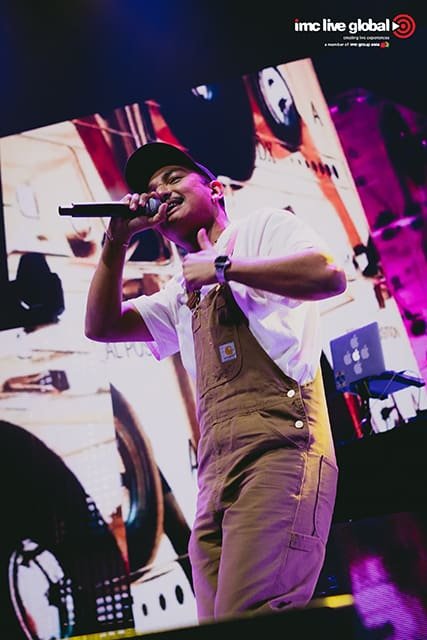 "Wave your light sticks harder and faster if you're having fun," they said as they started the ball rolling; encouraging us to have a hellavu good time, while still keeping to the safe distancing house rules.
With their second song 'Juice' drawing one of the loudest cheers, the boys then took the audience interaction up a notch by having a mini "Kallang wave" session with the light sticks that we were holding.
While there were only six songs performed that night from their repertoire, it was evident by 'Lose Your Love' that everyone wanted more. We were hyped, and rightfully so. They were eclectic and I love them!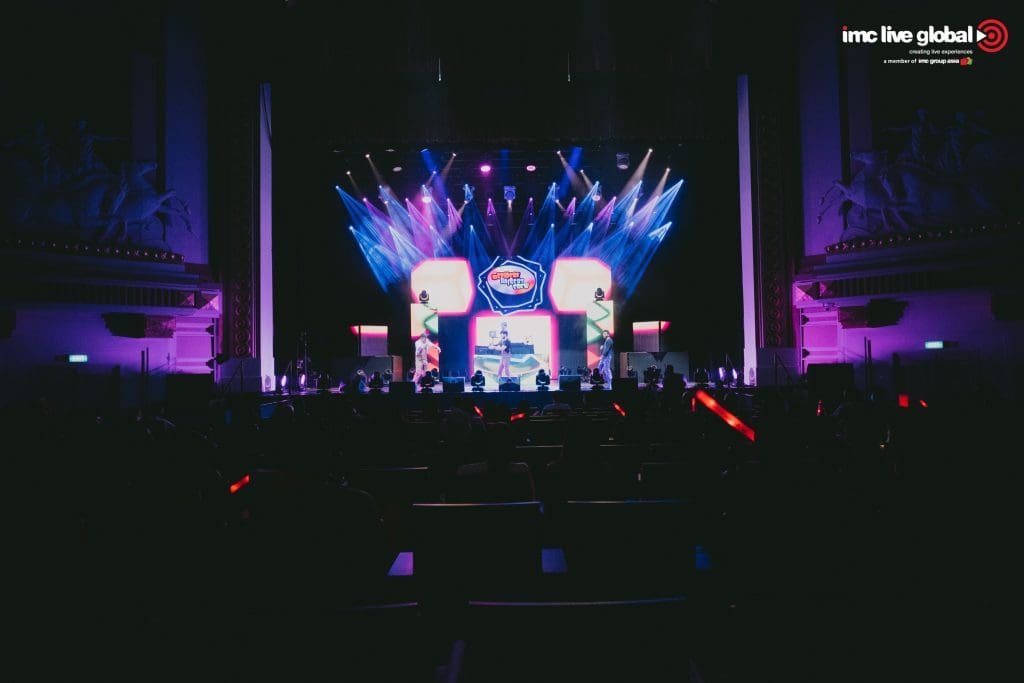 From the fresh early 90s-flavoured nostalgic vibes (think that cool Fresh Prince of Bel-Air style flair) of 'Don't Care' to the smooth R&B-like vocals of mickeyLEANO in 'Lose Your Love', the energy and fresh vibes from talented Mediocre Haircut Crew (with their blend of hip hop and unique electronic-infused sounds) were pure bliss and a wonderful reminder of the hyped gigs and festivals that we so dearly miss.
Next came THELIONCITYBOY who further accentuated the energy of the hall with his drop beats and complementing stage lighting changes. I thought the lighting design for 'Halimah' was dope!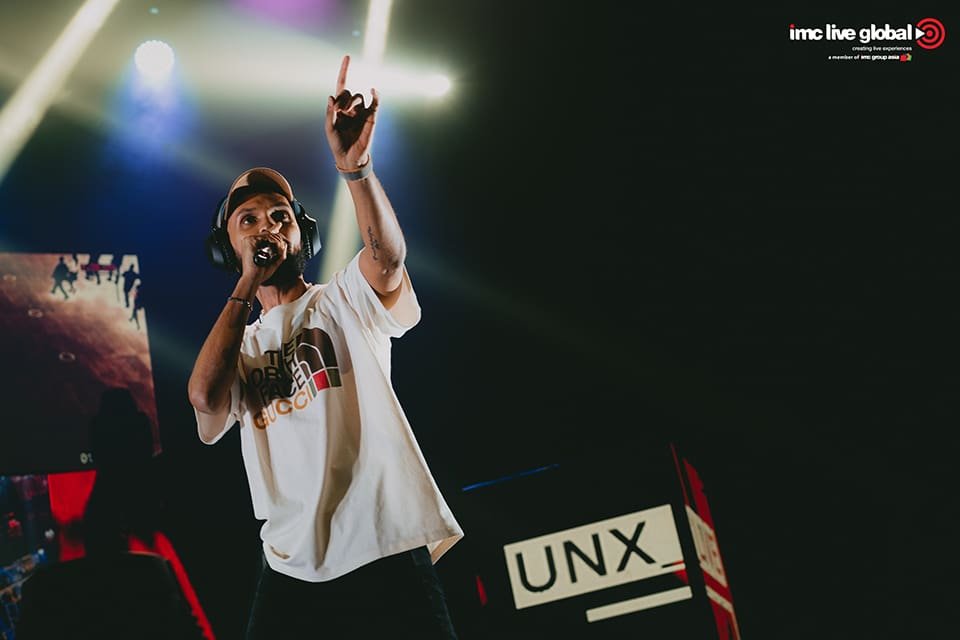 With all our red light sticks in the air being waved enthusiastically almost like a flurry of dragonflies against a moonlit pond, his set felt like one of those that you would want to get up and (hands in the air) dance to. If only we could…
Indeed, perhaps the one thing that I miss most about live shows was the close contact camaraderie and electric night that is shared between audience and audience, as well as audience and artist. 
Still, albeit the no dancing, the fan fervour of the night climbed further as favourites and classics like 'YAYA' and 'Halimah', as well as his lit and catchy new track 'Buang Suay', were performed.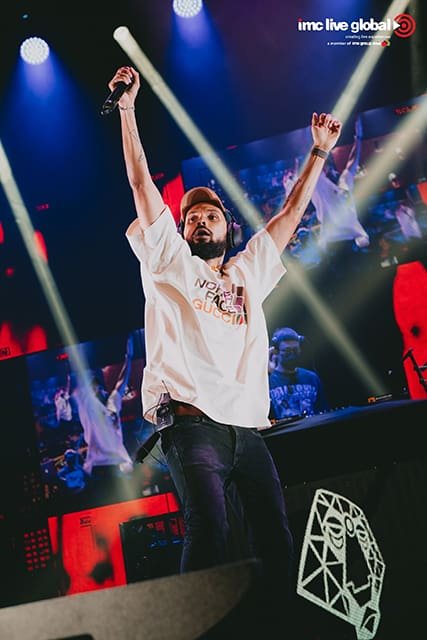 Last, but as they say, certainly not least, came the highlight of the night – Fariz Jabba.
Judging from the screams from everyone in the audience (including the two ladies behind me who kept shouting declarations of adoration every one in awhile), it was clear who many in the audience have been waiting for.
We wanted a show. And bring a show he did!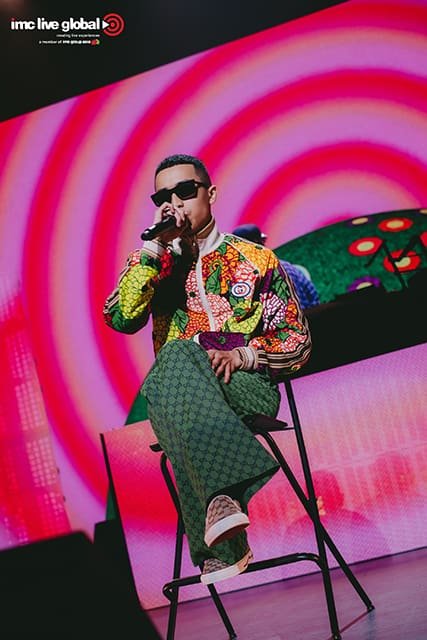 From the cheeky hipster hip-hop flair of 'Ape Sia' to the flamboyant incandescence of 'Dari Sini', there was something truly magical and highly energetic about Jabba's performance that night.
In fact, there was almost a theatrical element to his show too, which was astoundingly riveting to watch – from the flawless choreography of his dancers to the dope visuals which provided the artist a backdrop that was aesthetically pleasing as it was engaging to the senses.
For me, I loved the witty biscuits and drink packets illustrations in the backdrop visuals for 'Best Man', looked in awe at the top-notched choreography during 'Pimpin', and enjoyed every minute of his performance with his guests artists such as omarKENOBI (from MHC), his brother Fakkah Fuzz, as well as Siti Mariam, who he had collaborated with, in an unreleased track called 'Unavailable'.
But the song that took the cake that night (for me at least), was the opalescent 'Nak Tak Nak'. Coupled with his soulful hip-hop vocals (tinged with that everglow of R&B texture), and the apt lighting that accentuated every mood of the song, it was a moment that almost made me tear – if merely for the purity of the soundscape and textures of the piece. 
It was atmospherically beautiful…
Closing the evening with 'Dari Sini', another iridescent piece (and a new one too!), with its swirls of warm colours and feelings, one is bound to feel quite complete after this show.
Our hearts were full…
But that was not the end. Jabba leaves the stage, then barely a moment later, comes back again for his sunglasses, stops, poses, and walks off for effect.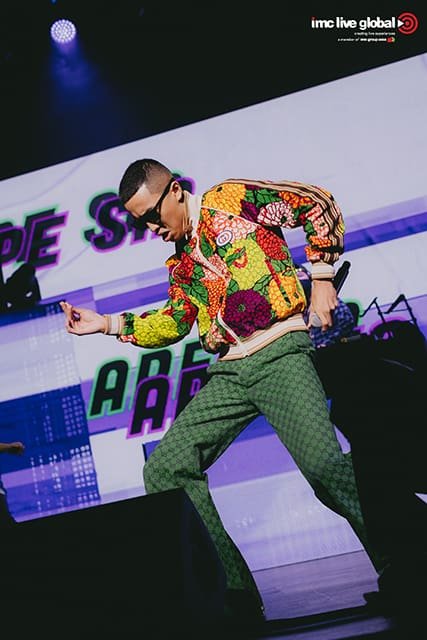 Talk about theatrical huh!
Wow!
Definitely a night that I will remember!
Special thanks to IMC Live Global.
Setlist:
Mediocre Haircut Crew
Tom Yum 

Juice

Don't Care 

Surfers

Changes

Lose Your Love
THELIONCITYBOY
The Max

Macam Style

Vois

Start Already / One Seven 5. 1030

Yaya

Could Be Worse

Halimah

Buang Suay
Fariz Jabba
Ape Sia

BossaNova

Best Man

Pimpin

High for Hours (ft. omarKENOBI, Fakkah Fuzz) 

Unavailable (ft. Siti Mariam)

Kalah (ft. omarKENOBI)

Nak Tak Nak

Masa

Dari Sini
Photo credit: IMC Live Global
Have something to add? Tell us!