Following the cancellation of Wonderfruit's main 2020 event earlier this year, the Thai music festival are launching their season-long Moobaan Wonder mini fests that will run for five weekends from December to January. The first of five will commence this weekend on Friday, December 4 – Sunday, December 6.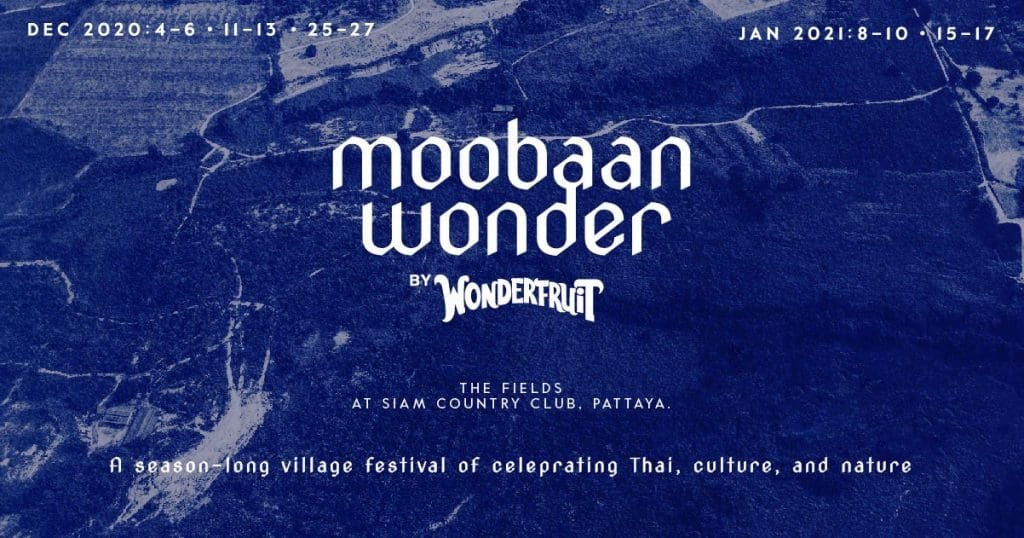 Wonderfruit's Moobaan Wonder is "a season-long village celebrating Thai art, culture, and nature." The locally-focused mini festivals will take place over 100 rai of The Fields at Siam Country Club, Pattaya (the very same location where Wonderfruit takes place) held over the course of five weekends.
The first three weekends are scheduled to run this month on December 4-6, December 11-13, and December 25-27. Weekends four and five will take place next month on January 8-10 and January 15-17, 2021.
Each week of the festival will offer a new activity schedule and DJ/artist lineup, with the festival promising that each visit will be different.
The lineup consists of local artists, bands and DJs including DOTT, Koish, Sarayu, NK Chan, Marmosets, Sunju Hargun, Greasy Cafe Yellow Fang, Twopee Southside, THe Paradise Bangkok Molam International Band, and many, many others. Pattaya's Tiffany Show will also be making an appearance with their world-famous drag queen cabaret extravaganza.
December's lineup (weekends 1-3) can be seen below.
Additionally, attendees can find farms and fields flowers, activities for all ages, craft workshops, art installations, fashion and lifestyle markets, and food and drink vendors.
Workshops include faming, gardening, arts and crafts, and cultural activities. Expect a range of local tastes and international flavors from street food and fine dining from Thailand's very best chefs including Chalee Kader (100 Mahaseth), Jarrett Wrisley (Soul Food Mahanakorn), Paolo Vitaletti (Appia, Peppina, Giglio), and more.
Overall, Moobaan Wonder will host over 200 musicians and bands, more than 40 workshops, 40 local food vendors, and over 80 fashion, art and cultural stores.
Similar to Wonderfruit, Moobaan Wonder will be fully committed to sustainability. The festival will feature initiatives dedicated to promoting positive impacts in lush, green spaces filled with flowers and farms including refill stations, onsite composting, zero landfills and a ban on single-use plastics.
Tickets are available as single-day passes and weekend passes. Friday passes cost THB690, Saturday and Sunday passes cost B1,290 each, and weekend passes cost THB2,190. For the Wonderer who wishes to attend all five weekends can purchase a full season pass for THB6,800. Tickets can be purchased here.
In September, prior to the announcement of Moobaan Wonder, Wonderfruit's 2020 edition was officially postponed to December 2021 due to COVID-19.
Also read: Wonderfruit is officially postponed to December 2021
Ticket holders for Wonderfruit 2020 will be valid for entry to one of the future iterations of the festival in 2021, 2022, or 2023. Therefore, if attendees are unable to go to Wonderfruit next year, they will be eligible to attend the one after next if they may choose to do so.
For more information, be sure to follow Wonderfruit on Facebook.
Have something to add? Tell us!