Except for the few good weeks in January or February, it's safe to say the people of Thailand consider their country eternally blazing Tartarus. But that doesn't stop them from going out and getting it on even if it's officially summer, especially to where they can have a blast and beat the heat at the same time. So if you share the sentiment, you know that there's a wealth of events and music festivals popping up everywhere but we're going to tell you about the real seven must-gos of the season.
1. Karma Clique and Bacardi presents Karma Kruise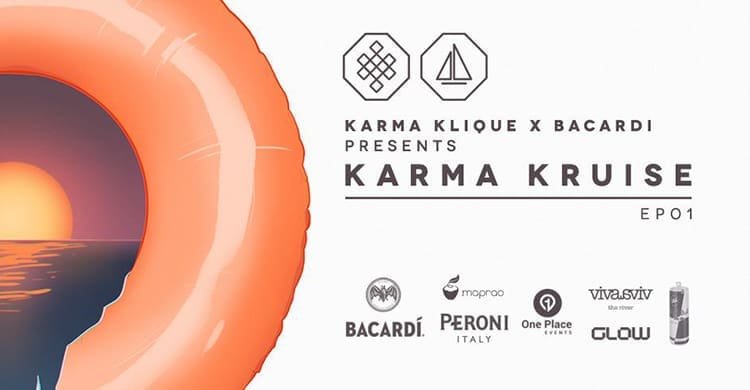 Date: April 2 (3pm)
Where: Viva & Aviv The River – Chao Phraya River – Glow
What Will Go Down: The evening will kick off at Viva & Aviv The River before revellers board Karma Kruise and voyage along the glistening flow of the Chao Phraya, through a magnificent skyline of Bangkok, old and new, in the sunset. All the while, guests will jam to Bangkok's finest DJs like Tekayu Harrington, Sunju Hargun and Boris Rubin. More lineup of EDM masterminds await at GLOW Sukhumvit 23, where the afterparty will continue well into the early hours.
Tickets: THB1,000 via Bangkok Oneplace
2. Summer on the Rock (Chill Music on the Beach #12)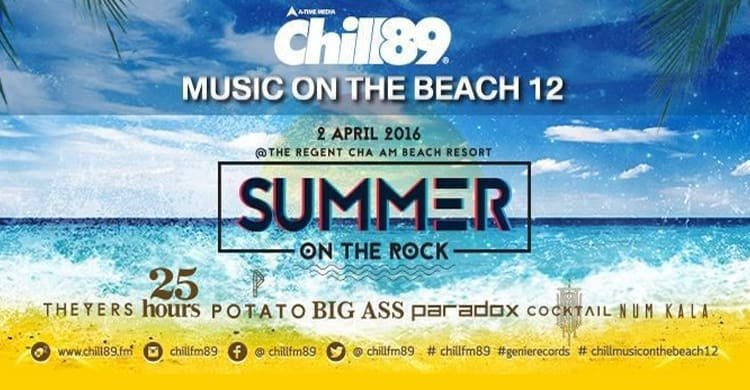 Date: April 2
Where: The Regent Cha-am Beach Resort, Cha-am, Petchburi
What Will Go Down: Summer On The Rock is the twelfth instalment of local radio station Chill FM 89's series of exclusive "Chill Music On The Beach" mini festivals. On the beach, in the summer breeze of The Regent Cha-am Beach Resort guests will enjoy this year's lineup which features Thai pop rock sentations like The Yers, 25Hours, Potato, Big Ass, Paradox, Cocktail and Num Kala.
Tickets: Win free tickets by joining these following competitions:
Install AtimeOnline application on your phone and tune in Chill FM 89. Once the DJ's read the question of the day, send in your answers through Facebook messenger by first turning on the application on and logging in with Facebook. See the results the following day at

www.chill89.fm/announce

.

Subscribe to Chill FM 89's Facebook page and watch out for the question and rules.

Follow Chill FM 89's Instagram account and watch out for the question and rules.
3. S2O Songkran Music Festival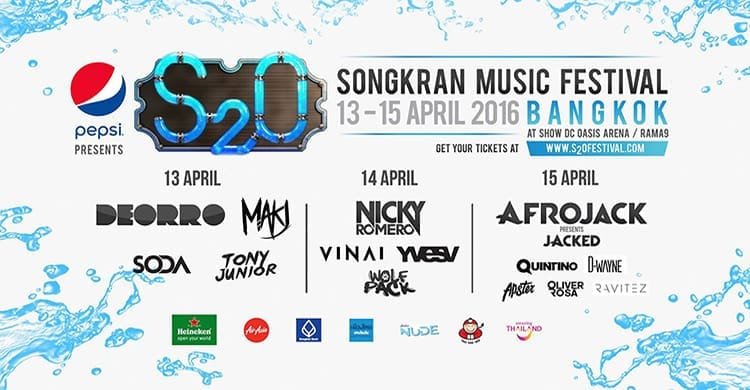 Date: April 13-15
Where: Show DC Oasis Arena, Rama 9, Bangkok
What Will Go Down: S2O Songkran Festival breaks the tradition of Songkran celebration and lifts the standard of Thailand's water party to another level. Beside a bill of world-class performers, including Afrojack, Nicky Romeo, Makj, Deorro, and Quintino, there is a special production of 360-degree water effects that gets everybody soaking wet to cool down April's burning heat. Stunning EDM sets, amazing sounds, lights, and specially designed stages and effects are all in store for you.
Tickets: THB3,500 (3-day pass) / THB2,500 (VIP day pass) / THB1,800 (day pass) via EventPop.
4. Chang Music Connection presents North Fest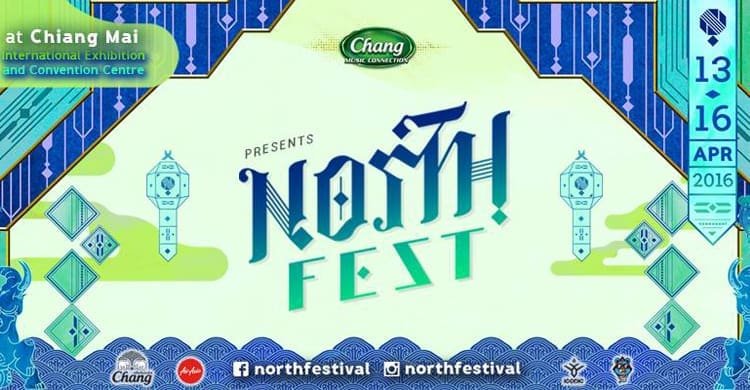 Date: April 13-16 (3pm)
Where: Chiang Mai International Exhibition and Convention Centre, Amphoe Muang, Chiang Mai
What Will Go Down: Chang Music Connection's ambitious project is Northern Thailand's first and biggest music EDM festival. It will feature headliners like Italian brothers Vinai, WolfPack (DJ Mag's #52 DJ), Antwerp-based duo Jetfire, Dutch breakout producer Julian Jordan, as well as DJ Soda from South Korea. They will also be joined by Thailand's very own DJ Sunzone, 22 Bullets and DJ Ono of Bangkok Invaders.
Tickets: THB500 (4-day pass) / THB199 (day pass) via Thai Ticket Major
5. Corolla Altis Esport presents Together Festival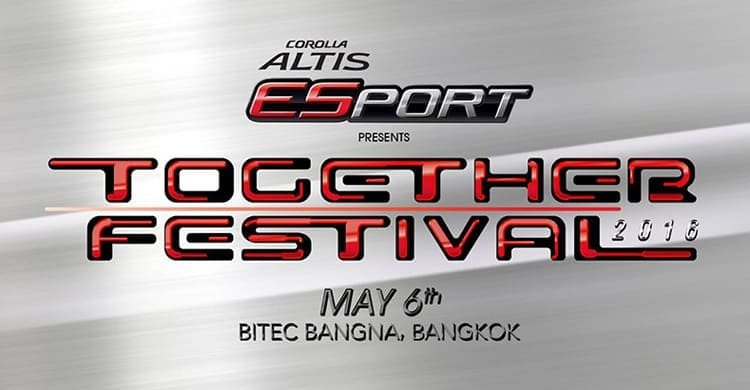 Date: May 6
Where: BITEC Convention Center, Bangna, Bangkok
What Will Go Down: The ultra hip music festival is meant to mark Bangkok as home of Southeast Asia's most anticipated EDM festival. Together is on a mission to shine as the region's best event with a crowd-pleasing line-up, from most-wanted international artists to local talents (first top-biller announced is Disclosure – it's only uphill from here, my friends), it is undeniable that the festival promises an unforgettable music fair and a fun-filled night.
Tickets: THB1,900 (early bird general admission) via Together Festival.
6. Samed In Love Music Festival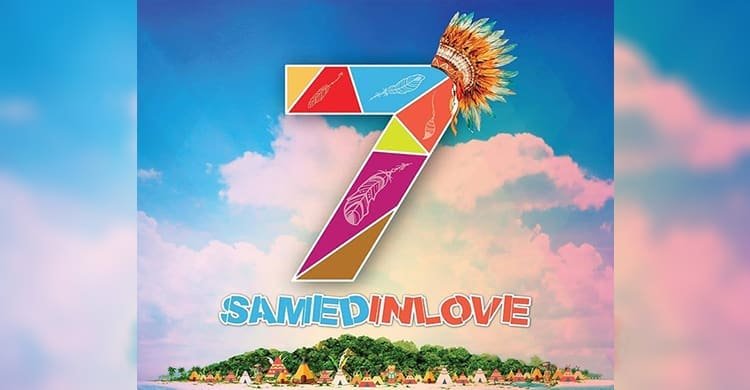 Date: June 4 (12pm)
Where: Saikaew Beach, Koh Samed, Rayong
What Will Go Down: Returning by popular demand in its seventh year, Samed In Love is the place to be this (late) summer if you're down for a tropical, pop rock-oriented fun that extends across the entire beach. Turn up in your all-purpose festival gear for this year's theme, Bohemian Beach Camp, and you're ready to rock to the lineup of Scrubb, Palmy, Paradox, Tattoo Colour, Lomosonic, Big Ass, Apartment Khunpa, Slot Machine, Garncore Club and many more.
Tickets: THB1,300 (early bird) / THB1,500 (general admission) for purchase and more information, visit Samed In Love on Facebook.
7. Road to Ultra: Thailand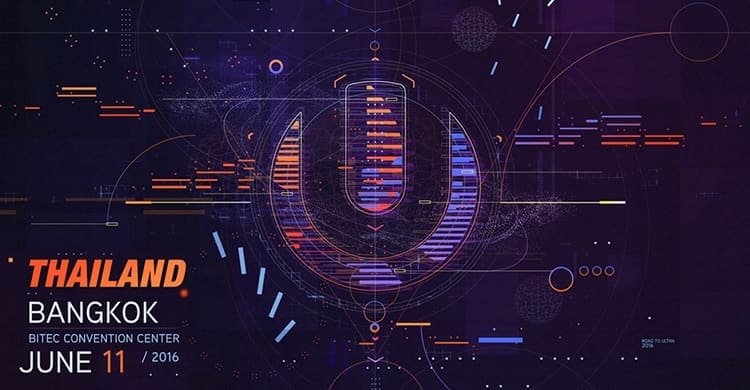 Date: June 11
Where: BITEC Convention Center, Bangna, Bangkok
What Will Go Down: Fans were a little disappointed to have learned they wouldn't get a full-scale Ultra like the ones set to take place in Korea, Singapore, Japan and Bali but if Korea's confirmed phase 1 of the lineup can tell us anything, it's that this Road of ours can lead to possible top-billers like  Afrojack, Avicii, Axwell, Axwell & Ingrosso and Martin Garrix. Stay tuned for more information from RTA Thailand.
Tickets: TBA
Have something to add? Tell us!