Not so long after their Neon Lights and Clockenflap stints, electropop duo Crystal Castles are bringing their moody beats and uproarious live delivery back to Asia.
This time the Canadian act, now consisting of Ethan Kath and Edith Frances, will return to Singapore and make their debut in Thailand among the four dates confirmed for Asia.
See also: French electronica duo AIR to perform in Singapore
Presented by Medium Rare Live and Moonbeats Asia, the Bangkok show is happening on Saturday, May 20 at Live RCA. Tickets are now on sale through Ticket Melon for THB950 in the before going up to THB1,050 in the next tier and THB1,200 at door.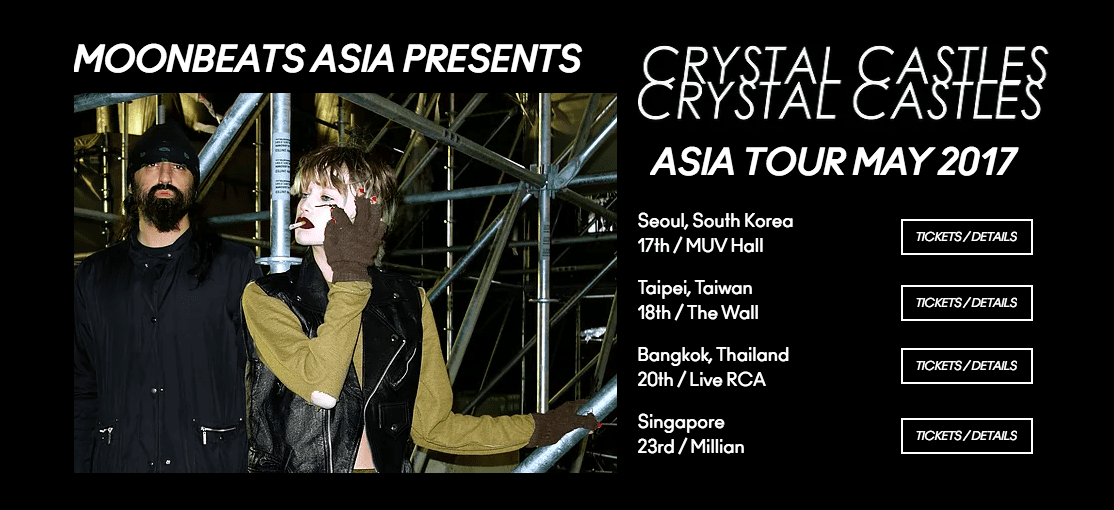 A Singapore stop follows on Monday, May 23 at Millian. Standard tickets are available at SGD80 through TicketBox. At door price is SGD90.
See also: Alternative R&B goddess Banks returning to Singapore with first headline show
Known for their energetic live shows and visceral, melancholic lo-fi productions, Crystal Castles released a trilogy of critically acclaimed albums between 2008-2013. Last year, the group released followup record, their first since former frontwoman Alice Glass left, Amnesty (I), to a generally favourable reception, showing sonic eclecticism from gothic electronic paeans to hip hop and trap infused synth pop. Here's a single, "Concrete".
Have something to add? Tell us!