Thailand's Mystic Valley Festival will be kicking off this weekend (Nov. 27-29). The three-day festival revealed its full lineup this week, uniting over 150 local artists across 10 stages. Read on for everything you need to know before getting lost knee deep in the sounds of music!
In case you've been out of the loop, Mystic Valley Festival is making its grand return for their second edition this weekend after their debut in 2017.
After months devoid of any proper festival experiences due to lockdown regulations, festivalgoers in Thailand will now be able to spring back into action to an authentic and adventurous three-day romp on Friday through Sunday up in the mountains of Khao Yai at Mountain Creek Resort.
The three-day festival have unveiled their full lineup yesterday, and we can tell you right now – it's absolute fire! Over 150 local artists from all corners of Thailand's vast electronic music scenes will be performing across 10 stages.
Mystic Valley will cater to various tastes of the electronic music spectrum, with each stage representing one genre of electronic music. Whether you love jamming to house and techno, getting funky with disco or jumping to fast thumping beats of hardstyle, there will be something for everyone.
Due to the ongoing COVID pandemic, the second edition will not feature any international artists. While attendees may miss the international DJ lineup that the festival's first edition  had offered, this year's iteration will serve as a great hub to showcase the country's best and prominent local DJs. Do not underestimate local talent, as these audiomancers and beatmakers sure know how to fire up the crowd!
Additionally, the three-day, three-night adventure will also include a food market, a giant pool, a camping area where you can cosy up in a tent and listen to music under the stars and enjoy the relaxing weather amid nature. Count your blessings due to the fact that everyone can be physically here together!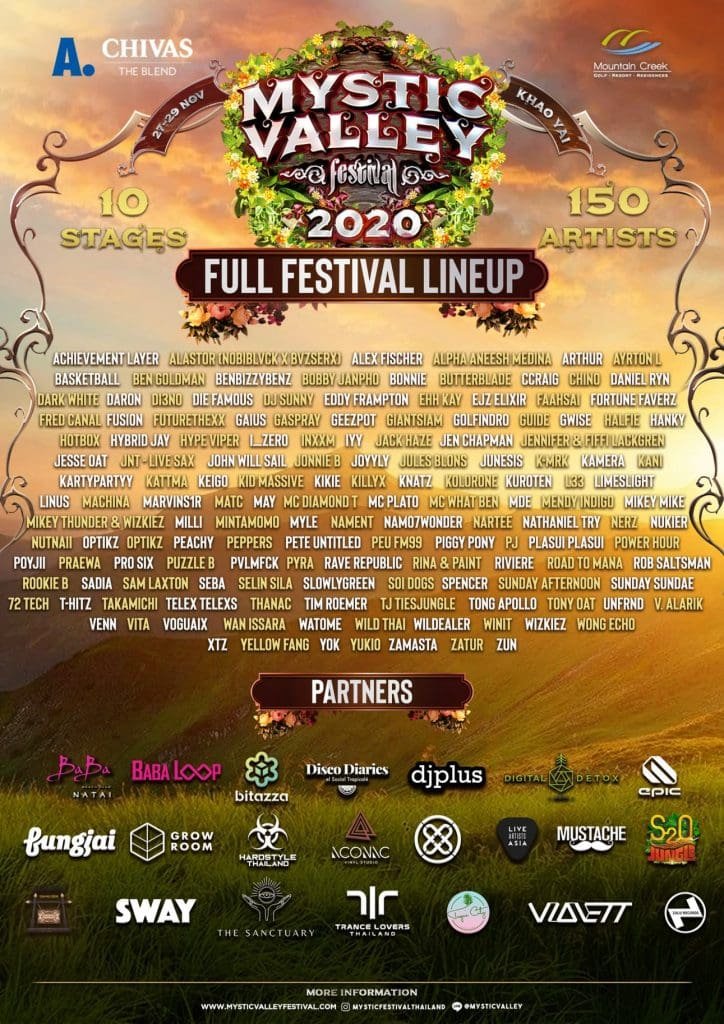 WHAT TO BRING – THE ESSENTIALS
– Mosquito Repellent
– Dust Mask
– Torch
– Comfy Shoes
– Thermal Bottles
– Ear Plugs
– Wet Wipes
– Any comfort necessities including your most favorite pillow or teddy bear
– Cute Festivals Clothes to express yourself
– Most importantly, Mystic Valley Festival tickets
TICKETS
Tickets can be purchased via Ticketmelon. All ticket holders have access to all three days of the festival.
Regular tickets are currently available for 2,290THB. Attendees can also buy two regular combo tickets for 3,980THB (1,990 per ticket).
VIP tickets are also currently available for 3,900THB. VIP tickets grants access to an exclusive VIP Zone which includes massages, cold towels, fruits and snacks, sofas and seating areas, mobile phone charging area, AC fans, a cocktail bar, Wi-Fi, and hostesses!
TRANSPORTATION AND CAMPING
Transportation will be available from Friday, November 27 @ 11am to Sunday, November 29 @ 6pm.
Tents are available for camping at the festival, but are limited to 100 with a choice of blue and green colors (3 x 2.5 Meters, fits 2 persons).
You have three options available:
Option 1: Round-trip Transportation plus tent for 2,500THB
Option 2: Round-trip Transportation only for 2,000THB, Bring Your Own Tent
Option 3: Camping ground rental for 1,500THB, No Transport, Bring Your Own Tent
Additionally, camper vans are also available at the festival for up to four people. They're available to rent for either 2 days 1 night for 7,000THB or 3 days 2 nights for 12,500THB. For more information, add LINE ID: @mvcaravan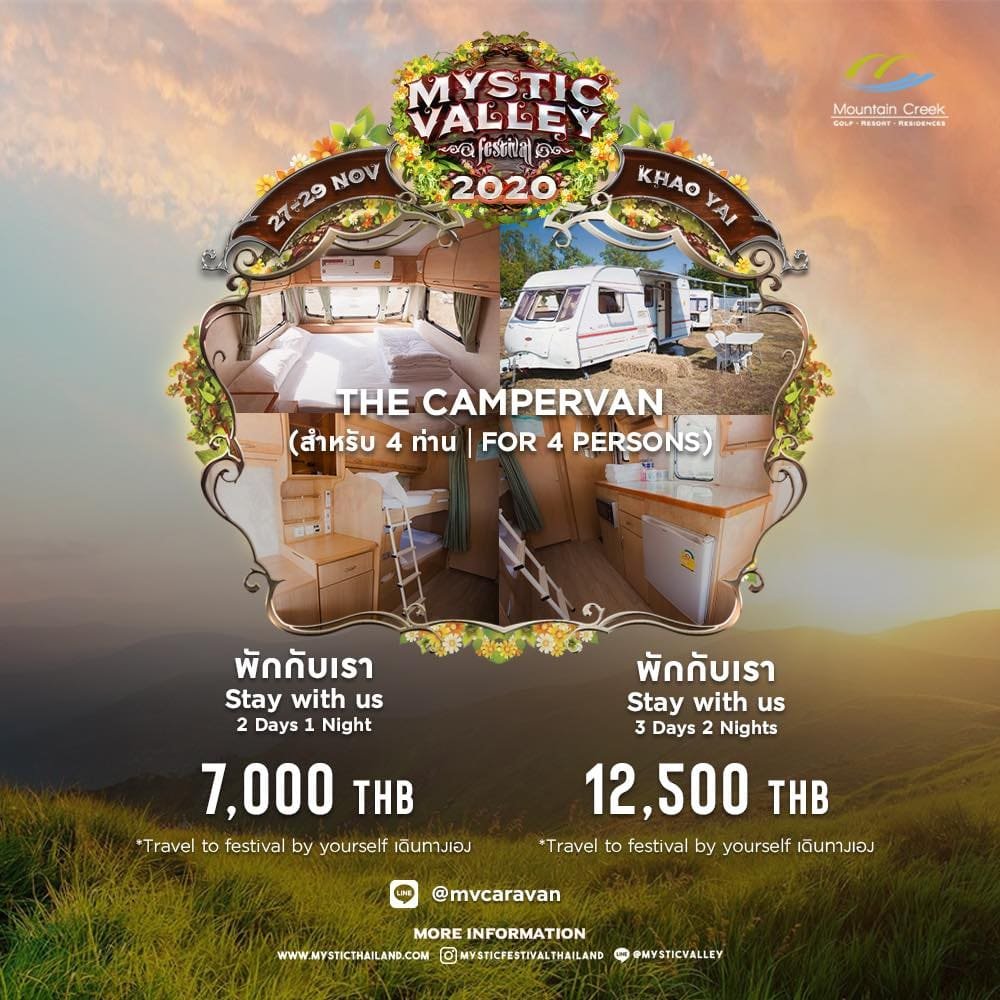 HOW TO GET THERE
Mountain Creek Golf Resort and Residences is located in the beautiful greenery of Si Khiu, Nakhon Ratchasima, a 200km drive from Bangkok on Mittraphap Road.
Once you pass the large, scenic Lam Takhong Lake on the road, keep driving further down until you pass the 'KM91' milestone. Drive 400m then slowly keep right, take the U-turn and drive back for 200m. The entrance to the festival should be on your left.
Follow the signs, and in a couple of minutes, you will arrive at the resort!
No car? Don't worry, you can also rent a car through https://thairentacar.com/, on Facebook or Line ID: @ThaiRentACarClub, then head out of town in comfort into the fresh air of Khao Yai and rustic adventurous vibes of the festival.
To waste no time raving, we recommend you get accustomed to where each of the stages are located once you arrive to Mystic Valley. Get yourself prepared with a map of the festival below. Read on below to know more about the stages!
THE STAGES
เสียงสรรค์ – SIANG SUN Stage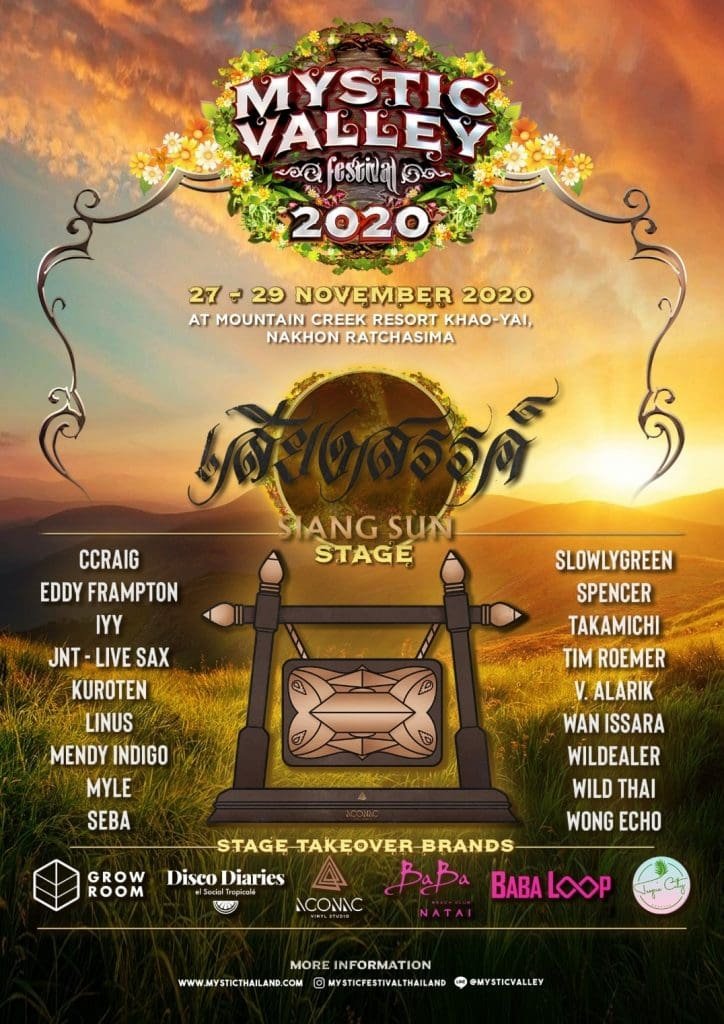 Audiophiles can experience top-of-the-line sound quality at the Siang Sun stage thanks to their use of the renowned FUNKTION-ONE sound system. This is the very same sound system used in some of the world's famous dance music clubs such as Berghain and Sisyphos in Berlin, Shelter in Amsterdam, Space in Ibiza, among many others.
The stage is a joint collaboration between various party and entertainment venue brands including Grow Room, Disco Diaries, Iconic Studio 53, Baba Beach Club Natai, Baba Loop, and Tropic City. Therefore, each brand will creatively bring their own unique characteristics to the DJ booth, connecting artist and audience through what matters most – sounds of music.
S2O Jungle Stage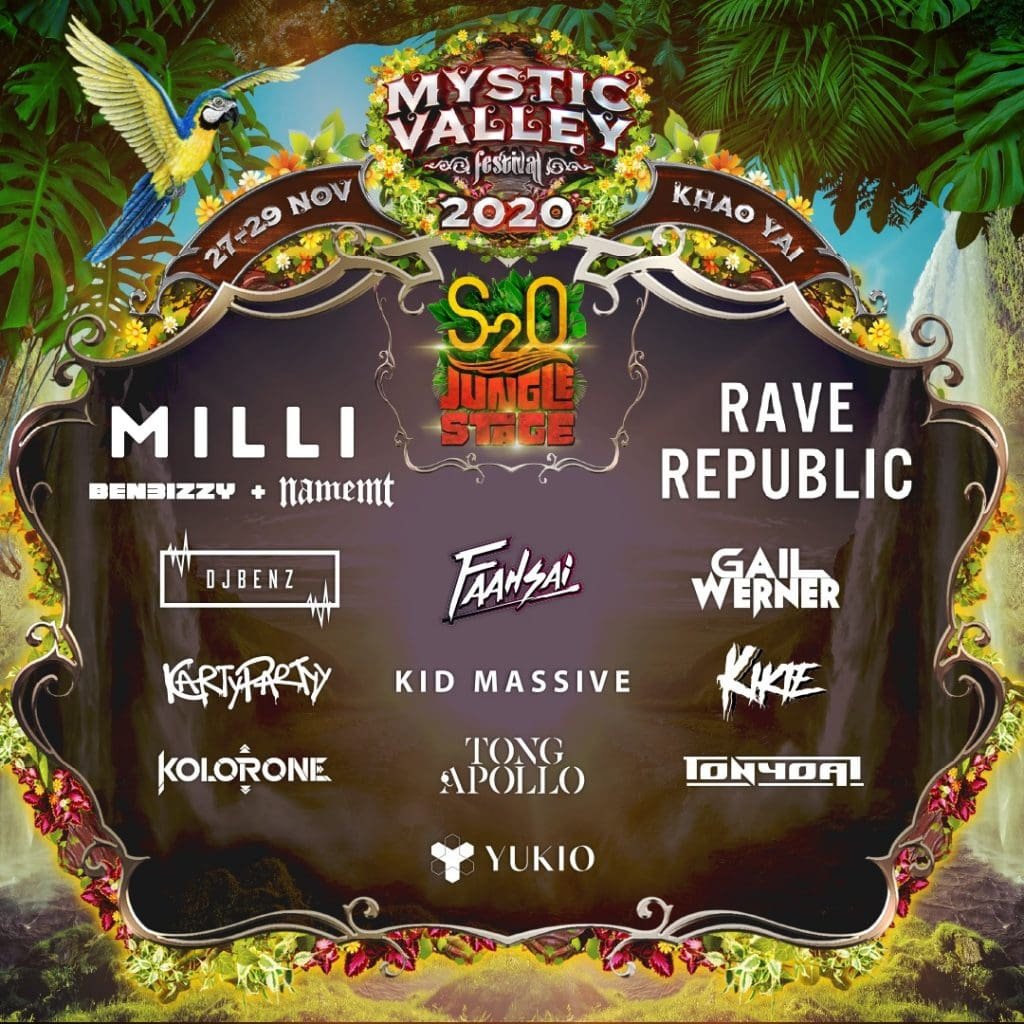 One festival casualty that fell victim to the COVID pandemic earlier this year was S2O Songkran Music Festival. Fans who miss the wet n' wild festivities (or were jealous that Taiwan got the go ahead with their own iteration back in September) need not worry as the EDM festival will be hosting its own stage at Mystic Valley with a jungle theme.
The lineup most notably features young rising Thai rapper MILLI who will be performing on the stage for the first time. She will be joined by her YUPP! labelmates Ben Bizzy and Nament.
Singapore-based DJ duo Rave Republic, who were previously voted #98 in DJMag's Top 100 DJs list in 2018, will also be headlining the stage with their pop-infused EDM bangers.
Fungjai Stage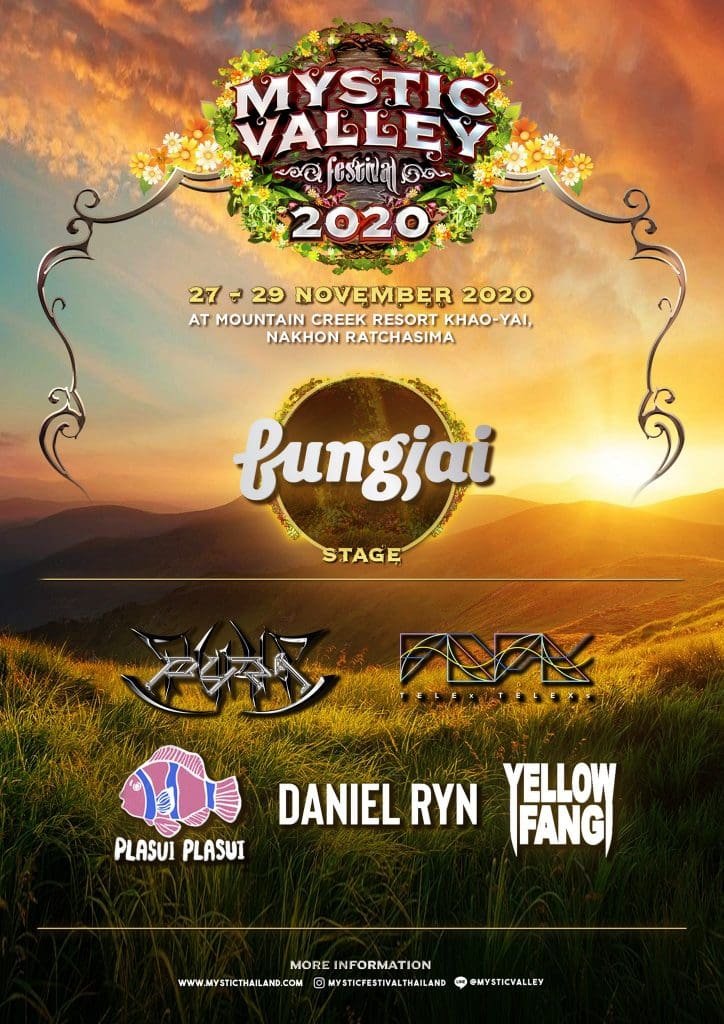 Fans of indie music will be happy to know that Fungjai will be hosting their own stage. The online music platform will be bringing electronic R&B songstress Pyra, synthpop band TELEx TELEXs, dreamy rockers Plasui Plasui, lo-fi artist Daniel Ryn, and indie darlings Yellow Fang.
EPIC Stage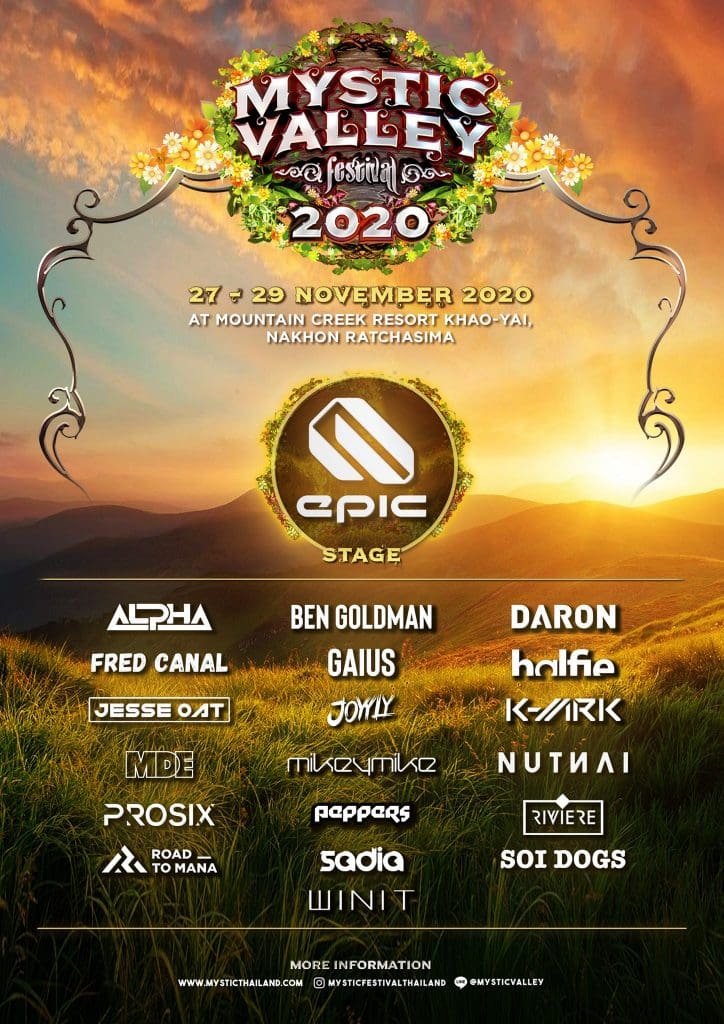 EPIC Stage is coming back to this year's edition, this time with a focus on curating local talents playing the finest in house music – whether that would be deep house, tech house, progressive house, melodic house and techno.
The stage will be outfitted with the powerful L'Acoustics sound system in order to ensure the music will be played LOUD.
Hardstyle Thailand Stage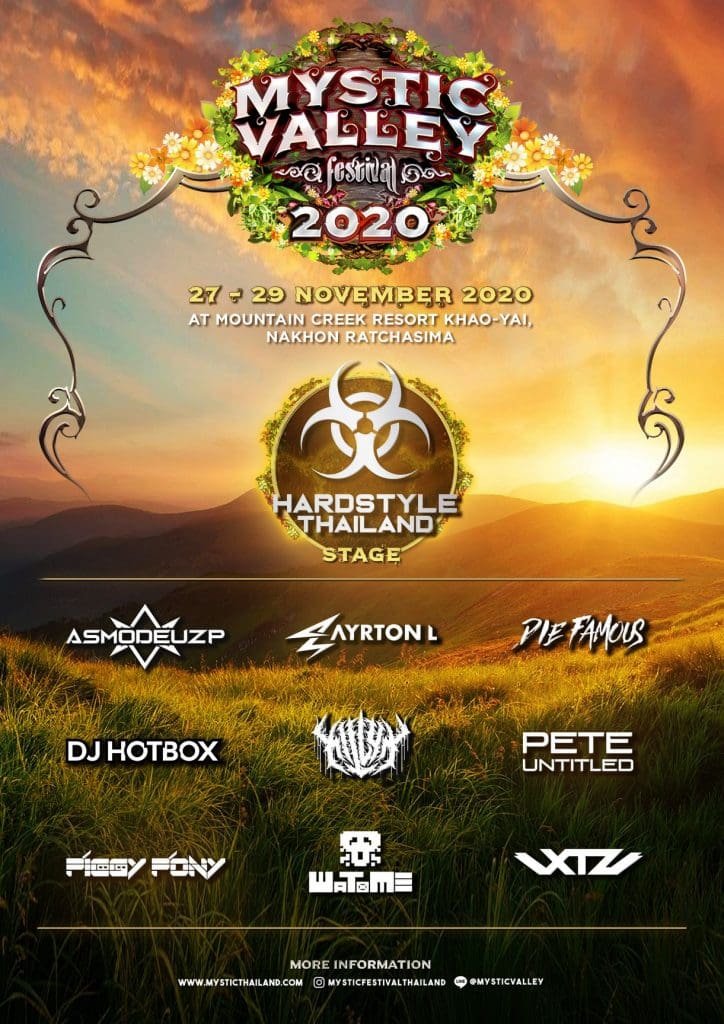 Harder, better, faster, stronger! Thailand's hardstyle community will be serving up distorted kick drums, fast beats, and fiery melodies at their very own stage for fans of the EDM genre.
Trance Lovers Thailand Stage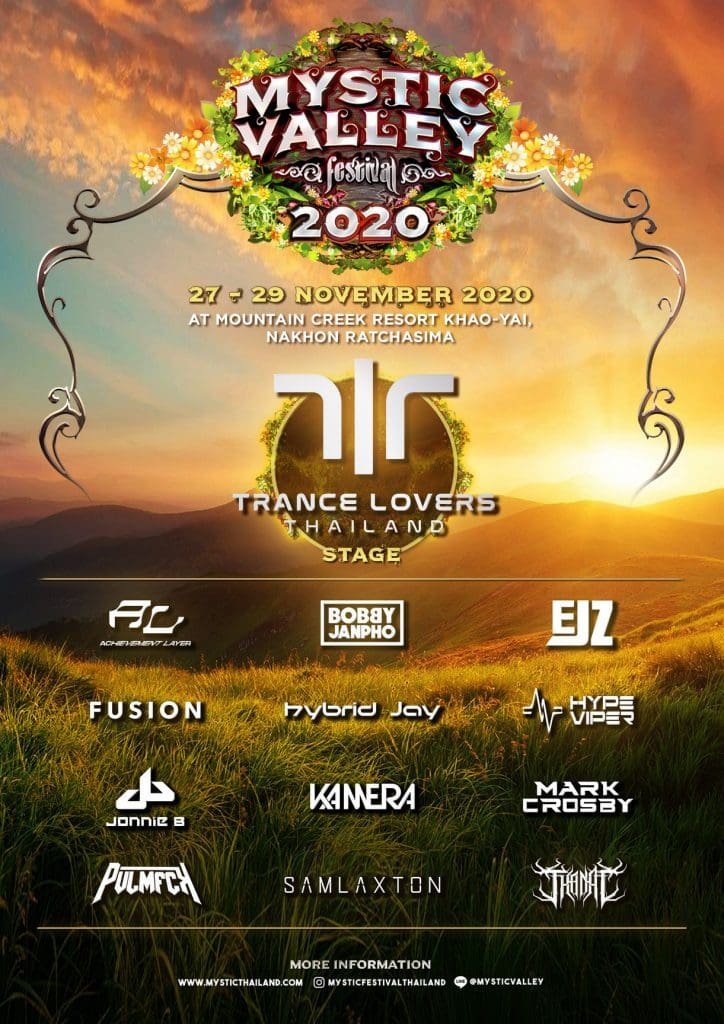 The trance music community will be taking Mystic Valley attendees through an emotional journey at the Trance Lovers Thailand (TLT) stage.
The lineup features a selection of the finest local trance DJs in the scene as well as Sam Laxton, one of the UK's most exciting up-and-coming artists described by trance group Above & Beyond as a "talented producer".
Violett Stage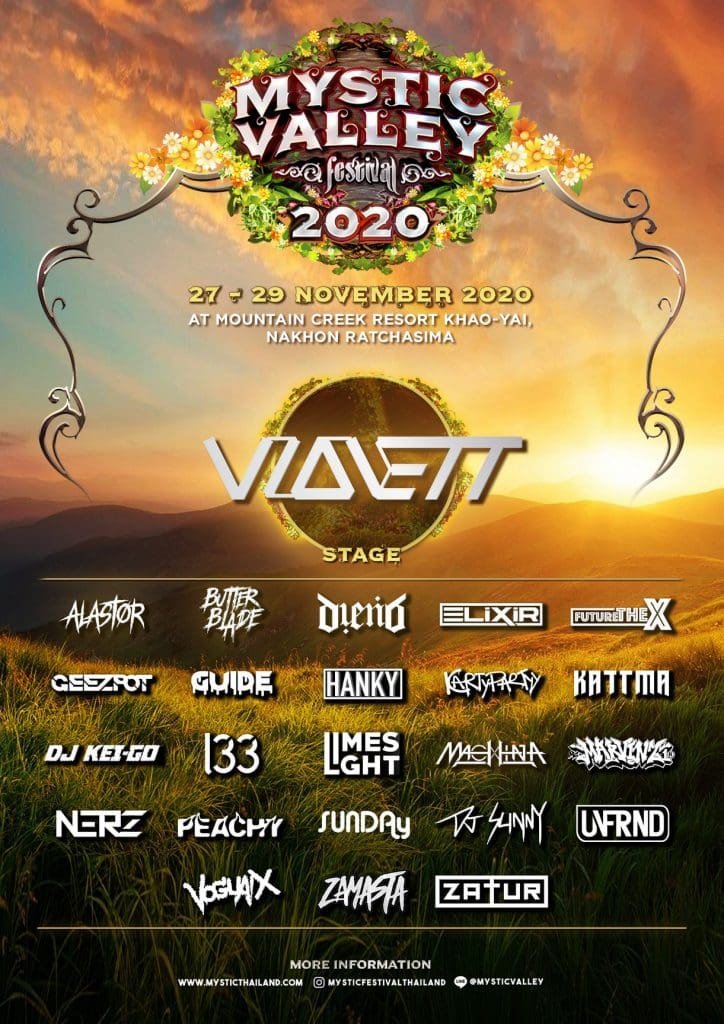 Thonglor venue Violett are bringing their hottest team of DJs to their stage, where they will be dishing out trap, bass, future bass, and hip-hop music. These DJs know how to bring the energy when it comes to loud kicks, snappy snares and dirty bass samples.
Mustache Stage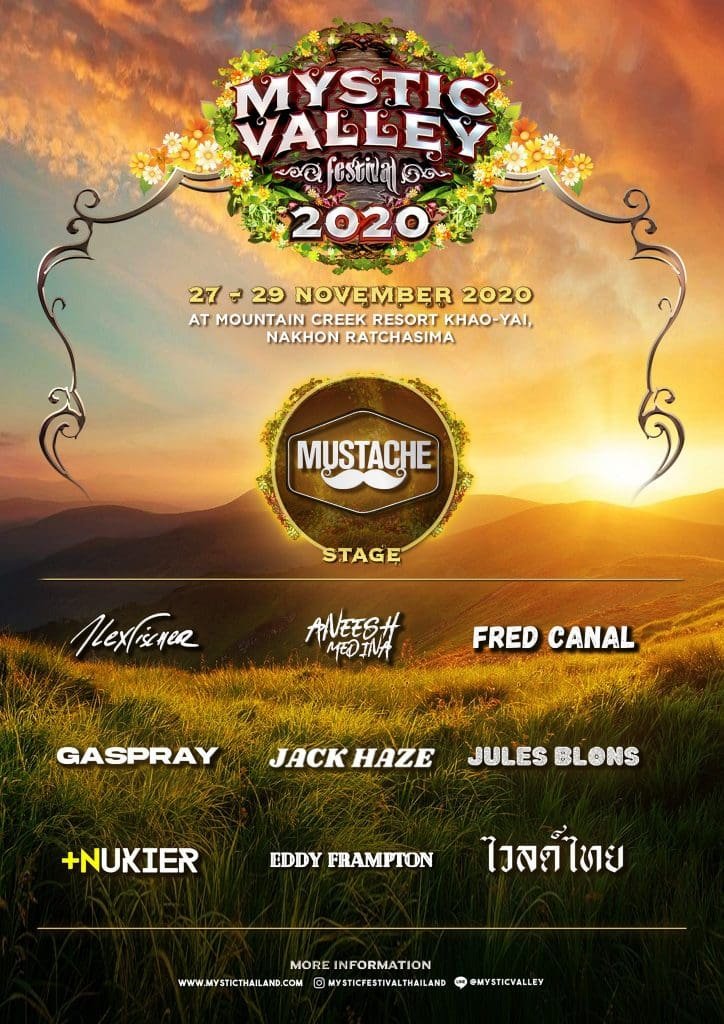 Bangkok's leading underground house and techno venue, and one of the top events brand for the growth of local talents and nightlife scene, are also making an appearance in Mystic Valley this year with their stage. Expect quality house and techno music from the venue's resident DJs including the likes of Alex Fischer, Aneesh Medina, Jules Blons, Fred Canal, Blast Sessions' Nukier, and Wild Thai.
SWAY Stage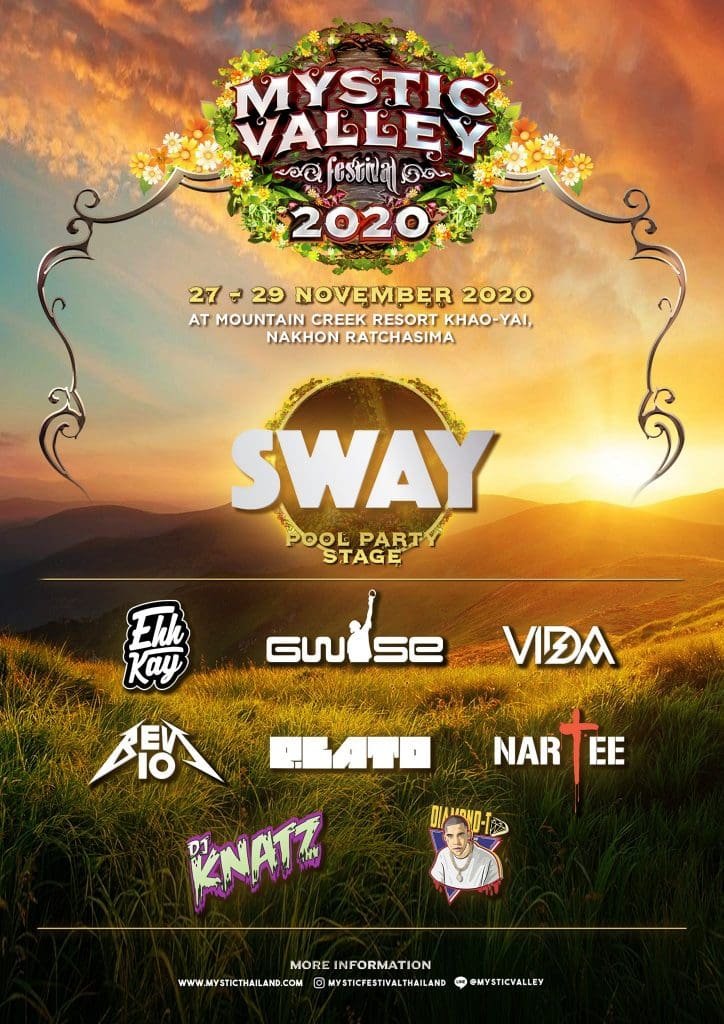 Time for a Swaycation! Thonglor hip-hop venue SWAY are bringing their all-star hip-hop team to Mystic Valley with a wild pool party and the hottest hip-hop beats you can wish for.
The Sanctuary Stage
When you need a bit of a break from raving non-stop at the many stages of Mystic Valley, head on over to The Sanctuary Stage – a chill-out zone for attendees to reset and recharge. Yoga and meditation sessions will be available during the day, while indie musicians and bands will provide music during the evening such as Jennifer and Fiffi, John Will Sail, and Rosalyn.
Also read: Asian Delights, Pt 4: Get lost in the smooth and sensual sounds of Rosalyn
Tasty and healthy food are also served here so if you're in need of a detox, this is where you should be!
DJ Plus x Loco Room Stage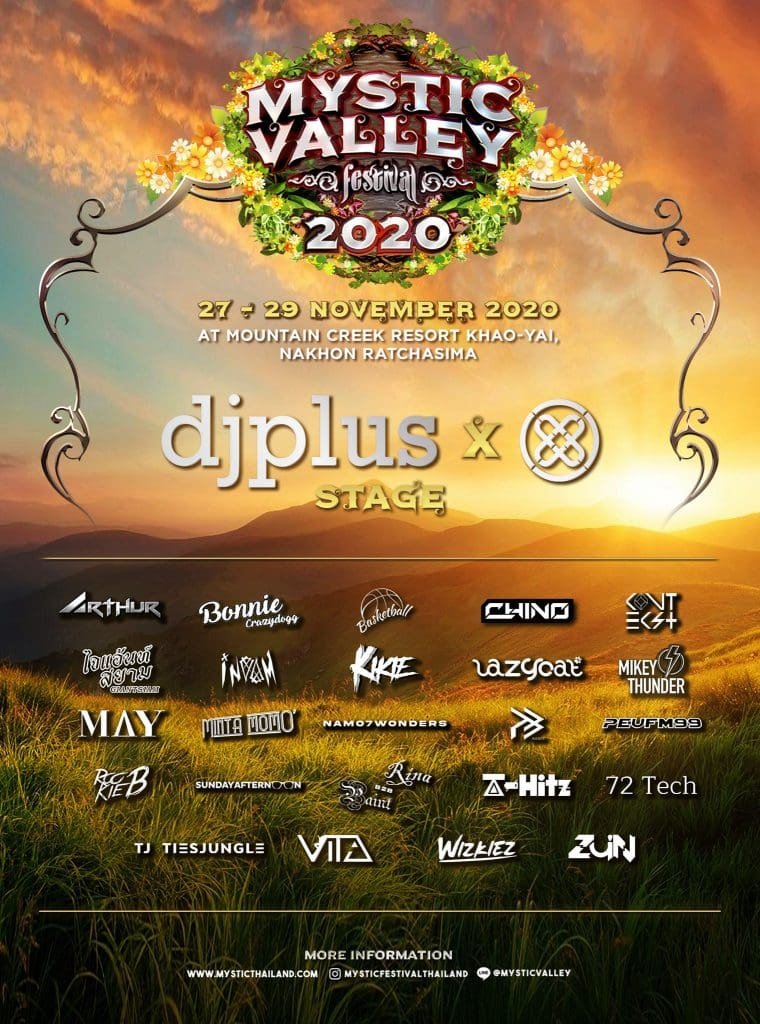 Experience the new generation of artists and DJs along with a special guest from the Loco Room team led by TJ Tiesjungle for three days straight.
Z Stage (After-Party)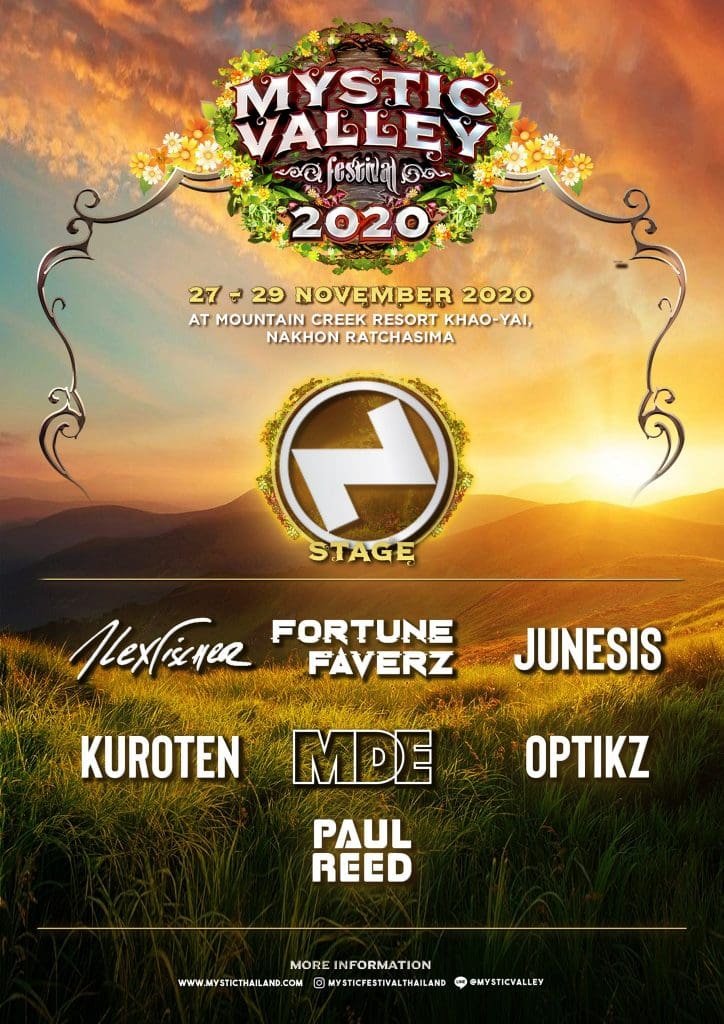 Zulu Records, led by the UK's My Digital Enemy (MDE), will be throwing Mystic Valley's after-party with an international lineup of DJs to keep the party going long after the festival is over.
CRYPTOCURRENCY
Mystic Valley Festival supports a decentralised cashless society with a payment option of Cryptocurrency through their partners at Bitazza Thailand, a premier digital asset platform.
This partnership will turn Mystic Valley Festival into the world's first Blockchain-based music event, with its own Mystic token. This partnership will allow visitors to use the Mystic Valley mobile app to transact via blockchain in a cashless environment  for products and services throughout the festival. Digital currencies including Bitcoin, Ethereum, and USDT can be used to top up credit for the wallet at the festival as well as exchanged for Mystic Valley
Everything has gone digital, so why not embrace the future together, now? Bitazza is offering a special deal for Mystic Valley Festival tickets priced at 1,490THB (discount of THB 500 from 1,990), for the first 20 tickets.
Sign up for Bitazza here.
For more information, visit the Mystic Valley Festival Facebook page.
Have something to add? Tell us!