Singapore, here's your "Last Chance to Dance" with Funeral For A Friend!
The Welsh alternative rock band has announced their latest tour "Last Chance to Dance", which will act to celebrate and conclude the band's illustrious fifteen-year career. FFAF will perform in Singapore, the only show in Asia, on Friday, February 19, 2016, 8pm at D'Marquee, Downtown East.
On this final curtain call, vocalist Matthew Davies‐Kreye expresses:
"It's the natural end. We've don't everything we set out to do and way more than I could ever have hoped so I'm not upset that it's run its course. We all felt that 'Chapter and Verse' was a pretty decent full stop on an incredible fourteen and a half years of making music together. So, how do you celebrate a huge part of your life? You play some shows!"
Play some shows he will, and you can expect them to feature the best of Funeral For A Friend hits.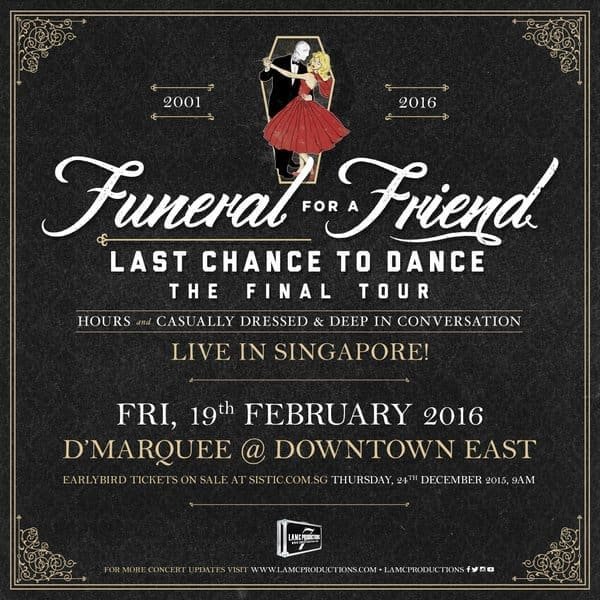 Tickets go on sale today through Sistic. Early bird tickets (Dec 24-29) are priced at SGD98 and standard tickets at SGD108 (Dec 30 onwards). The first 50 ticket buyers will get the chance to enter a meet and greet session with the band.
As pioneers of the modern UK rock scene, Funeral For A Friend's music has inspired a whole generation of British bands to follow in their footsteps to international acclaim. From their beginnings in the early‐2000s, FFAF's own unique take on post‐hardcore captured the imagination of music fans across Britain and propelled the band to a formidable career. The band released their seventh and final studio album 'Chapter And Verse' via Distiller Records earlier this year and will be leaving behind an impressive catalogue of music which will be held dear by their dedicated legion of fans.
Have something to add? Tell us!