The two-stage livestream event will bring together over 40+ artists from around the world to celebrate LGBTQ+ representation in music and is set to kick off on June 27 via Levitate Events' Twitch channel.
Production company Levitate Events will be hosting their second annual PrideFest as a free livestream event on Saturday, June 27 to celebrate LGBTQ+ representation in music. The virtual festival features two stages with a lineup of over 40 LGBTQ+ electrartists from around the world.
See also: A list of current and upcoming livestreams to tune in during lockdown
The event will be hosted on Twitch at 1pm ET where viewers can stream for free. However, attendees will also have the opportunity to donate where proceeds will benefit the artists performing during the livestream as well as causes such as the OutRight International's COVID-19 Global LGBTIQ Emergency Fund which supports LGBTQ+ people, and Black Lives Matter the leading organization of the BLM movement.
Watch parties will also be held via the Zoom app during the event which enables attendees to connect with the artists.
Attendees can RSVP on Eventbrite for a chance to win 1-on-1 shoutouts, digital meet and greets with the artists, and merch.
Check out the lineup for the event's two virtual stages – the Pride and Rainbow stages – below.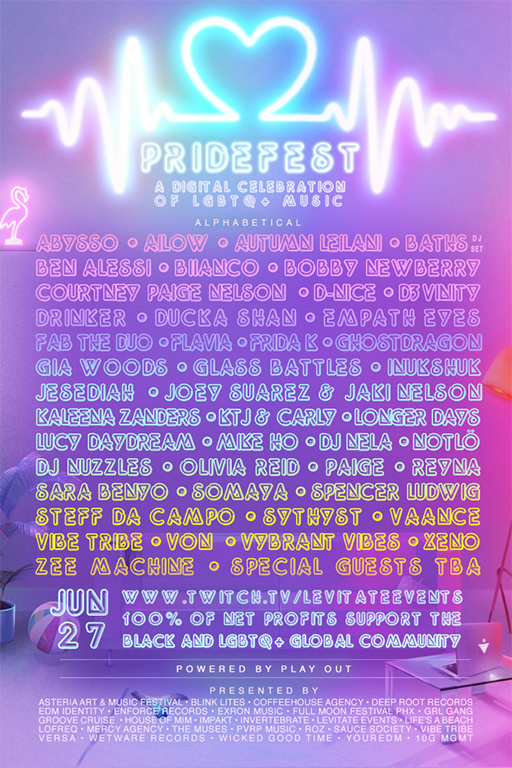 LINEUP:
Pride Stage
Abysso
Ailow
Ben Alessi
Ducka Shan
D 3 v i n i t y
Empath Eyes
Frida K
GhostDragon
Glass Battles
Inukshuk
Joey William Suarez & Jaki Nelson
Kaleena Zanders
Longer Days
Mikel Ho
NotLö
DJ Nuzzles
Paige
Sara Benyo Steff da Campo
Vaance
Vibe Tribe NY
Von
Vybrant Vibes
Xeno
Rainbow Stage
Autumn Leilani
Baths (DJ Set)
Biianco
Bobby Newberry
Courtney Paige Nelson
Drinker
D-Nice
Empath Eyes
Fab the Duo
FLAVIA
Gia Woods
Jesediah
KTJ & CARLY
Lucy Daydream
DJ Nela
Olivia Reid
REYNA
Somaya Gupta
Spencer Ludwig
Zee Machine
PrideFest's first edition was hosted in New York last year which saw 20 local LGBTQ+ electronic artists performing to a crowd of 1,500 attendees in Brooklyn. The 12-hour festival was able to donate nearly $1,000 USD to organizations that support LGBTQ+ wellbeing.
For more info, head on over to the Facebook event page.
Have something to add? Tell us!