We catch up with indie pop duo joan during lockdown to talk about their new duet rendition of their popular single 'brokenhearted' with BEKA, their 90's-inspired music style and the creative modernization of their nostalgia-driven influences.
For the last three years, alt-pop duo joan (consisting of members Alan Benjamin THomas and Steven Rutherford) have been steadily winning fans over with their nostalgia-laden, 90's-inspired boy band sound.
From intimate R&B ballads to energetic dance tunes, the powerhouse pop pair has a knack for crafting songs that feel like they're both from the past and present, or as Billboard describes, "a retro sound with modern pop sensibilities".
In 2019, they went on tour to support artists and bands such as The Aces, Bloc Party, Jeremy Zucker, and HONNE. They also in various gigs across Asia, including stops in the Philippines, Thailand, Singapore, and Hong Kong.
2020 proved to be their biggest year yet, which sees joan playing their very first headline tour to sold out crowds worldwide. With luck on their side, they managed to finish the tour and head back to their home state of Arkansas before COVID-19 hit.
Under lockdown, they entertained fans with a livestream show in August as well as dropping their incredible sophomore EP cloudy. The six-track EP featured hit singles 'brokenhearted', 'magnetic', 'love me better', and 'want u back'.
They closed out the year with another EP, partly cloudy, featuring alternative, stripped-back versions of the six songs from their cloudy EP.
joan explains,
"We feel like some songs shouldn't just be released as one version. One thing we love to do is try to reimagine some of our existing songs and chilling them down a little to see what story they can tell on their own. We had plans to be touring right now for cloudy. Since that isn't happening, we decided to do something new and familiar at the same time."
Earlier this year, they released a third rework of their ballad 'brokenhearted' titled 'brokenhearted (together)' with UK singer BEKA.
Of the collaboration, joan comments,
"We met beka while touring with honne in asia last year and became buds immediately. We were working on cloudy at the time and always thought it would be cool to have a feature on brokenhearted, but it would need to be the perfect match since it would be our first feature on a song. She started her own project and we are just her biggest fans so it was an absolute dream to have her take one of our favorite songs we've made to a whole new level ♥️"
BEKA adds,
"I met joan for the first time on tour in Asia and was completely taken by how warm and wonderful they are as people and then after seeing them live fell in love with their sound and their nods to my favourite 80's sounds with their anthemic grooves and fun melodies. We had a tonne of fun touring and became lovely friends and then after spending some time writing together on Zoom during lockdown, I was super honoured when they suggested collaborating with them on 'Brokenhearted'. I feel like 'Brokenhearted' sounds exactly how it feels to be in a state of wondering about love and is a real, pour your heart out moment, which I loved. It was really fun getting to make this work in these wild times!"
As lockdown continues during these trying times, we had a video chat with joan regarding their latest single and what future projects they have in the pipeline.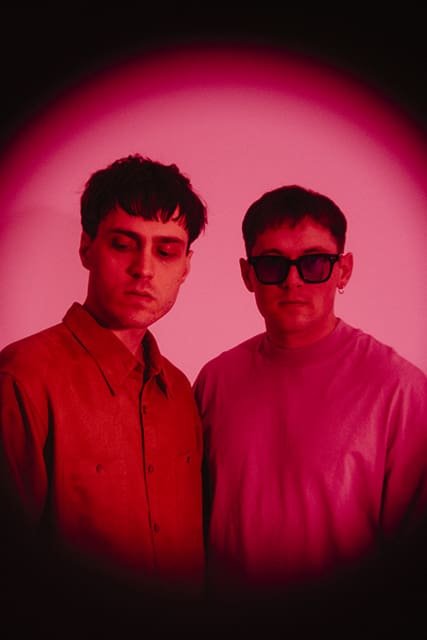 AL365: Hey joan! How are you. What have you guys been up to?
Alan Thomas: Oh man! Today we were at a coffee shop all day near our house working on stuff, getting ready for releases, a lot of planning. And I was doing taxes cus that's boring, and that's what we have to do.
AL365: You guys living under lockdown?
Alan: Yeah, we're in Arkansas in the States. It's pretty open; vaccines are going up and cases are going down, so it's great. It's not a complete lockdown.
AL365: Good to hear. Tell us more about your musical background for the fans out there who have only just discovered you two.
Alan: Steven and I both grew up in Arkansas; both went to the same college, but at different times. I have a background in music since the seventh grade. I started on drums, and then as I got older, I started songwriting and playing guitar and a little bit of keys. We met after college, and we were both in different bands. Both of our bands were slowing down, and we started asking questions like, 'Is this real or is this going to become a hobby?' We both realized we wanted to do music full-time, so we got together and wrote our very first single, 'Take Me On', on that very same day. Man, it was just a magical, written-in-the-stars moment where we both like 'OK! We're all in on this'. We called ourselves joan and here we are talking to you.
AL365: Why the name 'joan'?
Steven Rutherford: A great question. It's kind of a boring answer, but it was an option for the previous band I was in. I always thought it was an interesting name, but it didn't fit for the band. When we started joan, with the music we were making, it just made sense. It fits the personality of the music. Alan actually didn't like it right off the bat. I was putting up some mock designs for what our logo would look like. One of them had a very specific look to it, and it just clicked. We were like, 'Yep, that's the name!'
Alan: The day he sent the logo over, I was like, 'Okay, I get it. I was wrong'.
AL365: 'joan', simple and very easy to remember! Your music ranges from energetic dance tunes to intimate ballads. It actually reminds me of LANY and HONNE.
Alan: Yeah, thank you! We toured with HONNE in the Philippines, that was amazing. They are big influences on us. We are happy to be in that kind of company, for sure.
AL365: Congratulations on the release of your latest single, 'brokenhearted (together)'. It's actually a new (and third) version of the single 'brokenhearted'. In this rendition, you worked with singer BEKA who breathes new life into the bittersweet track. How was the experience like working with her, and why the decision to create a duet version of 'brokenhearted'?
Alan: It was a flawless execution on her part. We were thinking about doing that song as a duet for a while now. We decided not to do it like that on the original version from the cloudy EP just because we haven't really found the person to sing it with. After the original seemed to be doing really well with our fans, we thought it was a chance to revisit that idea. We met BEKA on tour with HONNE, hit it off with her as friends. When we all got back home, we were texting each other about trying to collab. Every time we thought about the song and who it should be, she was it. She sent us vocals a couple of days after we asked her, and every take she sent us was perfect. It was really hard to choose the best take because they were all great! She's a superstar and we love her.
AL365: It seems like you guys have a lot of versions of your songs for fans to enjoy. This wasn't the first time listeners got reworked versions. You've released the partly cloudy EP in which your songs were stripped down. Are there more renditions of your released songs lying somewhere in the studio that are just as good that we haven't heard?
Steven: (Laughs). That's a great question! I would say the songs that we release are usually the songs that we are envisioning. With cloudy in particular, we finished recording and getting it ready for release right before the pandemic hit.  It was interesting because we had a live show heavily in mind for those songs, and when that didn't turn out, we were like 'What if we reworked these songs to show where we are in lockdown?' and by going along with the seasons we're going through while we're in quarantine. It was fun to redo the songs, and were really stoked by how they came out.
AL365: They really do sound great. What has been your favorite song of all time that you've worked on?
Alan: Every artist will say that each song feels like a little baby that you have to nurture. I'm proud of everything we've released. We've never released anything that we didn't stand 100% behind, and didn't feel was the right thing to release. We have a pretty good filter internally with our team in what is great and what is good (I hope we're not writing bad songs). With all that in mind, each song is special to us. When we wrote 'brokenhearted', when the chorus, melody, and lyrics were forming, we were like, 'If we treat this right, this one could be special for us.'"
AL365: I can definitely see there's an 80's/90's lofi visual aesthetic you have in your music videos. What was the creative reasoning behind this particular style?
Steven: I think it came naturally when we started writing music. We were very intentional in what we wanted visually to match with the music. I think a lot of the influences came from what we grew up and fell in love with. That's cool you caught that. It's funny, we always try to take influences we grew up with and try to modernize it.
AL365: When was the last time you toured?
Alan: It was February-March of last year, our first headline tour. COVID has been chasing all of us. We were in Seattle when the first cases popped up in America, and when we drove back home to Arkansas, the virus was literally following us. It was nuts. When we got home, everything shut down. We were, honestly, very fortunate to even finish that tour.
AL365: While that may not have been a highlight, were there any positive moments while you were on tour?
Alan: COVID was definitely not a highlight (laughs). As a band who toured a lot, as a supporting act for other artists, your job is to win over the crowd with your 20-30 minute set. To be able to take all of that energy for your own show, it's really nerve-wracking but it's also really fun to shape our performances; to give fans of what is a one-hour experience of a joan show. It feels like a director with his debut film. The whole tour was nuts, it was incredible.
AL365: Since your formation to today, how have you grown as an artist?
Alan: In the last year, partly cloudy Historically, we always depended on people to finalize our productions. We've always taken our productions pretty far. But in the last year, our partly cloudy EP was where our buddy Andy Seltzer who is an amazing songwriter helped us on two of our tracks, and for the other four we were like, 'This is our moment where we can prove ourselves in producing'. That was a really formative time for me personally, where I have the chops as a producer and Steven has the chops as a songwriter and with our team to take these to things over to the finish line. I've been playing music for over 10 years now, and I'm just now getting to the point where I'm confident in our abilities as a team.
AL365: You've also performed a livestream show back in August. Would you say they are the way of the future?
Alan: I hope not.
Steven: I hope not too (laughs).
Alan: It was fun but nothing replaces a live crowd. It doesn't matter how you cut the cake, it doesn't taste the same. Oh man, I hope it's not the future. I hope it's supplemental.
AL365: Any future projects you got lined up?
Steven: We are actually in the planning stages of what's next for us. We have a lot of music that we are close to releasing. This year's gonna be awesome.
AL365: Anything you would like to say to your fans in Asia?
Alan: Thank you. Thank you for caring about our band, for even knowing who we are. It's nuts for me to think that you know two guys from Little Rock, Arkansas. We are extremely grateful and can't wait to come back and play for you in Asia. It's been too long. We're bored and ready to get out of the house.
AL365: Thank you joan for taking the time to answer our questions!
Steven: Thank you!
Listen to joan via Spotify.
Have something to add? Tell us!