Southeast Asia, it seems, can't get enough of HONNE. This month, just a little over a year since their debut visit, the London duo returned for a festival run and an embrace of even bigger crowds in Jakarta and Bangkok, and to make a big first impression on Malaysia, where they played the second night of Good Vibes Festival 2018 among the likes of alt-J, ODESZA and Lorde.
HONNE were already a huge favourite online before their first outing. But through word of mouth and the power of music streaming, their smoldering synths and honest, easy-on-the-ears lyrics have reached new heights. Take "Day 1 ◑", one of the first two tracks from their upcoming second album. The song topped Thailand's iTunes chart for four weeks and earned the most streams here than anywhere in the world in May.
Whatever they've done on this record, it's working. Due August 24, Love Me / Love Me Not, runs in a similar vein to their 2016 debut, if more beat-led, far-reaching and capital-R romantic. It explores the two sides of life, relationships and what success entails, while seeking balance between this dichotomy, knowing what follows every high is a low and, equally, vice versa. It's a concept further played up in the way the songs are released: since March, two new tracks have been unveiled on the last Friday of every month, one representing the brighter "Love Me" (◑) side, the other darker "Love Me Not" (◐). The penultimate pair, "Feels So Good ◑" featuring Anna of the North and "Shrink ◐", arrived just last week.
After their set at Good Vibes, HONNE's James Hatcher and Andy Clutterbuck talked to AsiaLive365 some more about the album and the first time they picked up an instrument before the conversation took an unexpected turn to a certain president and how Andy "bankrupted" his parents.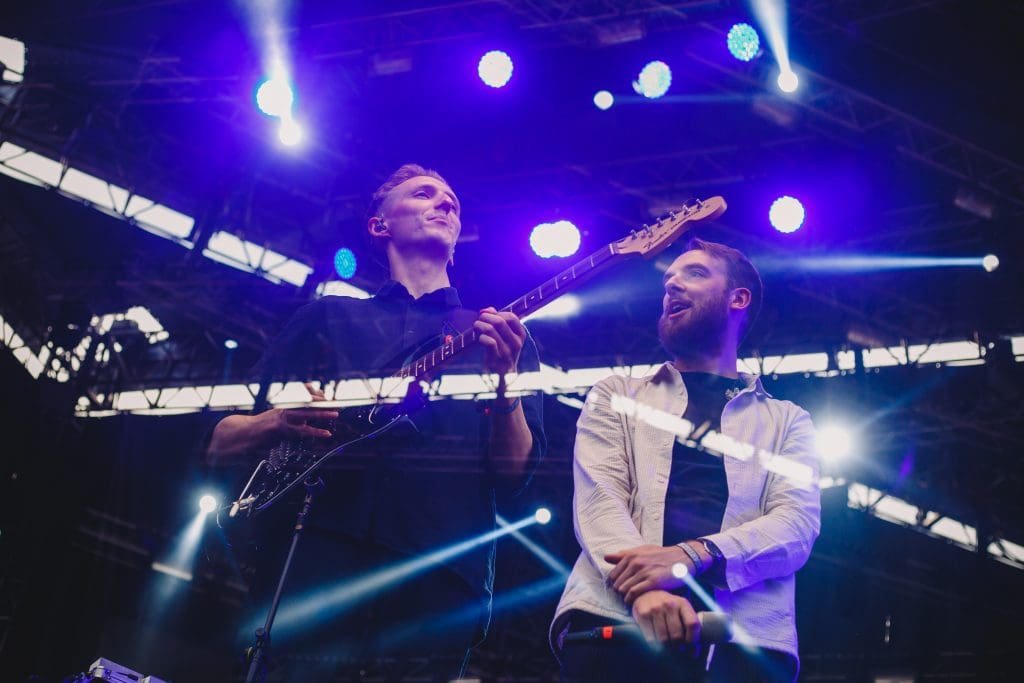 After your first shows back in Southeast Asia, how is your hon-ne right now?
Andy: The truth's coming out. I feel great! James feels wonderful. A little bit tired but we're just running on adrenaline. It's great. We love it here in Southeast Asia.
I've seen you guys in different places – a concert hall, by the beach, and now here, Genting Highlands at dusk. Each offers something different to experiencing your music. As performers, I wonder if you feel the same?
James: It's different every time. Here is definitely a very different vibe. Even every festival is different. Even the small thing like how far away the audience is from the stage can change your perception of it, how you hear people singing along. We're happy and have a great time if everyone is singing along and getting into it, dancing about. That's all that matters to us.
Do you have a preferred setting?
Andy: This, this was pretty good.
James: Sunset in a jungle. What a really nice time of day to play.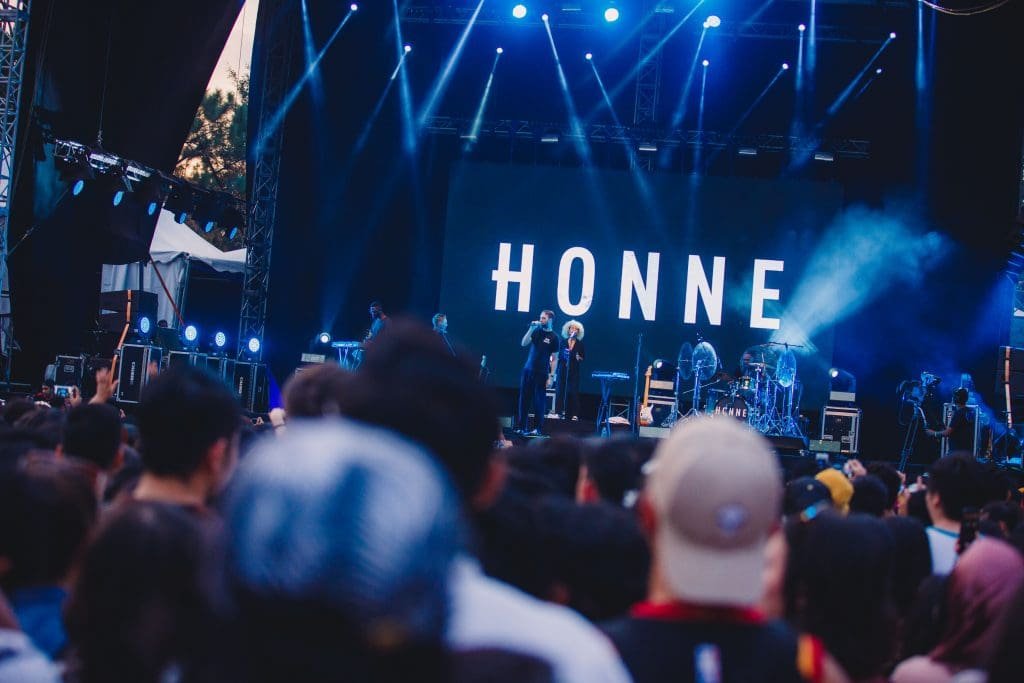 That was the first time many of us heard the new songs live. Tell us about the process of translating them for the live show.
Andy: It's one of the trickiest parts, translating what it sounds like on records.
James: Some parts come really easy, some need a bit more work on them.
Andy: It's the case of getting to the rehearsing room with our musicians, who are all amazing. We're quite pedantic. We try to get the parts correct.
James: At the same time, we do something unplanned. Like at the end of "Day 1 ◑" tonight, when we get people to sing along and then we come back in.
Andy: We never did that before.
James: But we jammed the end of the song and it's quite fun to do. It's really a mixture of being really spot-on with knowing how the bulk of the song is gonna be but then leaving enough room to make every gig fresh and exciting for us.
What are some of the things that you learned from the first record that you take note of while in the studio for Love Me / Love Me Not?
Andy: With our first album, we confined ourselves in a good way. We're really proud of it. We chose like a palette of sounds and we stuck to it for the whole record. We didn't explore any other possibilities much. With this new album, we didn't want to do that. My vocal is always gonna be the same so we could afford to experiment a bit more with production. That's what we did and we're happy.
James: We definitely want to be a band who does evolve with each album and doesn't just release the same version of the album but slightly different music. It's important to us that it sounds fresh every time and each album is like a new thing. Like Radiohead, for example, who we're a massive fan of. We initially bonded over them. It's amazing how they started off like a Britpop band. Really guitary. And now they're experimental and electronic.
There's a theme of dichotomy running through your new tracks. Did you set out with it in mind or did it come gradually?
Andy: It came towards the very end, actually. The album is called Love Me / Love Me Not so it's like opposite sides. We wrote a song called "Forget Me Not ◐", which is the last song we wrote for the album, and we weren't planning it. One of the lyrics in the song goes, "She loves me, she loves me not", and we thought it was a perfect way to describe the album. That's where we got our title from.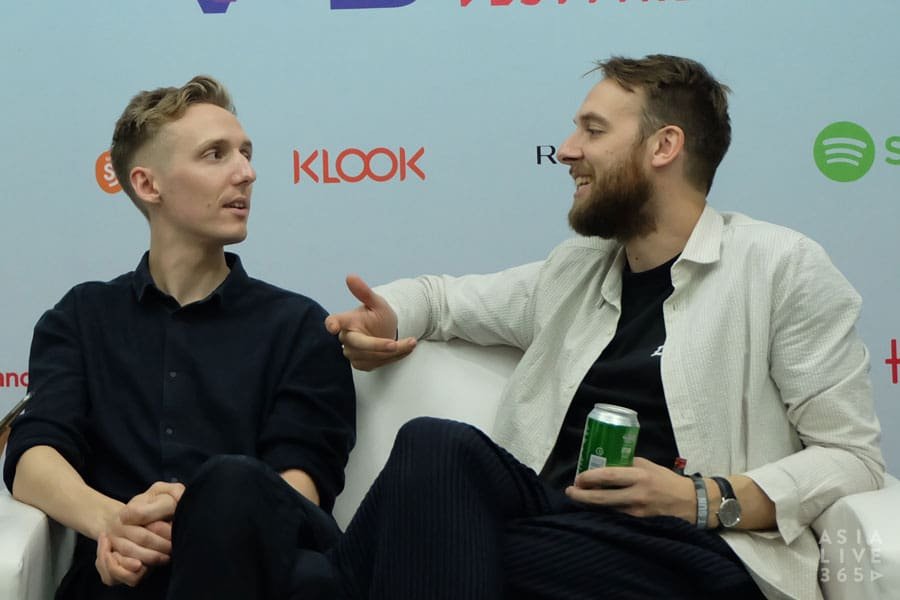 In many ways, today's music streaming makes listeners a playlist or one single at a time kind of person. Did this influence the way you release two songs at a time?
Andy: Yeah, a little bit.
James: Part of the thinking behind it was, with streaming platforms now, it feels like, yes, bands release an album but they release three songs from it that are focused tracks and there's less focus on the rest of it. It's more just about those three songs. Sometimes it's only one that really pushes the album. We did two songs a month so we can show two sides of us every month. Hopefully, naturally, they'll listen to both of them but we're not suggesting that one should be gravitated towards more than the other one.
You worked with Tom Misch, Georgia, Nana Rogues on this album. How did the collaborations come about?
Andy: Tom Misch had a week in a studio and wanted to fill his days so he asked us to come down and just get in a room with him. He's a lovely guy. We wrote a bit of music and that turned into "Me & You ◑". As for Georgia, we're just a big fan of her. She's an amazing drummer and has an amazing voice. We wrote "Unknown Location ◐" with her. Nana Rogues is a great producer, co-wrote "Passionfruit" by Drake. Generally speaking, we try to work with people that we want to work with.
James: Yeah, people who make music that we like, who we're excited to get in a studio with.
These next questions are inspired by your new songs: We know that "Day 1" of your musical friendship started at university. Individually, when was the first time you knew you wanted to make music?
James: I think I was maybe eleven. My brother and my dad were learning guitar and they kind of stopped a bit so I picked up the guitar. Within a week, I was unbelievably hooked and knew I wanted to do it, even do a degree in it. Which is weird, isn't it, for a child to be that obsessed? It was different than when I got into anything before. It was like, this is it. Then I started bands. I was really autocratic, too. I was like, we've got to do this! We've got to be in the school concert! Rehearse twice a week! And everyone else was just… kids.
Andy: I'm very similar. Both my sisters were learning guitar and I picked it up as well and I became better at it than them. I feel very lucky to have known what I wanted to do from a young age. It's nice to have a passion like that and very, very lucky, again, to be able to do it as a job.
Where is the dream "Location Unknown" you want to do a show in?
James: (Whistles)
Andy: How do we know then if it's still an unknown location?
James: We need to go to Australia. We haven't been there. That's long overdue. We're getting so many messages from people saying, please come here and here, and a lot of them has been, "Please come to Brazil". I remember Andy's friend commenting, "Please come to Bra- oh, just forget it" (laughs). But we really need to get there. I'd love to go to South America. That's really overdue as well. That'd be good fun.
"Me & You" samples Neil Armstrong's famous quote on the moon landing. What do you think is the next "giant leap" mankind should take?
Andy: There are lots of giant leaps. First, Donald Trump should take a giant leap out of here.
James: And Steve (Hough, their tour manager) should become the US president. Honestly, he'd be so good.
(Behind us, Steve burst into laughter: That is so random!)
James: He'd be the best out of everyone I know, and I mean that. I don't know very many people.
Andy: I think we should recycle more. This is my plan: every time I walk around our local park, there's always litter on the ground so I think if everyone just picked one bit of litter they saw, there wouldn't be any litter. There's more people than there is litter. That's my initiative.
James: I swear that's a fact, that if everyone in the world picked up maybe two or three pieces of litter in one day, the whole world would be clean. I don't know, maybe I made that up. But I'd like the idea of that being a fact. Is that how facts work?
If James was a superhero and to give his Peugeot "306" a name à la Batmobile, what would it be?
Both: It has a name!
James: "The Silver Bullet". It's kind of ironic because it's the shittiest car ever. In fact, if you go on the website We Buy Any Car, the amount they offer to buy it is 75 pounds, but it's worth more than that. The petrol inside is worth more than that (laughs).
Name an experience that you "Just Wanna Go Back" to and relive all over again.
James: That one just then!
Andy: That one, the one yesterday.
James: Let's think of a good one.
Andy: The first time I ate crispy aromatic duck.
James: With hoisin sauce.
Andy: Oh, my god, that was the best day of my life. And the first time I tried Nutella. My god, that was amazing. I'd do that all over again.
James: I'd go back and watch him eat it for the first time. Apparently, his parents used to buy like a tub every two weeks or something. Or was it a week?
Andy: Well, it was two tubs a week.
James: Two tubs a week! How are you slim?!
Andy: They were small tubs.
James: What, the little ones?
Andy: Yeah, the little pot. But not, like, little pot. The big one.
James: Andy's parents are bankrupt from Nutella purchases. And he went to rehab for it as well. Nutella rehab.
Listen to (most of) HONNE's Love Me / Love Me Not on Apple Music and Spotify.
Special thanks to Good Vibes Festival and Commas PR.
Have something to add? Tell us!