Cube Entertainment's heartthrobs BTOB are returning to Manila for their first fan meeting in the Philippines on October 29 January 7, 2017 at The Theatre at Solaire.
*Updated (Oct 20): The fan meeting has been rescheduled to the corrected date above. Promoter SJ Entertainment clarified this is to give fans more time to save up after the number of requests they had received. All tickets already purchased will be honoured. Read the full statement below.
Due to insistent demand and request from fans, we regret to inform you that we decided to move BtoB's First Fanmeeting in Manila on January 7, 2017! We apologize for this sudden change.
We know that there are a lot of fans who are trying to save up for this concert and we considered this request and much deliberation with the management. We decided to give fans more time to save and buy the tickets that they would want. The venue will still be at The Theater, Solaire Hotel and Casino. We will definitely prepare a better and bigger fan meeting for the fans. All perks will still be the same as well as the prizes that we initially prepared for this event.
Signed albums will be shipped in advance so VVIP and VIP ticket holders will be the first ones to get copies of BTOB's new album once released.
We are also open to those fans who would like to refund their tickets. You can send us an email at [email protected] Those who bought their tickets from Ticketworld can claim their refunds through them as well as those who bought from Nana Golf can contact them for refund.
We will release more details soon.
Thank you for your understanding. See you on January 7, 2017!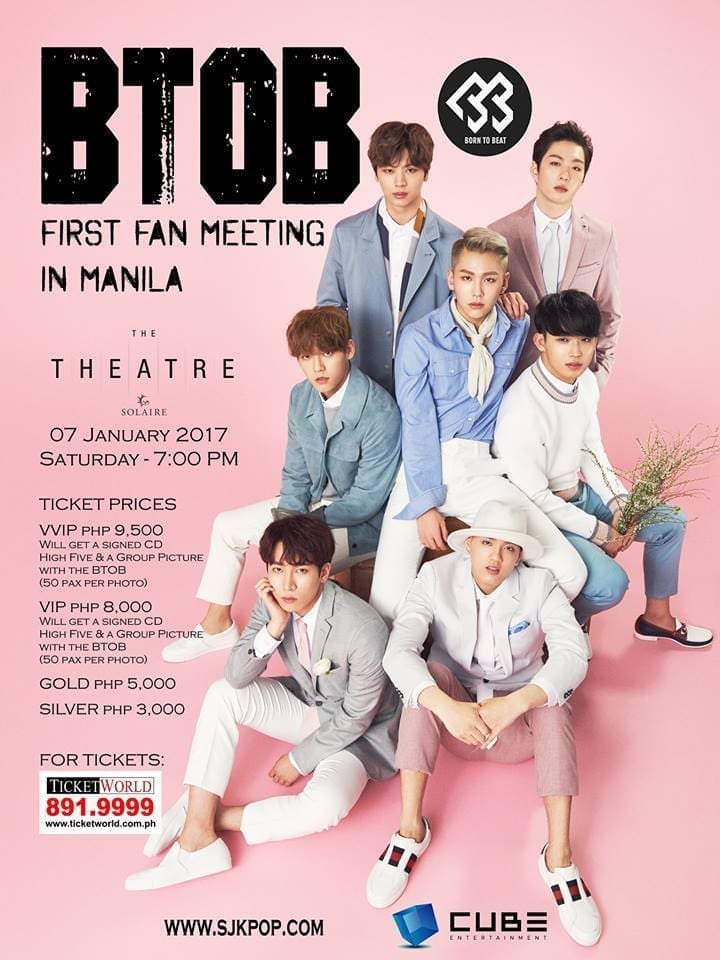 The fan meeting will be the boy group's third visit to the country after performing at 2014's Dream K-pop Fantasy Concert alongside Super Junior-M and BAP, and at last year's Best of the Best in the Philippines together with Girls' Generation and Red Velvet.
See also: Ottoke?! Apink cancel Pink Aurora Asia Tour in Manila
With this being BTOB's own mini-show and fan meeting, you can expect to get close and personal with the boys, and now promoter SJ Entertainment is offering some pretty sweet deals for those still contemplating getting a ticket.
Gold tickets are now priced at PHP5,000 (originally PHP6,000). You can also pay for your tickets in halves, with 50% deposit.
The other types of ticket are PHP3,000 (Silver), PHP8,000 (VIP, signed CD, high five and group photo with BTOB), and PHP9,500 (VVIP, signed CD, high five and group photo with BTOB). Get yours now at Ticket World.
See also: 8 Craziest Production Riders of Your Favourite Artists
Beside the perks that come with the tickets, fans will get the chance to win raffles, with prices ranging from exclusive freebies to taking a polaroid photo with a band member. Read more about the raffles here.
Debuted in 2012, BTOB consists of Eunkwang, Minhyuk, Changsub, Hyunsik, Peniel, Ilhoon, and Sungjae. The group is one of the leading boy groups in Korea under the management of Cube Entertainment. Since their debut, the boys has been releasing countless hits such as "WoW", "Thriller" and "Beep Beep".
Have something to add? Tell us!