Nu-metal rock band Limp Bizkit is billed to the Indonesian music and art festival  Soundrenaline as a headliner.
See also: Panic! At The Disco are returning to Manila for Pray For The Wicked Tour
Returning on the second weekend of September (Sep 8-9), the 2-day music and art festival will be welcoming an American rock band Limp Bizkit for the first time. On the day, the five-piece will take the stage at GWK Cultural Park with their nostalgia and hits like "Rollin'", "Gold Cobra", "My Generation" and "Nookie". So far, Limb Bizkit is the only revealed name for the international act of the festival.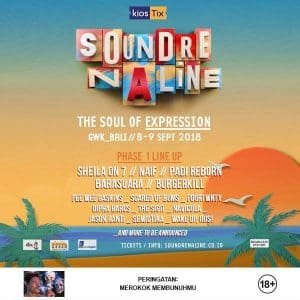 Alongside the multi-platinum selling and multi-award winning nu-metal artist are the Indonesia's very own rock talents. The names include the emerging and rising metal rockers like Dipha Barus, NAIF and Pee Wee Gaskins.
See also: We The Fest adds SZA, Miguel, Vince Staples and more to 2018 edition
Tickets available now only with Pre-Sale 2-day passes through Soundrenaline. Prices are IDR300,000.
Have something to add? Tell us!