(4.5 / 5)
Daughtry's show was a total boredom slayer and absolute excitement trigger. They were killing it on Wednesday night (Jul 11) with powerful and sensational performance before leaving their fans with a blissful promise.
The midweek was everything but dull as Daughtry fans eagerly mustered up at [email protected] The night kicked start with camera crew jumping on stage as to setup the equipment. As camera panned across the excited crowd, we all know that the real fun was yet to follow.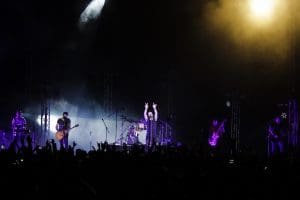 Fans chimed the band's name in unison. It was not long before their wishes were granted. Daughtry's frontman Chris Daughtry appeared in the midst of stage. Alongside him are keyboardist Elvio Fernandes, lead guitarist Josh Steely, bassist Josh Paul, rhythm guitarist Brian Craddock and drummer Brandon Maclin.
"Welcome back!" shouted one passionate fan, noting the band's third performance in Singapore. The shout was followed by big scream of "I love you".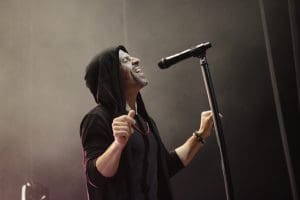 Fashioning in a simple yet classy masculine rocker style with a black hoodie and leather-like black pants, Chris looked rather enigmatic and sensual on stage. The frontman wasted no time on speaking as he began the energetic evening right away with "Just Found Heaven"— a single from the band's latest album, Cage To Rattle.
The track stunned the whole room with layers of succinct percussion and gorgeous bass lines. The instrumental sounds impeccably interweaved with Chris's vocal roars. The moment was such an utter magnetism.
The crowd cheered, riveted, as his voice echoed like a chant that enthralled everyone. "Halle-Halle-Halle-Halle-Hallelujah indeed!"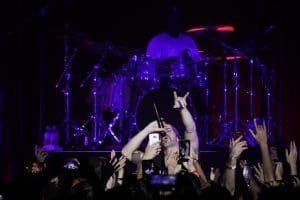 The crowd's eyes went sparkle as the intros of their familiar pieces hit their ears. They sung their lung out for "Feels Like Tonight",  "Crawling Back To You" and "Home". It was rather magical for the latter song. Fans raised their phones up in the air and switched the lights on to give birth to a sea of lights.
Added to the top-notch act on the stage is when Chris Daughtry solely performed "No Surprise". Before him, stood the crowd that sounded like an ocean swell of voices as they sang along.
The night was painted in vibrant emotions. While some songs transfixed the audience, others brought about an energy to crowd-singing and crowd-participation. Undoubtedly, it was equally enchanting. Despite Chris voice, Guitar sounds were indeed the star of the show.
Two cover songs were spotted and quality treated—U2's "With Or Without You" and Prince's "Purple Rain". Both were played magnificently however, it's their cover of U2 track that allowed the keyboardist and drummer to steal the show.
Aesthetically, lighting brought another level of spectacularity to the concert, especially when "Deep End" was on. The lighting sea emerging in blue and purple encapsulated and nourished the sensational moment. Doubled the splendid scene is the powerful performance of "Back In Time". This show alone ignited an almost sultry mood through the presence of incandescent lighting. These two perfect juxtapositions are the kind of playlist that you just want to drown in for days.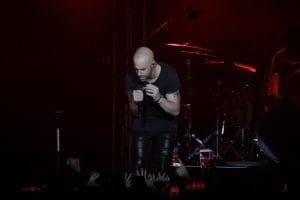 Just like the saying that goes all good things must end, the band finished off the concert with few encore songs. And before the night was turned into a memory, Chris Daughtry cheered the room up with a promise that's worth looking forward to.
"You're gonna tell all your friends about us?" he asked.
"And then, their friends will tell more friends… Then next time we come back, it will be an even bigger room. And more of you…" he added.
"Then we'll just keep coming back! How about that!"
Well, on behalf of the audience her I hope you's better keep your promise!
Setlist
1. Just Found Heaven
2. Feels Like Tonight
3. Crawling Back To You
4. Battleships
5. Backbone
6. Deep End
7. Breakdown
8. No Surprise
9. With Or Without You (U2 cover)
10. Baptized
11. Interlude
12. Back In Time
13. It's Not Over
14. Home
15. Waiting For Superman
16. September
17. Purple Rain (Prince cover)
Have something to add? Tell us!