(3.5 / 5)
On Tuesday (Sep 13) two-time Grammy-winning a cappella group Pentatonix kicked off the Southeast Asian leg of their Pentatonix World Tour 2016 at Bangkok's Muangthai GMM Live House. The visit is their first time in the city and Thai fans were ready to greet them with a warm welcome.
But before we met a cappella's fab five, at 7pm the hall was launched into a mini EDM fest by Ozmo. The DJ Ono-lead act set the hall on fire with remixes of "This Is What You Came For" and all of Bieber's chart-toppers you could think of. They transitioned to their original mixes like "Toxic", before closing the set with their hit debut single, "Higher".
We had a chance to cool down with cozy soul pop from the second opening act, Fellow Fellow. Their singles "Ork Bab Pai Nai" and "Ya Chai Kwam Nguab Ma Kui Kan" spread warm feeling across the hall. Thai audience seemed to enjoy the local duo, especially when they wrapped up with many's all-time favourite, Boyd Kosiyabong's "Jao Ying".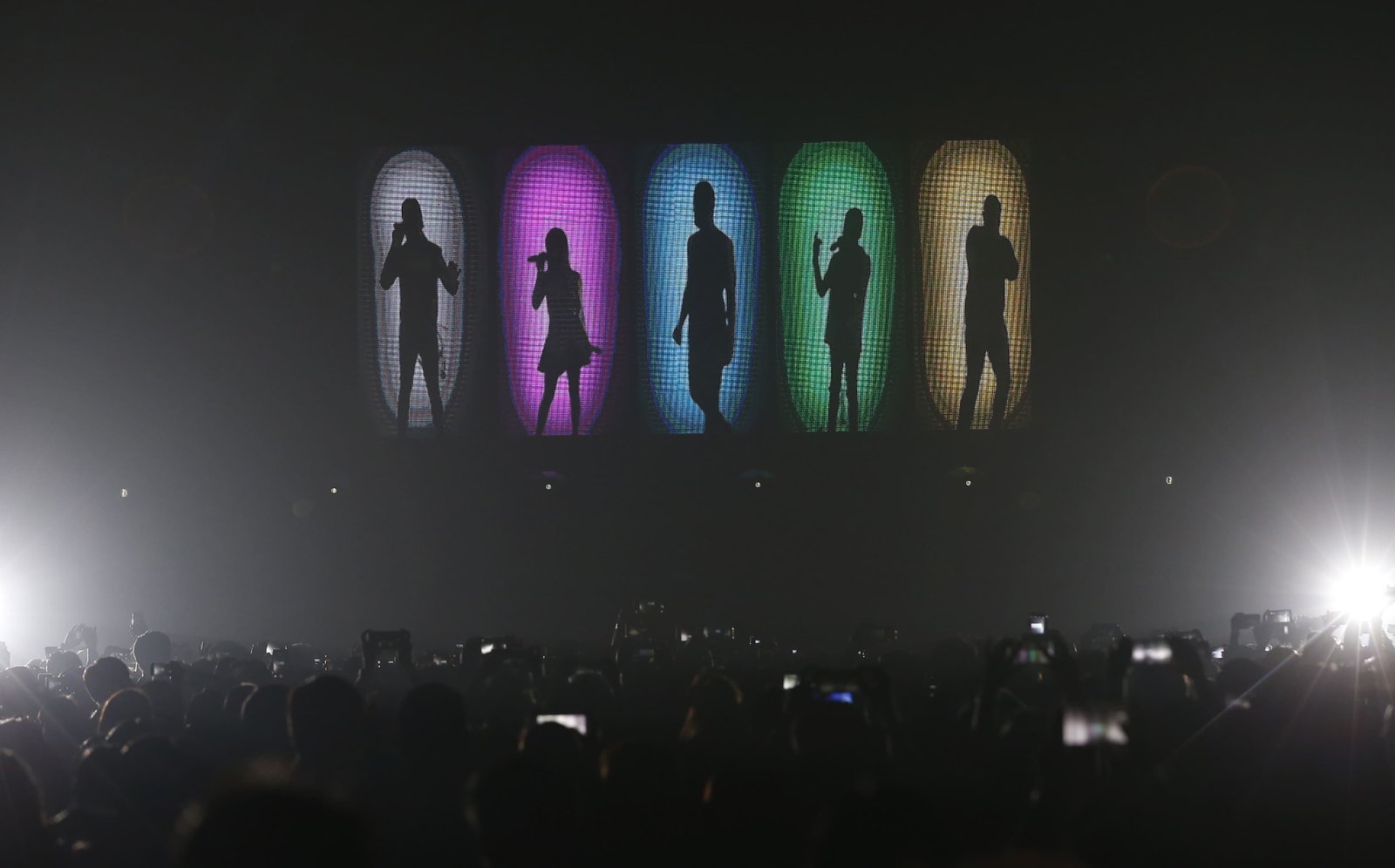 However, the other half of the crowd which made up of expats seemed disengaged with the set. Some gathered and socialised, others left the hall for different purposes. I don't blame them, though. The two curtain raisers, while their talents could transport you to different places, couldn't be more of a contrast. One minute I was up in a space, the next I was brought back to earth again, albeit by a beautiful, breezy beach.
When the hour hand on my watch pointed to 9, five silhouettes appeared on stage. The scream was almost deafening. The silhouettes started singing "Cracked" before revealing who the voices belonged to. As the show progressed to "Na Na Na" and OMI's "Cheerleader" I noticed that I hardly heard Kevin's voice. There seemed to be a technical issue with his mic and you could occasional hear a fuzzy noise throughout the concert, which was pretty disappointing.
But I think Pentatonix recovered with their original song "Can't Sleep Love" (the Backstreet Boys-esque choreography gave my fellow audience a minor heart attack), followed by an energetic, if a little rushed, number of "Evolution of Michael Jackson".
They put on a chiller vibe with a cover of "Love Yourself" then sent the fans into frenzy again with "Where Are U Now".
The sound quality got much better for the group's rendition of twenty one pilot's "Ride". The audience waved their hands and moved their bodies along rhythmically. It was a relief that the problem had been solved before Kevin's "celloboxing". The hall hushed as the vocal percussionist sat under the amber light and play a melodious intro to Bach. The soft golden gleam turned intense green as he increased the tempo with beatboxing – and that's when we could no longer contain ourselves. Later, the rest of the group reappeared for the mashup of "Radioactive", "Say Something" and "Papaoutai".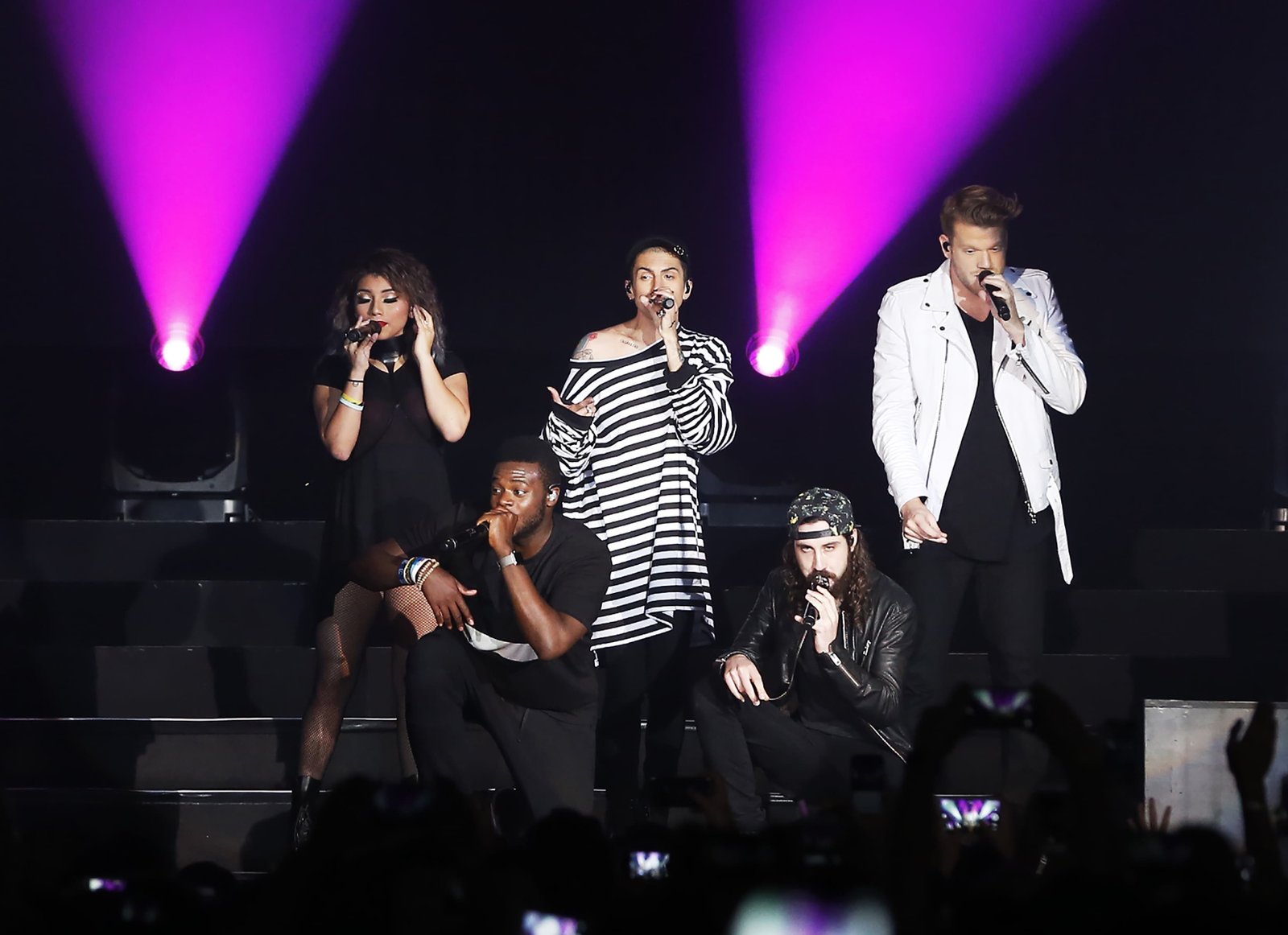 Following the upbeat "No", Pentatonix surprised us by asking members of the audience to join them for another original song, "Misbehavin'". The five lucky singing partners, including Avi's adorable little helper, will sure remember this moment for a long time.
After the moment of joy, or jealousy for some, we marvelled at Pentatonix's unique take on "Christus Factus Est", a dramatic hymn made unthreatening as it progressed to Imogen Heap's "Aha!". The numbers proved an unexpected lead-up to a Daft Punk medley, which made the MJ evolution earlier in the show seem like a mediocre party.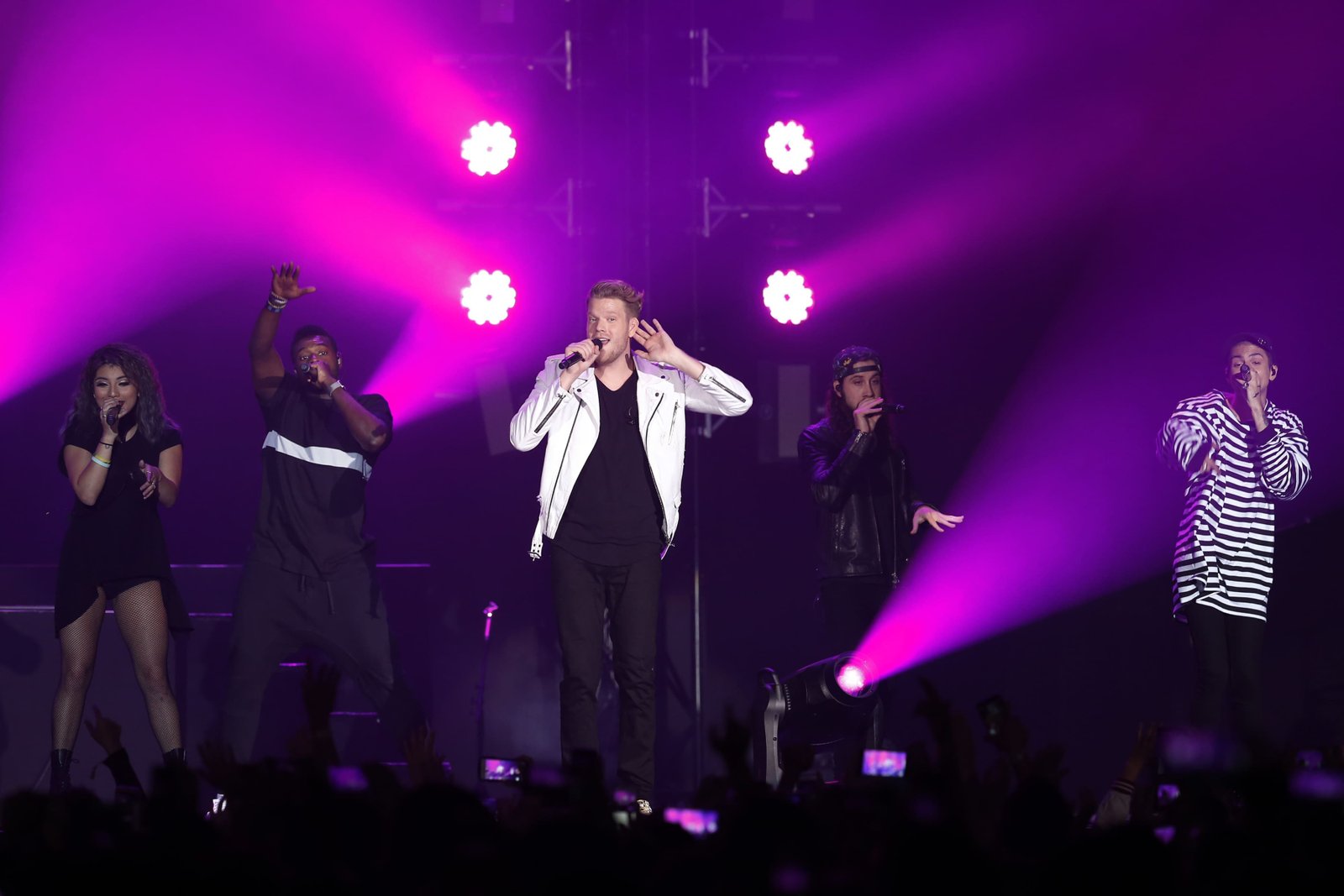 Before I knew it, the show was being brought to a close, the stage lit in an artificial sunset, with Mitch's proclaimed favourite from their album, "Rose Gold", followed by "New Year's Day". Then, as if to say goodbye, Scott cried "phom rak khun" ("I love you"), getting all the screams from the ladies in the house and even more when the lights went out.
But that wasn't the end. It's a pre-encore formality and we kept roaring on for more. The Texan group reappeared, forming a half moon behind a big gold light bulb. Avi asked the audience to be quiet as they'd be doing the following number without microphones. And we did. As I closed my eyes in the dimly lit room, listening to "Light in the Hallway", I felt the comfort of a lullaby. "Everything will be okay/ You are not alone/ You are right at home/ Goodnight, goodnight," went the song. I was so getting a great night's sleep.
But if you think the party ended on a drowsy note, think again. Pentatonix didn't let us wobble back home ready for bed. In fact, it was the other way around; what they did was "Sing" us home in full vitality.
Special thanks to BEC-Tero
For more reviews from AsiaLive365, click here.
Have something to add? Tell us!