While the festival culture has been booming all over Bangkok in recent years, Lush has made a name for itself since 2009 as the city's most abundant music festival and finest party series.
And one with a cause, too. Since its conception, Lush has raised over 1.2 million baht for charity through 14 different editions.
Ahead of Lush Bangkok Music Festival this Friday (Oct 7), AsiaLive365 talks to founder Julien Wallet-Houget about the festival's 2016 return, the sustainable development aims at its heart, and the music lineup that is as important as anything else.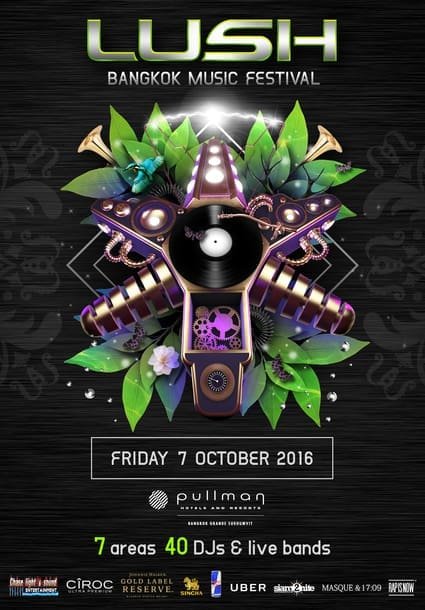 Lush is a site-specific, immersive nightlife experience that more than just a party. While it's commercial, it's also innovative and discovery-based. We started as a charitable initiative whereby we organised events for a couple hundreds of people in locations that had no previous events, or were not organised in a way that we were doing with Lush. The net profit would go to carefully selected social and environmental projects. We want to get people to come not just for the music or charity or the location, but for them to be immersed in a different world, some unique bubble that provides what usually isn't there in other events in Thailand.
We're both a nonprofit and for-profit enterprise. As we've grown over the years, we realised that because of the number of partners involved and the amount of time invested, it was not possible anymore do it just for nonprofit. So after a few editions, we turned Lush into a social enterprise model, which is allocates 30% of the net profits to charity and the rest goes to the different partners involved. Changing the model over the years allows us to raise even more funds to charity.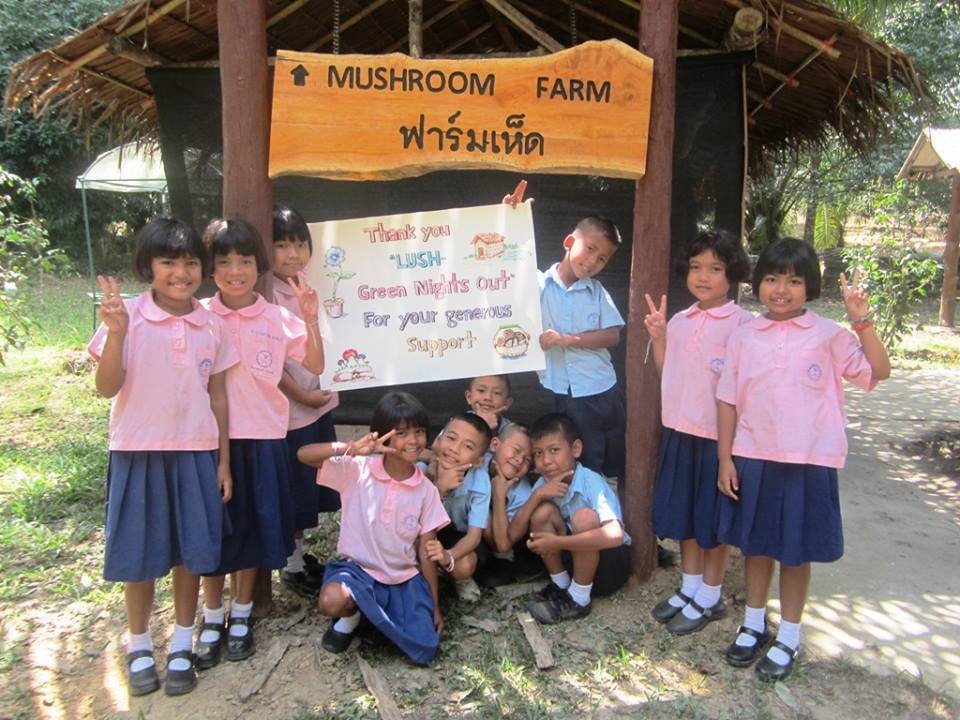 The crucial message is to show that a well-branded, trendy, high-quality event that is compatible with sustainable development. Rather than just being a charity, we try to say: come to our event. It's going to have more features than any other events in town and you'll give back to society. We want people to think that a sustainable model is completely compatible with a successful thriving business.
Lush depends on new discoveries and reinventing the wheel. Lush has never taken place in the same location. It's been organised in hotels, on a helicopter landing pad, or at night markets. If we were to do it in the same place, we would lose our edge and people would get bored after a while. We can go back to a specific location after a few times, of course, but the idea is to go forward and to get people to discover new places. They're excited about how we use the venue in a way that nobody else does. Nobody shuts down the Sofitel like we did two years ago, and nobody can shut down the Pullman like we're doing this time.
Not to say that people have to wait every now and again for a unique experience. DID – Dine in the Dark, a dark dining restaurant that provides employment for the visually impaired, is a brainchild of Lush and how we offer people a distinctive experience at a permanent location on a regular basis while being sustainable without asking them for money just on charitable grounds.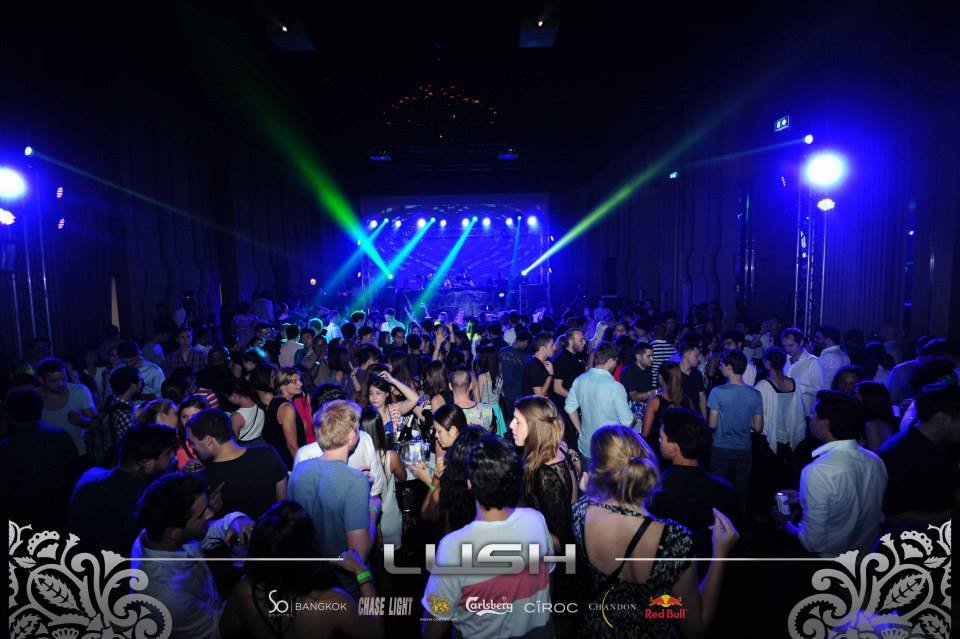 We do not support a charity. We support a project that's been selected, that happens to be implemented by a charity or a social enterprise. We carefully look for a project, interview people or go on site so whether we can donate 300,000 bath, or 50,000 baht after a less successful event, we know beforehand what kind of outcome it will achieve, what is going to have the most social and/or environmental impact.
Lush is like a theme park that is based around a music festival. When you go from one corner to another you discover a variety of live sets and atmospheres. The lineup artists are selected on that basis. We're trying to find the acts that both provide good music all on their own style and come from different music communities. When you come to our events, you'll get to roam around, enjoy your favourites, and discover new acts you've never heard of and wouldn't get to otherwise.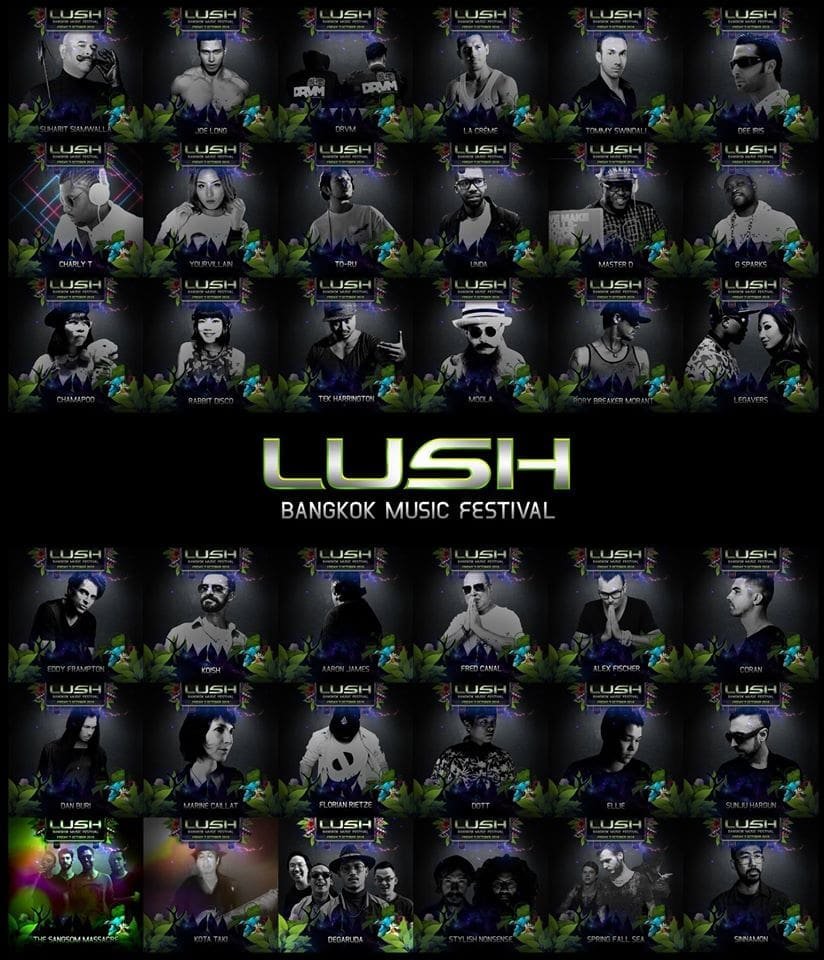 It's about finding the right combination. Rather than spending a huge amount of money on a massive headliner we try to focus on the variety of experiences by featuring a lot more acts – some locally based, some international, some bigger than the others.
While EDM is big right now, keeping up with the trends isn't key. We go for the classic acts, who've been around in Bangkok for a long time or played at Lush before. One example this year would be Eddy Frampton, who isn't playing at much clubs anymore but going to come back specifically for us. We're also bringing Australian hip-hop DJ Charly Templar, who's played for us a long time ago. At the same time we also have more indie stuff. It's a little bit of everything. It's not the most cutting-edge lineup but will sure cater to the different tastes. That's really the approach to go for.
In this upcoming edition we're taking over an entire hotel in, all the four floors plus the rooftop which are interconnected with escalators. There'd be lasers, light shows, and smoke machines from one floor to another. I'm personally excited about the state of the art stages throughout the venue and the exhibitions held along a dark UV corridor, which is going be like entering different dimensions.
We'll also have a special guest appearance from Main Stage performer Suharit Siamwalla, who is actively involved in the environmental causes. He's done so many things as a DJ, author and Bangkok governor candidate, and is always providing for a good show.
Lush Bangkok Music Festival is happening on October 7 (8.30PM) at the Pullman Bangkok Grande Sukhumvit Hotel. It will feature 40 hot local and international DJs and live bands. Tickets are still available at THB900 (THB1,200 at door). Get them here.
Have something to add? Tell us!