Thailand is getting itself ready to embrace its newest international music— Pink Cloud. Organised by the youngest promoter of the scene, Wildest Youth, all rock heads will see Dune Rats, Turnover and Hockey Dad to headline the event this May.
Don't miss: Kodaline, Phum Viphurit and more to headline Mangosteen Music Festival 2019
The year 2019 seems to be the dawn of music festivals in Bangkok, as we all have witnessed the emergence of festivals like Mangosteen and Maho Rasop or the shift in Kolours that is getting more serious about live music.
And just today that we've learnt about the freshest one— Pink Cloud Music & Art Festival. Even though this will be the first edition and the biggest event ever form the promoter, they have already promised us some legit and rising lineup of the scene. And they will all take the stage on Saturday, May 25 at Thai Wake Park.
For highlights, the headliners are two Aussie bands— Dune Rats and Hockey Dad, and an American band— Turnover. Also, joining them are Verge Collection, Beddy Rays, Thud and many more to be announced.
Meanwhile, the talents of the country will be represented by Srirajah Rockers and Death of Heather.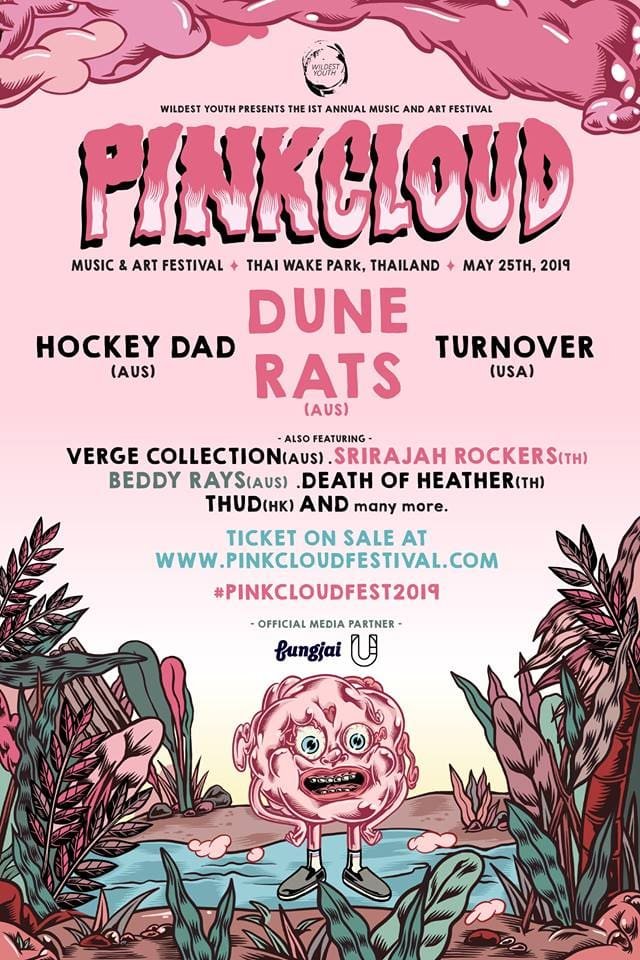 The first Aussie music festival-inspired vibe of Thailand will turn the field at Thai Wake Park into a legit music event that will embrace all the subcultural youngsters— skateboarders, tatooers, street artists and such. Well, of course, the young-at-heart grownups are very welcome as well!
Within an hour drive from Bangkok, the field at Thai Wake Park is ready to deliver the festival trotters the good time with surf punk, reggae and dream pop tunes and friendly crowd alongside an adventurous vibe of extreme water sport— wakeboarding. Moreover, there'll be booze and food stalls prepared for your appetite.
See also: Garden Beats is returning with The Kooks, Masego, Yung Bae and more
Tickets are now going on sale through here. prices are THB2,300 and THB10,500 for the bundle of 5 persons.
Have something to add? Tell us!