Tickets update below.
---
Our beloved pop icon of the era Troye Sivan has confirmed an Asia tour for his fourth international tour— The Bloom Tour. The destinations include The Philippines, Singapore, Thailand and more.
See also: Years & Years are taking The Palo Santo Tour to Asia
Well, howdy dancing kings and queens! Get ready to remember all the lyrics and dance moves to bloom together in front of the world's young critically-acclaimed pop icon Troye Sivan as he'll soon arrive in Asia with The Bloom Tour.
The Dance To This singer will perform around the continent from the end of April until the first few weeks of May. According to the tour schedules, fans in Manila, Singapore and Bangkok will get to listen to the record Bloom live on stage on May 1 (Wed), May 3 (Fri) and 8 (Wed), respectively.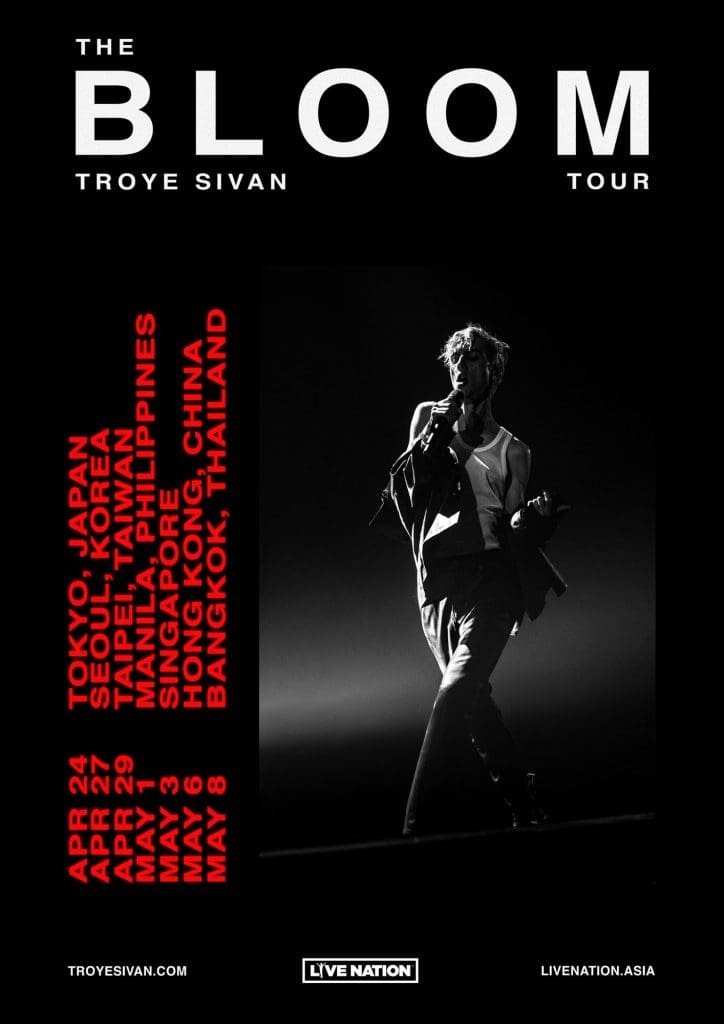 Meanwhile, alongside the Southeast Asian cities, the pop prince will also swing by big cities like Tokyo, Seoul, Taipei and Hong Kong.
For tickets, the details are soon to be announced. Stay tuned!
See also: British Synth-pop icons Pet Shop Boys confirm Asia leg for Super Tour
Before leaving let's just dance to Troye's latest hit featuring with Ariana Grande: Dance To This.
---
Update (Jan 17): BEC-TERO ENTERTAINMENT announce tickets details from Troye Sivan The Bloom Tour Live in Bangkok. Tickets, starting at THB2,000, will go on sale through Thaiticketmajor on Saturday, February 2.
Meanwhile, the presale for Troye Sivan fans will start on Wednesday-Friday, January 30- February 1 through The Troye Sivan app.
Citi credit cards holders will get access to the presale on Wednesday-Thursday, January 30-31. Whereas the Live Nation, BEC-TERO members will be able to purchase the tickets on Friday, February 1.
Have something to add? Tell us!