This August marks an exciting time for Foo Fighters fans: the guys are bringing their hit-packed Concrete and Gold Tour to Southeast Asia, their first visit in over two decades.
You know the story, Dave Grohl rose like a phoenix from the ashes of Nirvana and formed Foo Fighters, a one-man project turned one of Earth's biggest rock bands. As a countdown to their historic return, here are 10 essential Foo tunes – No. 1 anthems, deep cuts and non-singles – along with their history and must-watch performance.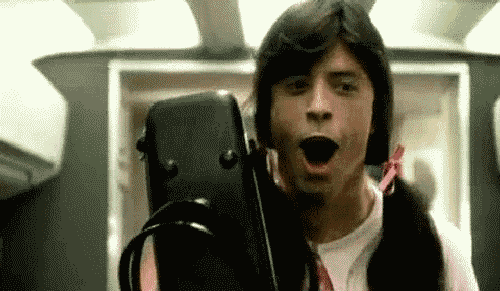 1. "This Is A Call", Foo Fighters (1995)
Dave Grohl considered quitting music altogether following Nirnava's disbandment. Thanks to his friends in the industry, his fire was rekindled. Enjoying the time he performed with The Backbeat Band at the 1994 MTV Movie Awards, Grohl embarked on a therapeutic solo project wherein he wrote, played and sang the entirety of Foo Fighters himself, with the exception of "X-Static" which was supported by guitarist Greg Dulli. Opening track "This Is A Call" is both a self-introduction and a thank you note. "It's just sort of like a little wave to all the people I ever played music with, people I've been friends with, all my relationships, my family," said Grohl. He only meant the chorus, of course, because good luck deciphering lines like "Them balloons are pretty big/ And say they should/ Ever fall to ground/ Call the magic marker". One wonders if he's ever messed up his own perplexing lyrics…
The answer is yes (1:28).
2. "Everlong", The Colour and the Shape (1997)
"Everlong" became an instant hit upon its release in 1997. It remains to date Foo Fighters' biggest love song and most performed show-closing anthem. The song comes from a very emotionally charged place for Grohl – Will Goldsmith and Pat Smear were on the verge of leaving the band, he was separating from his first wife. In the midst of all this he found comfort in a budding romance with a new woman and poured his heart and soul out into the song and completed it in 45 minutes. While very personal to Grohl, the song leaves some space for you to channel your own feelings. Which is why it's close to many's hearts, including former talk show host David Letterman who said "Everlong" got him through the recovery period from an open heart surgery in 2000. Foo Fighters performed the song on Letterman's first day back and several more times including his last episode before retirement in 2015.
3. "Walking After You", The Colour and the Shape (1997)
The deep cut ballad about heartache and longing first appeared in The Colour and the Shape. It is so personal, almost as if you were looking into someone's bedroom and in this case you see a broken marriage bed. Dave Grohl wrote the song after receiving divorce papers from his first wife. The lines "If you'd accept surrender/ I'll give up some more" show just how vulnerable the state of mind that they came from was. The song was re-recored with a full band in 1998 and released as a soundtrack to the X-Files movie. It never quite caught on, though, except in the UK, where it remains one of the best performing Foo Fighters tunes to date.
That same year, the band performed on BBC's Top of the Pops, a chart show notorious for its miming performances. Grohl sported spooky white contact lenses and sang lifelessly to the camera. Considering the stunt he and his Nirvana cohorts pulled on the show in 1991, this was only a first degree burn.
4. "Learn To Fly", There Is Nothing Left to Lose (1999)
There Is Nothing Left to Lose marks a significant milestone in Foo Fighters' career. The album went on to win the band their first Grammy and, owing to the success of lead single "Learn To Fly", the Foos were no longer only alternative rock's top seed but mainstream media's favourite by the end of 1999. "Learn To Fly" climbed atop Billboard's Mainstream Rock and Alternative Songs charts as well as Billboard Hot 100, making it the band's first entry to America's biggest chart. With a hopeful tone, catchy hooks and zeitgeisty video, the song became an MTV staple alongside "All The Small Things" and "I Want It That Way". Even though Grohl once said "Learn To Fly" was "actually one of my least favourite songs on the record", it has continued to inspire generations of fans. Watch Rockin1000's epic cover below and see what we mean.
5. "Aurora", There Is Nothing Left to Lose (1999)
Many diehard Foo fans would tell you that this lengthiest track from There Is Nothing Left to Lose is the band's greatest non-single ever written. And you may as well believe them. Dave Grohl does. "'Aurora' is definitely one of my favourite songs that we've ever come up with," the frontman said. "Lyrically, it's just kind of a big question mark, but the words sound good and it's a nostalgic look back at Seattle and the life I once had. That song actually questions the meaning of life, probably. It's probably the heaviest thing I've ever written." That heavy part of the song, according to the rocker's biography by Jeff Apter, is inspired by the death of his grandmother.
6. "Times Like These", One by One (2002)
Had the Foos been active in the 80's, the explosive guitars of "Times Like These" would certainly join the ranks of "Walk This Way" and "Sweet Child O' Mine". But before there were any classic riffs, there was so much tension in the studio that the band needed a three-month break. The lyrics were inspired directly by the experience and the fact that they overcame it. "I'm a little divided," Grohl sings. "Do I stay or run away and leave it all behind?/ It's times like these you learn to live again." At one point, the rocker said this was the best song he'd ever written. Foo Fighters performed the song with jazz musician Chick Corea at the 2003 Grammy Awards, where they won Best Rock Album.
7. "Wheels", Greatest Hits (2009)
Like what it does to the fans, "Wheels", one of the two songs recorded for the band's compilation album, divides our editorial team into two camps: one that enjoys this fun cross-genre experiment and one that doesn't quite see its raison d'être – do we need more passable Bon Jovi-esque songs? Seeing as the band likes it so much despite popular opinion ("It's one of those songs that our biggest fans hate"), we gave it another try and saw why the song is a gem in their songbook after all. "Wheels" denotes Grohl's affinity for airplane imagery, which links it to "Learn To Fly". The song works as a response to the 1999 anthem and the frontman's younger self. There's no question his "Learn To Fly" persona has found a "sign of life" and learned to "fly high" by now, but as time passes, "Wheels" shows, there's that fear of a man who's peaked. What if it's all downhill from here? What if the plane touches down and never takes off again? The older Grohl can "feel the sinking" too but he retains the optimism: "[When] you feel like it's all over/ There another round for you".
If the country in "Wheels" doesn't suit your palate, check out this acoustic rendition.
8. "I Should Have Known", Wasting Light (2011)
When it comes to ballads, "I Should Have Known" has mostly lived in the shadows of the album's big single like "These Days". Makes one wonder why, really. If "These Days" is about the repercussions of Kurt Cobain's suicide on Dave Grohl that he feels no one could understand, "I Should Have Known" is the key ("Didn't hear your warning/ Damn my heart gone deaf"). Grohl didn't originally plan a song about Cobain but "as I elaborated on it I thought there are definitely connections." The song has more connections with Nirvana than the lyrics: Grohl reunited with Nevermind producer Butch Vig and personally asked former bandmate Krist Novoselic to play bass and accordion for the song. Needless to say nostalgia and 90's grunge are strong with this one.
9. "Rope", Wasting Light (2011)
"Rope" is one of those anthems that come from the most ordinary of places. Bored to tears as he waited to board a plane while touring Echoes, Silence, Patience and Grace, Dave Grohl would grab an acoustic guitar and began to entertain himself. The result?That very badass progression in "Rope". The song became the second ever to debut at No. 1 on Billboard's Rock Songs chart (after Linking Park's "The Catalyst"). Many interpret it to be about a suicidal man ("Leave your condition, this position does no harm", "Choke, on a kiss [of death]"), making the rope motif horribly graphic. Or it may be about someone in a very suffocating relationship. Both interpretations correspond to the sinister-looking video directed by Grohl. "[It] was meant to really just look like the band performing the song in a really tight, claustrophobic space, not unlike our rehearsal space."
The band recreated the video at their 2012 Grammy performance with Deadmau5, who remixed "Rope" as part of his EP that year.
10. "Run", Concrete and Gold (2017)
2015 and early 2016 were rough for Foo Fans, to say the least – the band's Glastonbury performance and subsequent tour dates was cancelled due to Grohl's leg injury, rumours about them splitting up were spreading like wildfire. But as we now know, they just gearing up for a comeback (while making a fool out of us). "Run" is a lead single to their forthcoming record. Much like its unexpected release, the song features slow burning chords that suddenly erupt into a speeding hard rock sound that characterizes the Foos' early days. The music video, directed by Grohl, sees the band as old men, relaying a message about complacency, freedom and revolt. You can bet the song is a wild ride at live shows. But before we can really witness that, here's a little taste of "Run", which the band took to their Glastonbury headlining slot (finally!) last month.
Catch Foo Fighters's historic return to Bangkok on Thursday, August 24 at Impact Challenger Hall. Tickets are still available through Thai Ticket Major, ranging from THB2,500-6,000.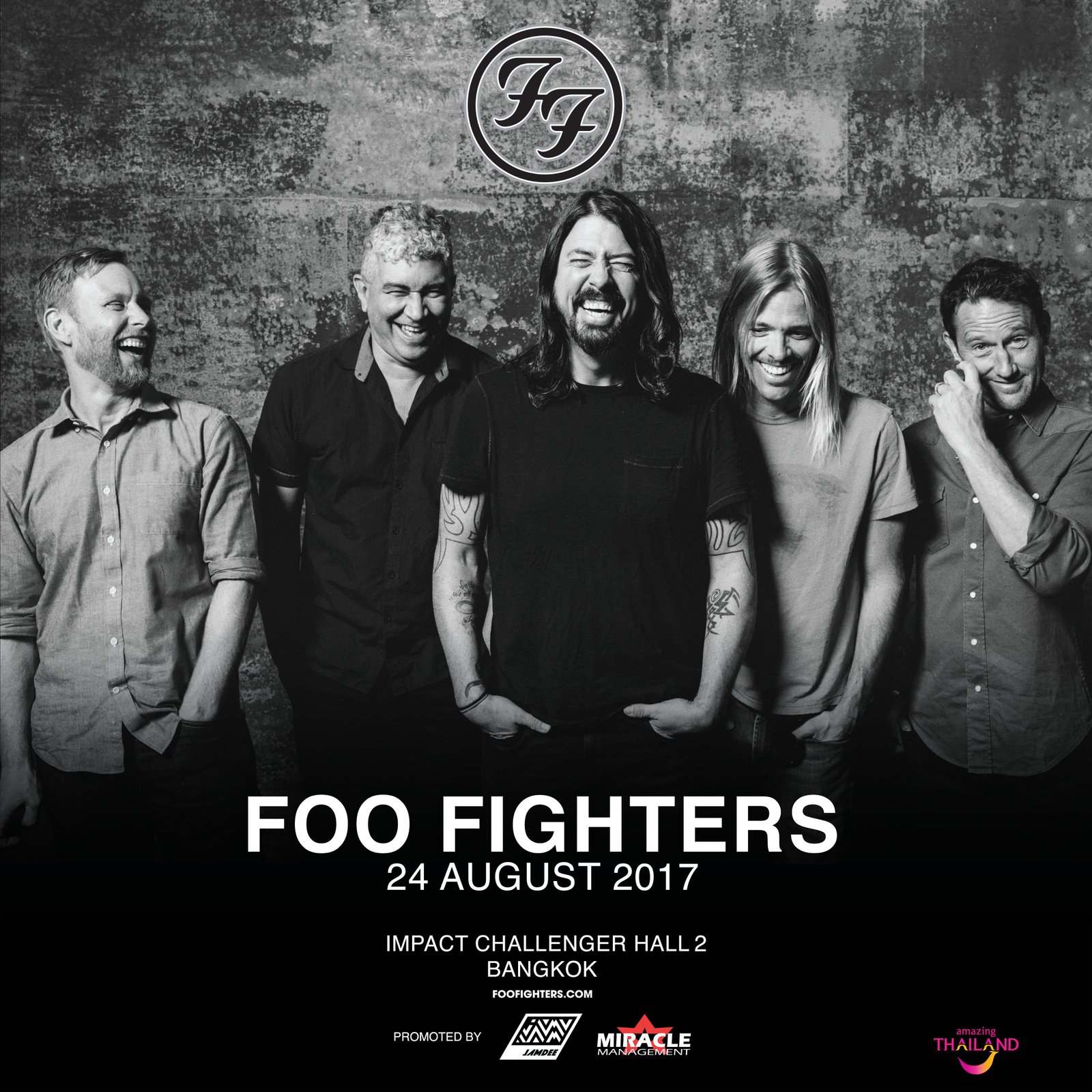 Have something to add? Tell us!