Reveal the Imperial Secret with an evening of music, food, drinks and a live show by art director Feisty Art this Wednesday, October 7 at Bangkok bar The Emperor's Secret.
A live dinner show will be taking place this coming Wednesday, October 7 at hidden Bangkok bar The Emperor's Secret.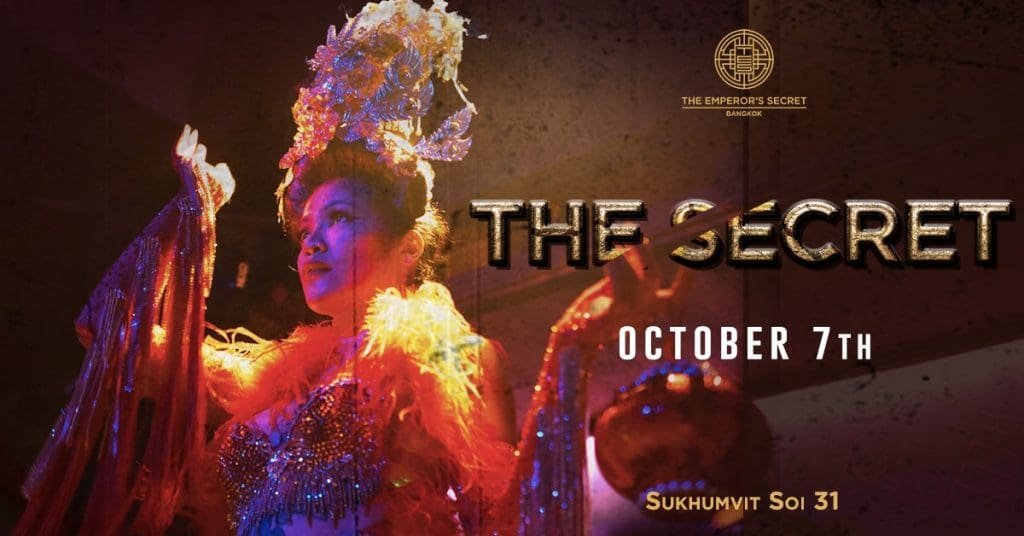 Created by art director Feisty Art, the performance will present the story of Emperor Jing Li. Sentenced to death by his deceitful aunt Zhang Xiu, the performance follows the young ruler as he attempts to escape and seek safe haven.
With his disappearance, it is up to the guests to find out The Imperial Secret. The fun-filled evening will feature music, food and drinks from 8.30pm.
Ticket packages costs THB850 and includes event ticket, one signature cocktail, three xiao bao mini buns, and one xiaochi appetizer.
Tickets will be limited and can be purchased via booking +66 (0) 98 980 0019 or message via LINE ID: Tesbkk
The Emperor's Secret is one of Bangkok's newest hidden bar/club situated in the middle of Sukhumvit Road Soi 31. It has steadily become one of the city's hotspots for underground dance music, featuring bookings from some of the most prominent local talent in the scene.
EVENT DETAILS
29 Soi Sukhumvit 31
+66 (0) 98 980 0019
8PM – 3AM
For more information, head on over to the
event page
on Facebook.
Have something to add? Tell us!