One of the hottest boy bands of the 90's is set to serenade Filipino fans this October with not one but two consecutive shows!
A1 – now consists of Ben Adams, Mark Read and Christian Ingebrigtsen – is bringing their latest Here We Come – Back! Tour to Manila at Kia Theatre on October 23 and Cebu's IEC Pavillion on October 25.
9 International Concerts Coming to Manila Later This Year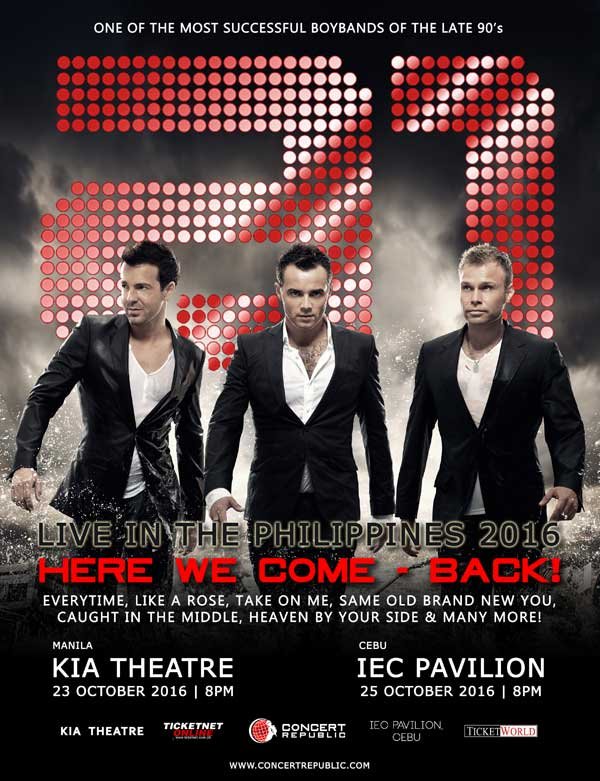 Tickets will be available starting Friday, August 12, ranging from PHP300 to 4,000. For Manila show, head to TicketNet or call 911-5555 to purchase. For Cebu, visit TicketWorld or call 891-9999.
The Here We Come – Back! Tour will be A1's first visit to the Philippines since 2012, when they joined Blue and 98 Degrees' Jeff Timmons in The Greatest Hits Tour.
Interview: British quartet Lawson return with new Perspective
A1 had been a foursome until founding member Paul Marazzi left the group in 2002. The British-Norwegian group is known for pop hits like "Caught In The Middle", "Same Old Brand New You", "Ready Or Not" and their cover of a-ha's 1985 classic "Take On Me".
Have something to add? Tell us!