Followed by the high demand of the loyal fans, finally, Norwegian-British pop quartet A1 decide to put another show for Filipino fans!
See also: Aaron Carter adds Manila to 'Love Tour'
After becoming one of the fastest sold-out shows in Manila, A1 decided to announce this good news as to appreciate the loyalty of boygroup's hardcore fans. The second show of A1's 20th anniversary "Reunion" tour will be happening on Monday, October 22 at Kia Theatre. The show is undoubtedly one day right after their first round.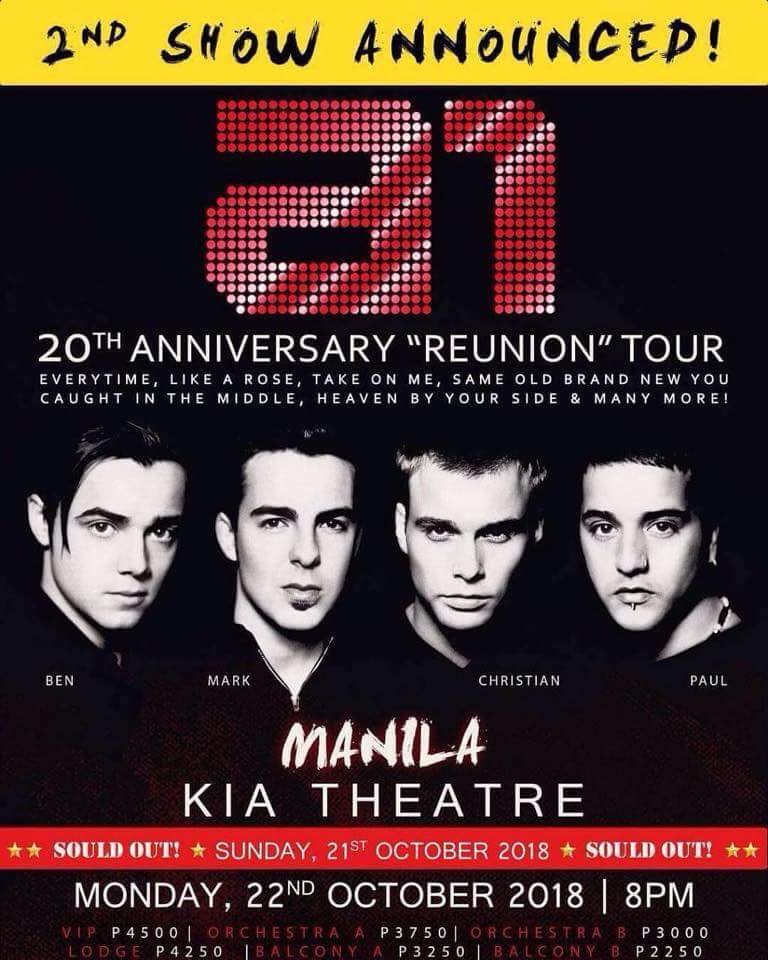 For tickets, they are going on sale through Ticketnet. Prices are PHP2,250 (Balcony B) / 3,000 (Orchestra B) / 3,250 (Balcony A) / 3,750 (Orchestra A) / 4,250 (Lodge) / 4,500 (VIP).
Emerging in 1998, A1 are a combination of Norwegian legacy Christian Ingebrigtse and three British singers Ben Adams, Paul Marazzi and Mark Read. The boys garnered whirlwind success in the UK and Southeast Asia with "Be the First to Believe", "Like A Rose" and "Take On Me".
See also: Mariah Carey adds Kuala Lumpur and Singapore to 2018 Asia tour
Marazzi left the band in 2002 before the others subsequently went their separate ways. In 2009, they reformed sans Marazzi and released two albums 2010's Waiting for Daylight and 2012's Rediscovered. Finally, last year, Marazzi rejoined his bandmates and together the four-piece is heading to Singapore and Manila, marking the first time A1's original lineup will perform together since 2002.
Have something to add? Tell us!