The boys are back! Backstreet boys heads to Japan and Southeast Asia, greeting concert fans with new top charts album 'DNA' and timeless 90s hits scheduled later on this year
Attention Attention! Our beloved readers. After kicking off their DNA world tour in North America and Europe, Backstreet boys, has announced their return to Asia, with their concert tour dates in Japan, Singapore, Thailand, China, Indonesia, The Philippines and Taiwan.
See also: The 90s sweethearts Westlife announce Asia leg for 'Twenty Tour'
The band has officially announced their concert tour dates in multiple locations across Asia on Twitter and other social media channels. Please see details of tour dates below.
Backstreet Boys DNA World Tour 2019 in Asia as follows:
October 12 : Tokyo, Japan
October 13 : Tokyo, Japan
October 16 : Osaka, Japan
October 19 : Macau, China
October 22 : Taipei, Taiwan
October 24 : Bangkok, Thailand
October 26 : Jakarta, Indonesia
October 28 : Manila, Philippines
October 30 : Singapore, Singapore
Exclusive fan club tickets goes on sale for Japan show in Tokyo and Osaka on Wednesday, 27 March. For Singapore show, fan club tickets goes on sale on Thursday, March 28, at 10:00AM  til  Friday, March 29, at 11:59PM in SGT timezone. Official ticket sale will be available on Sunday, April 1, at 10AM SGT timezone. For more information, click here to visit Backstreet boys offical website.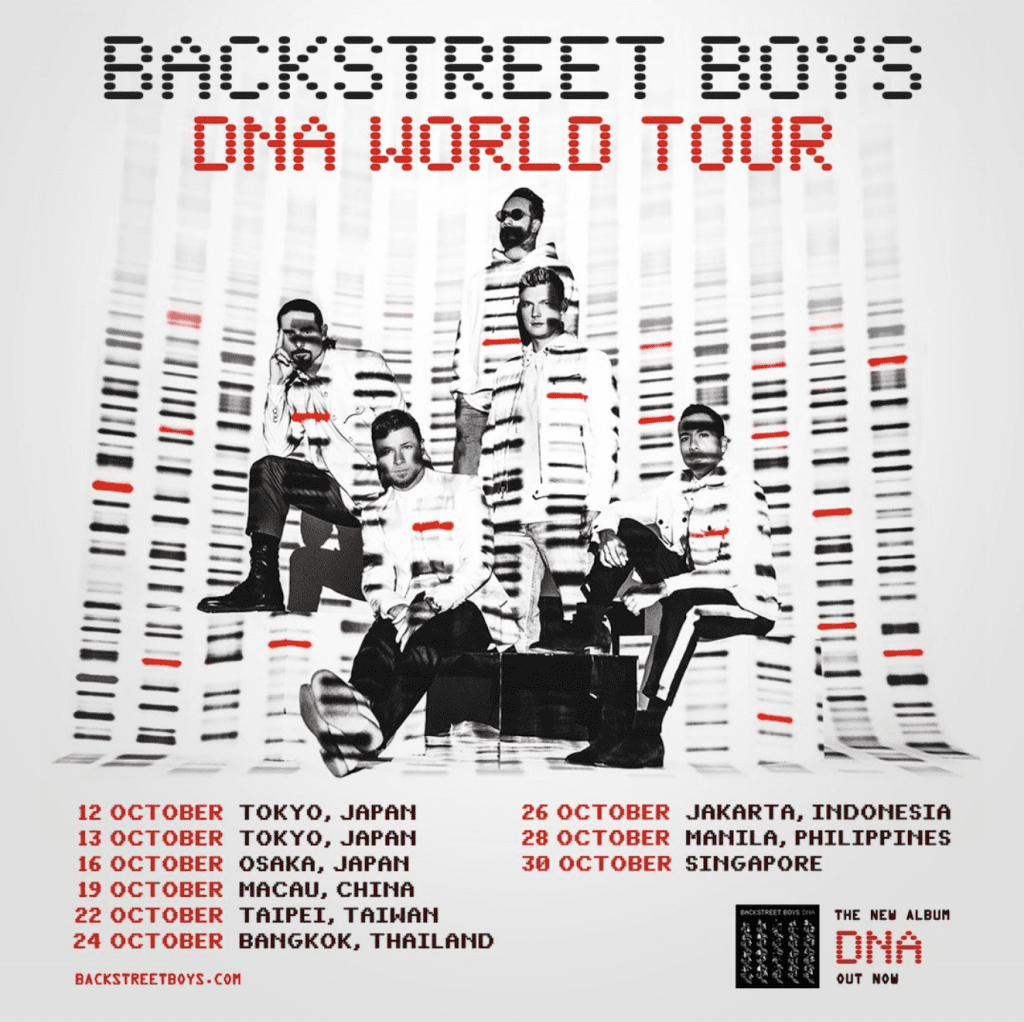 See also: Thunder will get Thailand "Drunk" this April
Backstreet boys, the American 90s boy band of all times, released their first album Backstreet Boys back in 1996. With huge commercial success, they topped the music charts with greatest hits such as "Quit Playin' Games (with My Heart)", "I'll Never Break Your Heart", "I Want It That Way" and "As Long As You Love Me". The band consists of 5 members, AJ McLean, Howie Dorough, Nick Carter, Kevin Richardson and Brian Littrell.
Meanwhile you're waiting to see the boys returning live and making the whole concert crowds turns crazy! Check out Backstreet boys new song "No Place" from their new DNA album right here!
Have something to add? Tell us!