With lockdown restrictions continuing to put physical events in Thailand on hold, this year's
Bangkok Music City
is set to take place online via their YouTube
channel
on November 20-21, 2021.
Two years have passed and the COVID-19 situation continues to put music event on hold.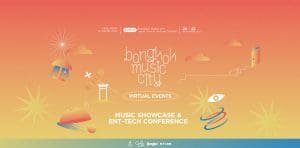 The annual Bangkok Music City, which normally takes place in the creative distirct of Charoenkrung, will be taking place online via the event's YouTube channel and Gather.Town virtual space on November 20-21, 2021.
Festival co-founder Piyapong 'Py' Muenprasertdee says,
"Live music and entertainment industries have been hit hard by the pandemic, but we don't want to lose hope and look beyond the pandemic preparing for the time when we can all enjoy 'real life' together once again. We strive to make BMC a platform for artists to stay connected with their fanbase, gain new international fans and seek new export opportunities by meeting with music business professionals from all over the world via our virtual networking event."
The virtual event will feature 41 Thai and 23 international artists including 13 from Southeast Asia.
BMC 2021 will include ASEAN Music Showcase Festival alumni such as Cambodian hip-hop superstar VannDa and Singaporean indie pop act Sobs as well as Melt Records' Chelsea Dawn and Francis Cang.
In addition to ASEAN countries, artists from South Korea, Taiwan, Mongolia, Canada, and the US. Siahna, who was featured Season 9 of The Voice under Team Pharrell, will be making an appearance.
Have something to add? Tell us!