For several months, Bangkok's nightlife took a significant setback with clubs shutting down and party events temporarily postponed. Now, as the city eases COVID-19 restrictions, partygoers and music lovers have flocked back to the scene with the opening of new clubs in the city including VHS Club and the relocation of Mustache Bangkok.
Following the opening of new club V12 in the popular nightlife hub of RCA last weekend (with groovy house and techno sets performed by the Grow Room team), Bangkok will see the opening of retro vintage-themed VHS Club along with the soft opening of Mustache Bangkok's new location this weekend within the same space.
Located in the heart of the Sukhumvit area, within the small alley connecting Sukhumvit 13 and 15, VHS Club takes party people back to the past with its 80's-inspired aesthetics bathed in neon glow. The club's opening is scheduled for this Thursday night, and after that, will be open every Tuesday to Thursday.
Popular underground club Mustache will be taking over the space every Friday and Saturday, offering a new destination for house and techno music Bangkokians and expats a like love to eat up. The party brand recently closed down their original location of Ratchadaphisek 7 due to the ongoing pandemic and strict lockdown regulations.
To celebrate the occasion, the club will have an official launch party this Friday, March 26 for press and VIP from 8pm, and will be open for everyone after 10pm. A public opening will occur the day after on Saturday, March 27.
Bangkok has enjoyed a resurgence of nightlife events as COVID-19 restrictions have eased up and fewer number of cases reported.
Elsewhere in Thailand, Kolour is set to make a comeback with Kolour Beachside 2021 on Saturday, April 3 at their new beachfront venue in the city of Phuket.
Also read: Kolour Beachside returns this April
VHS Club Soft Opening
Address: Soi Sukhumvit 13, 15 Sukhumvit Residence Building, Ground Floor, Klong toey, Watthana, Bangkok 10110
Thursday, March 25
Time: Doors open 9pm (Free entry)
LINEUP: Alex Fischer, Fred Canal
Mustache Soft Opening
Address: Soi Sukhumvit 13, 15 Sukhumvit Residence Building, Ground Floor, Klong toey, Watthana, Bangkok 10110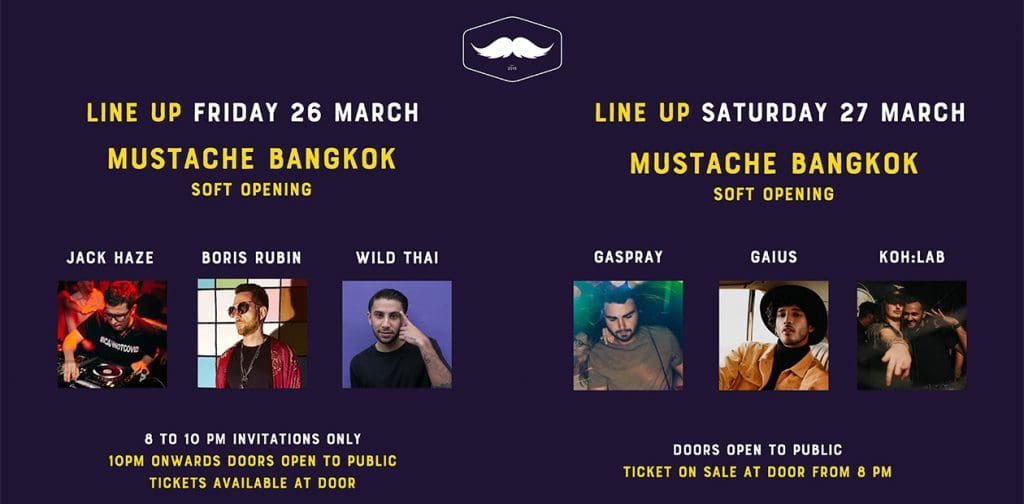 Friday, March 26
Time: 8-10pm for VIP and media
Doors open to public from 10pm (Entrance fee: THB300 includes 1 free drink)
LINEUP: WildThai, Boris Rubin, Jack Haze
Saturday, March 27
Time: Doors open 8pm (Free entry before 9pm) / (Entrance fee: THB300 after 9pm, includes 1 free drink)
LINEUP: Koh:Lab, Gaius, Gaspray
Have something to add? Tell us!