Beatport's 'Together For Beirut' fundraising event will be split into two livestream sessions, with the first part to take place tomorrow (Aug. 22) and the second part on Sept. 13. Each session will feature 24 DJ sets, and all proceeds will be donated to those affected by the catastrophic Beirut explosion.
'Together For Beirut' is a fundraising partnership between Lebanese-British DJ-producer Nicole Moudaber, WILD Tulum, Factory People, Beatport and a collection of Lebanese DJs and promoters. The event will support the Lebanese people who have been recently struck with the devastating Beirut explosion that took the lives of over 200 people and left over 300,000 without homes.
Presented by Beatport, the event will be split into two parts with the first part to take place tomorrow and the second part on Sept. 13, the latter day which marks the end of the Lebanese mourning period. Each online event will feature 24 DJ sets by some of the most prominent and influential DJs in the dance music community, and aim to raise $250,000 for disaster relief.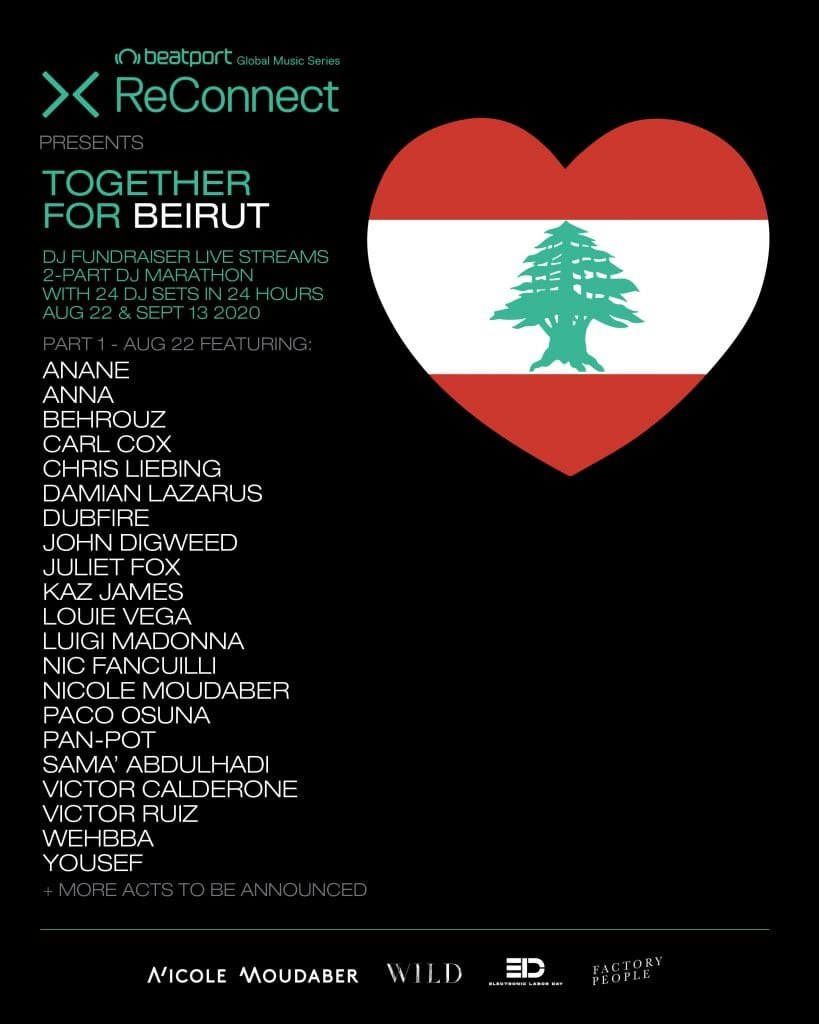 The first phase of artists include Anane, ANNA, Behrouz, Carl Cox, Chris Liebing, Damian Lazarus, Dubfire, John Digweed, Juliet Fox, Kaz James, Louie Vega, Luigi Madona, Nic Fanciulli, Nicole Moudaber, Paco Osuna, Pan-Pot, Sama'Abdulhadi, Victor Calderone, Victor Ruiz, Wehbba, and Yousef, with more to be announced.
Nicole Moudaber will be playing on both days, two passionate performances with every intention of bringing hope and positivity to those who need it the most.
Speaking about the fundraiser Nicole Moudaber said,
"These fundraising events will provide much needed relief and support to the people of Beirut and the many affected by the recent tragedy. Officials estimate the explosion caused up to $15 billion (£11.5bn) of damage. International financial aid and support has been overwhelming, but it's not enough. We must support in any way we can to help, and in addition, our efforts will also be helping the music and arts industry of Lebanon which has been wiped out." 
In order to be a part of this monumental livestream, tune into Beatport's Twitch Channel () tomorrow from 6pm BST and Sept. 13 from 4pm BST. Although times are difficult for all, every donation makes a difference, so please donate what you can to the cause, as every $1 can help.
Donations will go to Impact Lebanon supporting local essential NGOs such as the Lebanese Red Cross,  Arcenciel and music and arts related charities in Beirut.
As the world continues to face the ongoing COVID-19 pandemic every day, Lebanon has been struck with another disaster which has affected the livelihoods of hundreds of thousands of people across the country. The chemical explosion occurred in the capital city of Beirut on Aug. 4 during a time of economic crisis in the country. This tragic event has once again shown the resilience of the Lebanese people as they have united through yet another humanitarian disaster.
The dance music community has shown its dedication and determination to help those in need during these desperately difficult times, and once again calls on the uniting force of its nature to bring light during the darkest times.
Have something to add? Tell us!