Aussie electropop artists Kllo are taking their live performance to Bangkok in September. The show will mark the duo first time in Thailand.
Don't miss: Beat and Beyond #4: Cosmo's Midnight
Music promoter HAVE YOU HEARD? is back with its brainchild electronic music concerts project HUH?. In this latest edition of HUH?, the Aussie cousins Kllo are billed to perform for Beat and Beyond #5. The performance will be happening on Saturday, September 1 at De Commune.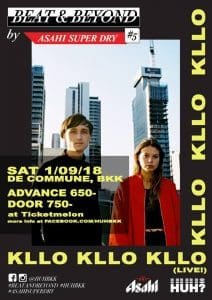 Tickets are THB650, going on sale through Ticketmelon and will be raised to THB750 at the door.
Kllo (pronounced as 'Klo') consists of two cousins from Melbourne— Simon Lam (production) and Chloe Kaul (vocals, keyboards). The duo is known for their unique touch of UKG-ish tunes with the blend of soulful and R&B elements. Their first breakthrough in the music industry came with their first EP release Cusp on music streaming platforms. The featured single "Make Me Wonder" received multi-million plays on Spotify and was chosen to be aired on BBC Radio 1. The success was followed by Kllo's second EP Well Worn.
See also: Blossoms confirm their Bangkok debut show
Meanwhile, last year, Lam and Kaul returned to comforted their audience with a debut album Backwater. Now, they are touring across the globe with their first full-length effort.
Check out Kllo's music video "Downfall" from Backwater below:

Have something to add? Tell us!