The best selling saxophonist Kenny G is returning to Malaysia with his world tour in November.
See also: Sam Smith is bringing The Thrill Of It All Tour to Asia
With eighteen albums under his belt, the American maestro will revisit Kuala Lumpur on Sunday, November 11. On the night of classic entertainment, Kenny G will taking the stage at Arena of Stars, Resorts World Genting. The show will mark the saxophonist third time in this full-house amphitheater after his visits in 2012 and 2015.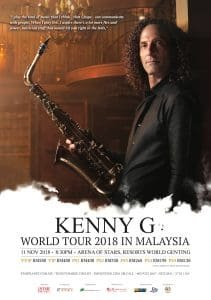 Tickets purchase are available through Starplanet, Ticket Charge, Resorts World Genting or call +603 9223-2667 / 9222 8811 / 2718 1118.
Known as one of the best-selling artists of all time of the modern era Kenny G, is successfully known as American saxophonist. His career breakthrough came with the release of his fourth effort Duotones in 1986. Kenny G's popularity continued to increase throughout the 2000s with collaborative works with famous artists and renditions of the hit songs of the era.
See also: Calum Scott is bringing his world tour to Asia
His latest studio album Brazillian Nights was out three years ago. The release marked the artist his fifteenth full-length effort and second in bossa nova creation. With over four decades of experience in the industry, Kenny G is ready for his another world tour. And he'll swing by Malaysia for a night to satisfy his loyal fans.
Have something to add? Tell us!