The weekend festival features three livestream events including the next iteration of the festival's drive-in edition set to take place at the car park of the Mannheim Maimarkthallen nightclub.
The music industry have taken to the digital landscape in the past few months to provide innovative and unique livestream events to keep music fans entertained while under quarantine from COVID-19.
See also: A list of current and upcoming livestreams to tune in during lockdown
However, BigCityBeats, the German radio station behind the annual World Club Dome EDM festival, have recently hosted their first innovative drive-in edition of their event on April 30 which gave people access to live music from the comfort of their parked cars (like you would in a drive-in movie theater) while maintaining social distancing measures.
The Drive-In edition was followed up with the second iteration on May 20, and a third iteration which is already taking place later today in Düsseldorf (the show is now sold out). Showing no signs of slowing down, the company are already prepping up for their next edition which is their most ambitious thus far.
BigCityBeats have announced that they will be hosting the World Club Dome Digital Weekend with a series of three events from Friday, June 5 – Sunday, June 7. The weekend festival includes the next iteration of the World Club Dome Drive-In edition on Saturday, June 6. The special Las Vegas edition is scheduled to take place at the enormous parking lot of the Maimarkthalle Mannheim nightclub.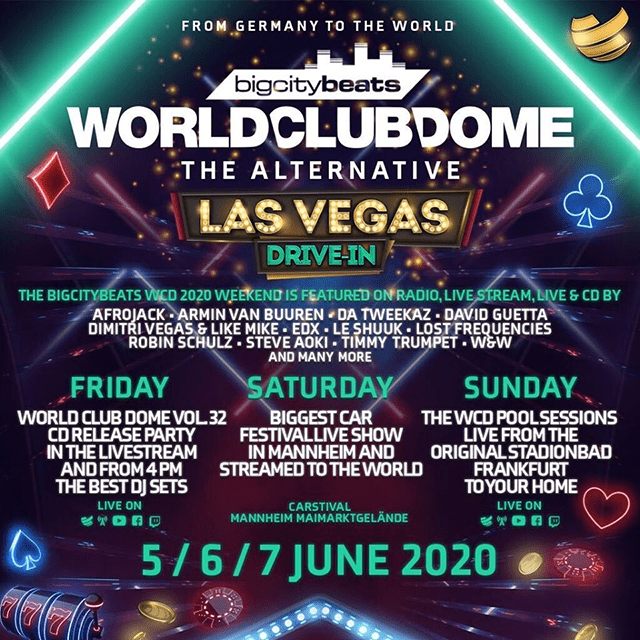 The event is said to be the largest car drive-in festival in Germany, with the nightclub car park being able to provide spaces for up to 600 cars. The festival will contain a spectacular live show with pyrotechnics, lasers and CO2 cannons as well as incredible lineup of international DJs including Armin van Buuren, Afrojack, David Guetta, Dimitri Vegas & Like Mike, Robin Schulz, Steve Aoki and Timmy Trumpet, and more.
Those who aren't living in Germany need not worry as the event will be live streamed globally.
A digital release party will be held prior to the drive-in concert on Friday, June 5. The party will be celebrating the release of BigCityBeats World Club Dome Vol. 32 which will be streamed live at 6pm on World Club Dome's website as well as 8pm on YOU.FM.
A finale will be held a day after on Sunday, June 7 with the digital edition of WCD Pool Sessions from the Stadionbad in Frankfurt. A handpicked selection of DJs and exclusive sets will be delivering a perfect summer finish starting at 12pm, with the virtual Main Stage beginning at 6pm where fans can enjoy their electronic music with a fireworks display.
Check out the photos from the second iteration of the World Club Dome Drive-In Edition below.
Have something to add? Tell us!