Cancellation details below
---
 Music promoter Murmur! confirms Blue Hawaii for Bangkok. The Canadian duo will be performing their current record Tenderness live on stage in November.
See also: Britain's tear-squeezer artist Bruno Major is coming to Asia
It seems like Murmur! wants to keep themselves busy by throwing gigs as earlier this morning, we've learnt about "Murmur! show – Postiljonen Live in Bangkok". Here, just recently, the promoter has announced another show for November— "Murmur! Show – Blue Hawaii Live in Bangkok". The show will be held at Noma Bkk on Friday, November 16.
This marks the duo their first return in 4 years after their last performance in Bangkok back in September 2014. Of course! they'll be bringing both their Untogether and Tenderness to play live on stage.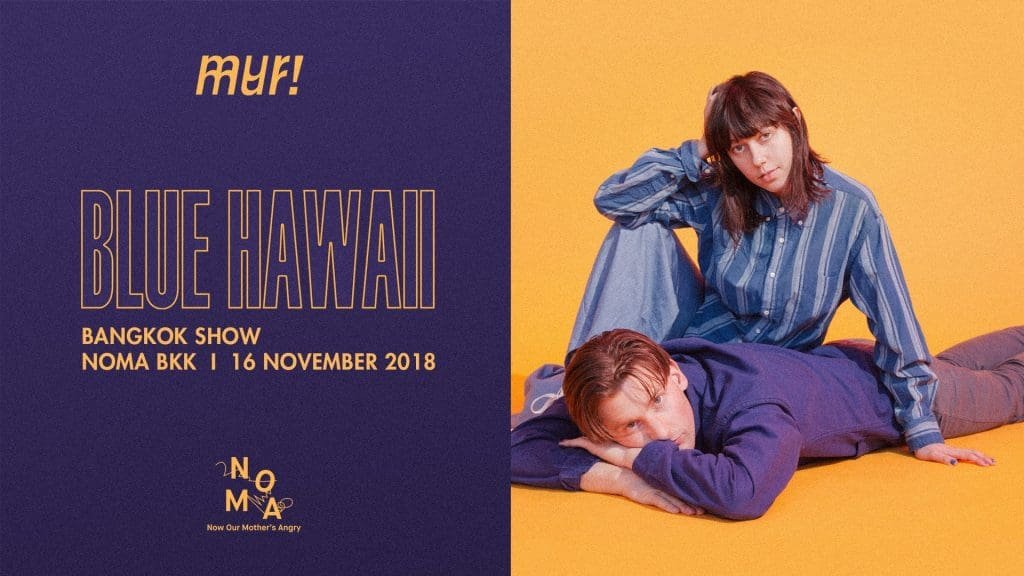 Tickets will go on sale tomorrow (Tue, Oct 2) through Ticketmelon, starting at 10am. Price is THB850.
Formed in 2010, Blue Hawaii is an electronic music brainchild of two Canadian artists— Raphaelle "Ra" Standell and Alex "Agor" Kerby. Signed to Arbutus Records, the two released their debut studio effort Untogether in 2013 before taking a break from the project for several years.
In 2016, Ra and Agor rekindled in the studio for Tenderness (released in 2017). And together, they turned all Ra's experiences and ideas based on nowadays' intimate relationship into their music.
See also: Japanese multi-instrumentalist/producer Cornelius is returning to Thailand
Soon enough Bangkok will get to enjoy the touch of classic house and disco from Blue Hawaii's Tenderness live on stage. (Listen to Blue Hawaii's "No One Like You" from Tenderness, below)
---
Update (Nov 15): Music promoter Murmur! has recently confirmed the cancellation of Blue Hawaii show in Bangkok due to unexpected accident with the artists.
Announced yesterday by the promoter. The sudden cancellation is due to the duo's health situations as they are now in the recovery from an unexpected accident.
Tickets purchasers can collect their refund through Ticketmelon.
Get well soon, Ra and Agor!
Have something to add? Tell us!