We rocked hard (retro-styled) at the Hard Rock Cafe Singapore.
An infectious mood and retro-coloured bops ignited the air on Wednesday night, almost like sparks off sparklers at a British summer festival by the sea, as Brighton, indie band FUR dished out the loveliest of tunes in undulating nostalgic tones.
Performing inaugurally in Singapore at the Hard Rock Cafe (Cuscaden Road), the band, consisting of members William Murray (frontman), Josh Buchanan (lead guitarist), William Tavener (bass), Flynn Whelan (drums), and James Hazel (keyboard) threw "magic dust" onto the crowd, turning back time into what felt like some 'rollin good times!'
Before their set, opening act and local rising stars 'Coming Up Roses' gave the crowd a smashing showcase of riffs, variegated rock-like textures and on-point dynamics, with songs like 'Fall', 'Lies' and 'Slingshots'. I don't think I have ever bounced my phone in the air, with its flashlight on like that before. That was a cool moment! Not to mention that their synchronised jump at the start of 'Waters' was pretty lit too!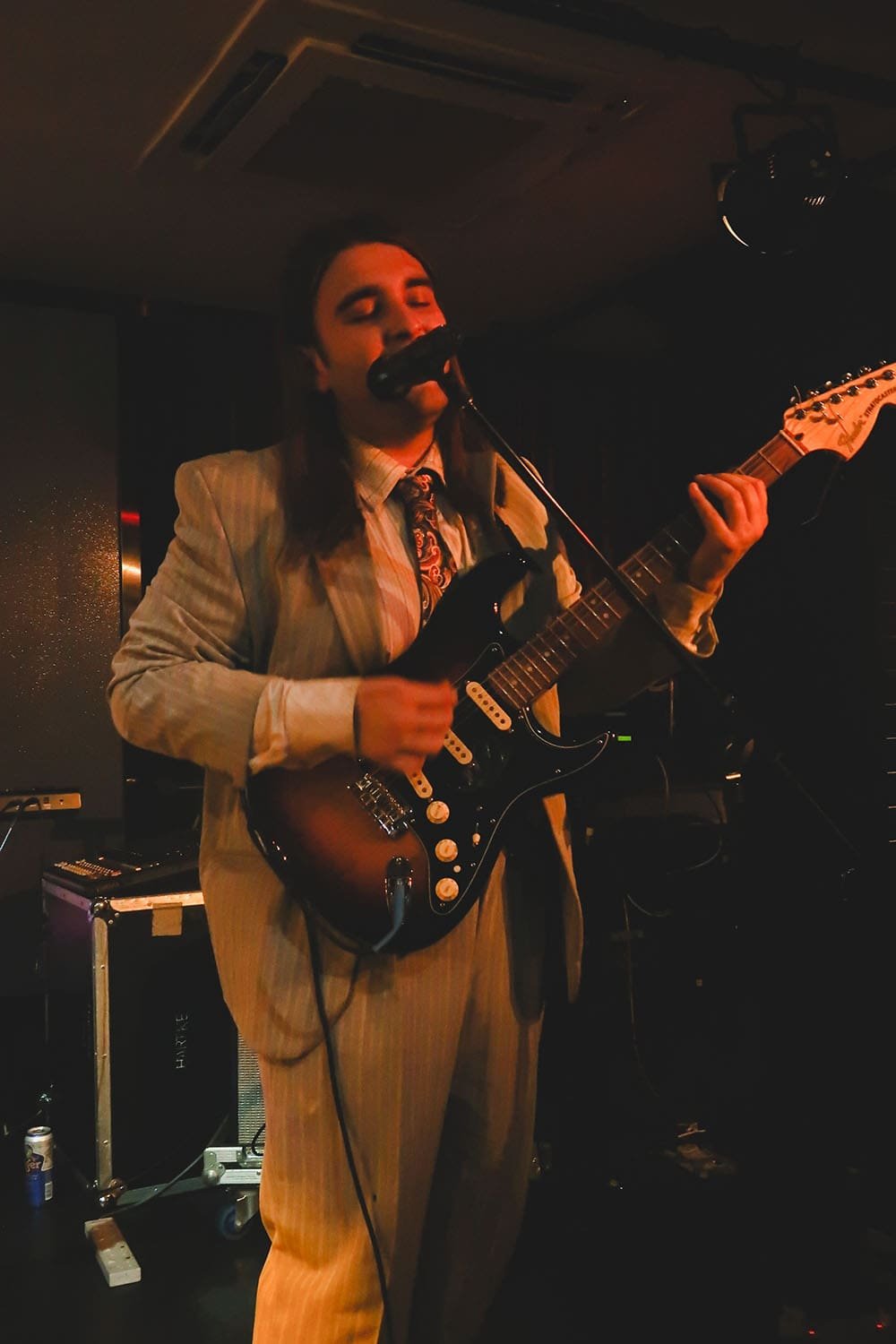 As tune after tune of FUR's magical sound drizzled upon us like twilight rain, their music seemed to enveloped us with an incandescence that was familiar as it was enchanting.
For me, with sisters born in the 70s and parents born in the 40s, I practically grew up watching films like 'Xanadu', 'Grease', 'Back to The Future', among others and listening to songs by bands like 'Bread' and the 'Beatles'. FUR's sound was deliciously full of such 60s-80s vibes, which in turn was infectious as it was riveting…to this old soul dreamer…
For instance, 'Not Enough' reminded me of the song 'Earth Angel'… I literally melted in the chords and colours of 'Not Enough' when it was sung. In fact, so did everyone around me…who sung along to Murray's vocals. It was lovely…
It felt like the kind of song that you would dance to with a soulmate in the hall, perhaps back in the 60s, 70s or 80s, where life was simpler and special. The kind of music whose textures just floated around you like "fireflies" of the night as you get pulled in…
Throughout the 45-minute set, the charming English band continued to dress the atmosphere of the Hard Rock Cafe with these kinds of feelings. Some were a tad more rocking, while other embodied the colours of a ballad. From 'All My Dreams' to 'If You Know That I'm Lonely', the band sang a total of 11 songs from their repertoire, which was almost all of them except for 'Trying'. In its place, however, was a new unreleased song. Bless…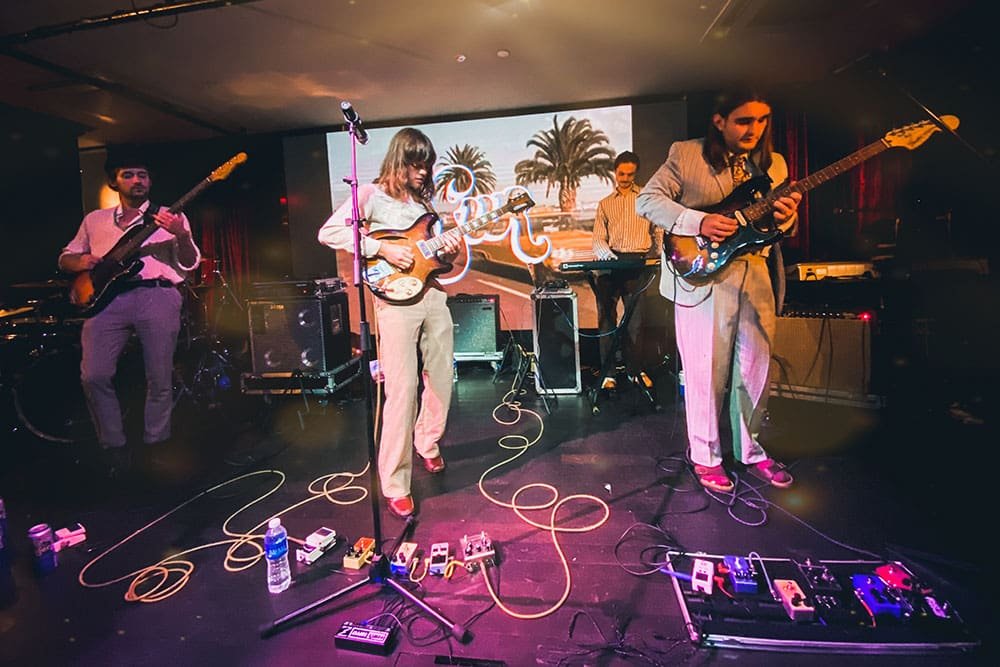 Songs like 'Him and Her' and 'Nothing (Until Something Comes Along)' felt like classics from another time, while the textures in ''What Would I Do' and 'Love Song For No One', the latter of which was sung and played solo by Murray, were soothingly retro-rich and iridescently sublime.
Returning barely a minute later with encore piece 'Angel Eyes', I was so tempted to do the 'Batusi dance' to this, a feeling further accentuated when Frontman Murray came right up to my iPhone's lens, before then coming under the barrier/Q-pole and heading right into a crowd, where he danced and sang with everyone!
Blimey that was magic!
We may not have had the opportunity to dance on stage with the band like their Kuala Lumpur gig, due to the Q-poles set-up, but having the charming Frontman come right up to everyone in the crowd was wonderful.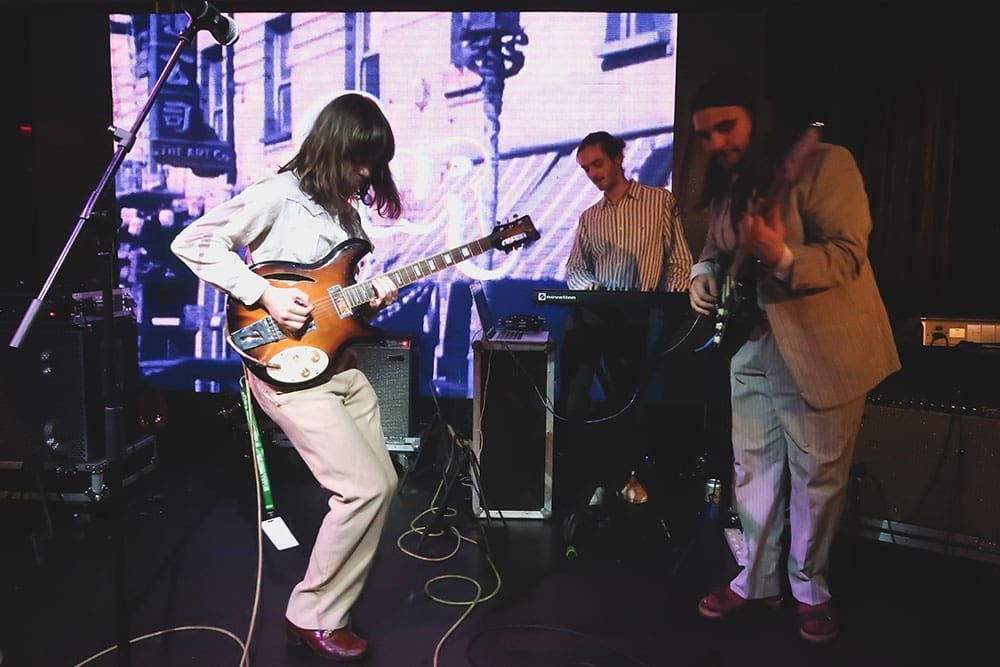 Indeed, to describe FUR's sound would be difficult. They are a gem and they certainly have something really special as a band. Their gig was lit, and the feelings you get when you watch their show is quite ineffable. Their dancing was quite alright as well, and their dynamics as a band gave me the impression that the members were fun to hang out with when they were not on stage.
Music-wise, it as though we all went back in time that night, and a part of me fell in love, I guess…
We all had fun!
Special thanks to FUR for their music! And to LAMC Productions for the invite!
Setlist:
All My Dreams

Nothing (Until Something Comes Along)

What Would I Do

Him And Her

(new song)

Not Enough

Trouble Always Finds Me

Where Did All The People Go?

Love Song For No One

If You Know That I'm Lonely

Angel Eyes
Have something to add? Tell us!