Hong Kong's first online music festival will launch at the former Haw Par Mansion, a Grade 1 historic building, and will consist of 10 performing groups spanning across various music genres from Friday, January 22 – Sunday, January 24.
The Heritage x Music Festival ON AIR is a three-day music concert to be livestreamed from the comforts of your own home. The livestream will begin tomorrow on Friday, January 22 until Sunday, January 24.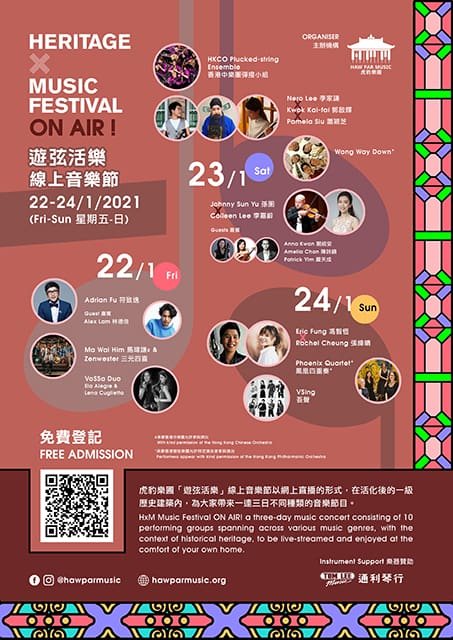 The music festival will take place at the former Haw Par Mansion, a Grade 1 historic building now converted into Haw Par Music serving as a centre for cross-cultured exchange through music, heritage, and arts.
Expect various music genres performed by 10 internationally renowned musicians and artists from traditional Chinese and Cantonese opera to classical, jazz and pop music. The performers will lead the audience on a musical journey, with the festival offering a dynamic platform to showcase talent from various traditions of music and heritage experiences.
The first evening (Friday) will focus on jazz, DJ/vocals and pop music, featuring award-winning Hong Kong singer-songwriter Adrian Fu and pop singer-actor Alex Lam, Ma Wai Him, the Suona Principal of Hong Kong Chinese Orchestra leading fusion pop band Zenwester, and DJ-saxophone group VoSSa Duo.
The marathon weekend continues with performances by the Hong Kong Chinese Orchestra, Chinese instrumentalists Yehu and Sanxian in a musical dialogue with Nanyin (Southern Tunes), a traditional Chinese narrative and song art.
Saturday will feature a star-studded lineup of international musicians including pianist Colleen Lee and former principal solo violinist of Gewandhaus Orchestra Leipzig Johnny Sun Yu, who will be performing works by Piazzolla, Fauve, Schubert. Finishing off the evening is the Schumann Piano Quintet who will be joined by Haw Par Music faculty.
Other highlights include international prize-winning pianist Rachel Cheung, jazz drummer Nate Wong (founding member of Hong Kong band Nowhere Boys), artistic jazz band Wong Way Down, an emerging a cappella group VSing.
The full schedule is shown below.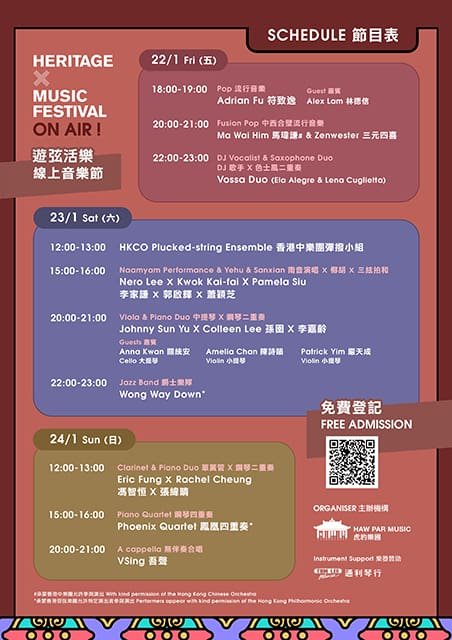 Attendance for the three-day concert is free via online registration here.
Have something to add? Tell us!