Grammy-nominated hard rock and metal forerunners Megadeth confirmed their return to Southeast Asia with Dystopia World Tour.
The Californian band are performing in Manila as a headlining act at Pulp Summer Slam Festival 2017 at Armoranto Sports Complex on April 29, 2017. The metal festival is also set to feature The Devil Wears Prada, Dragonforce, Whitechapel and many more.
See also: Metallica to return to Singapore with WorldWired Tour 2017
The Dystopia World Tour Singapore is taking place at Kallang Theatre on May 2. The concert is presented by LAMC Productions.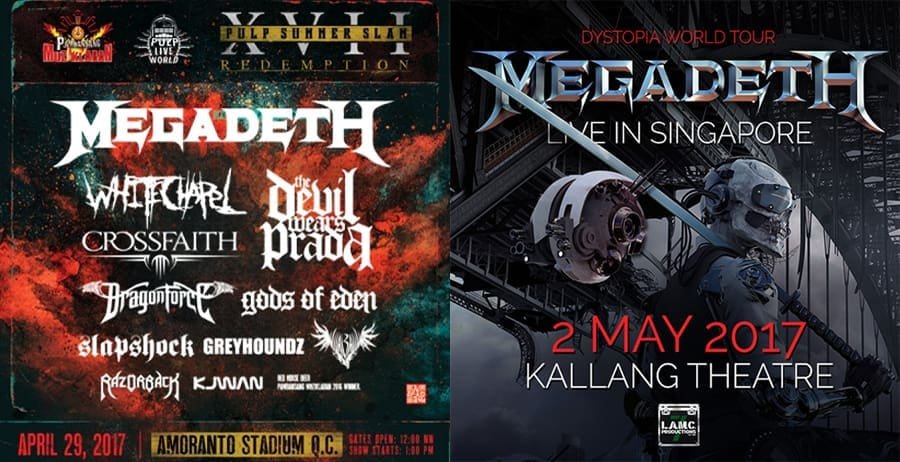 The tour is in support of Megadeth's fifteenth and latest studio album, Dystopia. Fans can get ready to headbang to latest singles like "Fatal Illusion" and "The Threat Is Real" along with iconic numbers such as "Symphony of Destruction", "Hangar 18", and "Tornado Of Souls".
Tickets to Pulp Summer Slam Festival 2017 are priced at PHP695 (Regular) and PHP10,340 (Royalty), now available on SM Tickets. Tickets for the Singapore show go on sale this December 21 (10AM) through Sistic, Sistic Authorised Agents and hotline (65) 6348-5555.
See also: Don't Ever Stop Believing: Journey are touring Southeast Asia in 2017
One of metal's original "Big Four", Megadeth burst onto the scene thirty years ago. Since the formation by singer-songwriter and guitarist, Dave Mustaine in 1983, Megadeth have sold more than 38 million albums worldwide, earning numerous accolades including 12 Grammy nominations and scoring five consecutive platinum albums.
Megadeth released their latest studio album, Dystopia in January 2016, to largely favourable reaction and took the No. 3 spot on the Billboard Top 200 chart alongside Adele and Justin Bieber. Dystopia was the No. 1 album on the Hard Music and Rock charts, and No. 2 on the Top Album Sales chart.
Have something to add? Tell us!