Texan punk rockers The Elected Officials and MDC are bringing joint Escape from America Tour! to the eastern hemisphere this month.
The bands are kicking off their nine-date Southeast Asian leg of the tour at Libertad Fest 2017, Indonesia's annual "punk picnic" in Bandung, on January 19.
See also: Sydney hard rockers Wolfmother to open for Guns N' Roses in Singapore
Check out the rest of the tour dates below.
January 19 – Bandung, Libertad Fest 2017 | Tickets
January 21 – Jakarta, Warriors Jakarta | Tickets
January 22 – Jakarta, Ponti Anarchist Collective | Tickets
January 23 – Singapore, Substation Theatre | Tickets 
January 24 – Batu Pahat, The Wall | Tickets
January 25 – Kuala Lumpur, Rumah Api | Tickets
January 26 – Bangkok, The Mazzenine Pub & Restaurant | Tickets
January 27 – Bangkok, Soy Sauce Pub | Tickets
January 28 – Chiang Mai, Ruchata Bar | Tickets
Before heading back stateside, the bands will play three more shows in Japan to round up their Asia trip.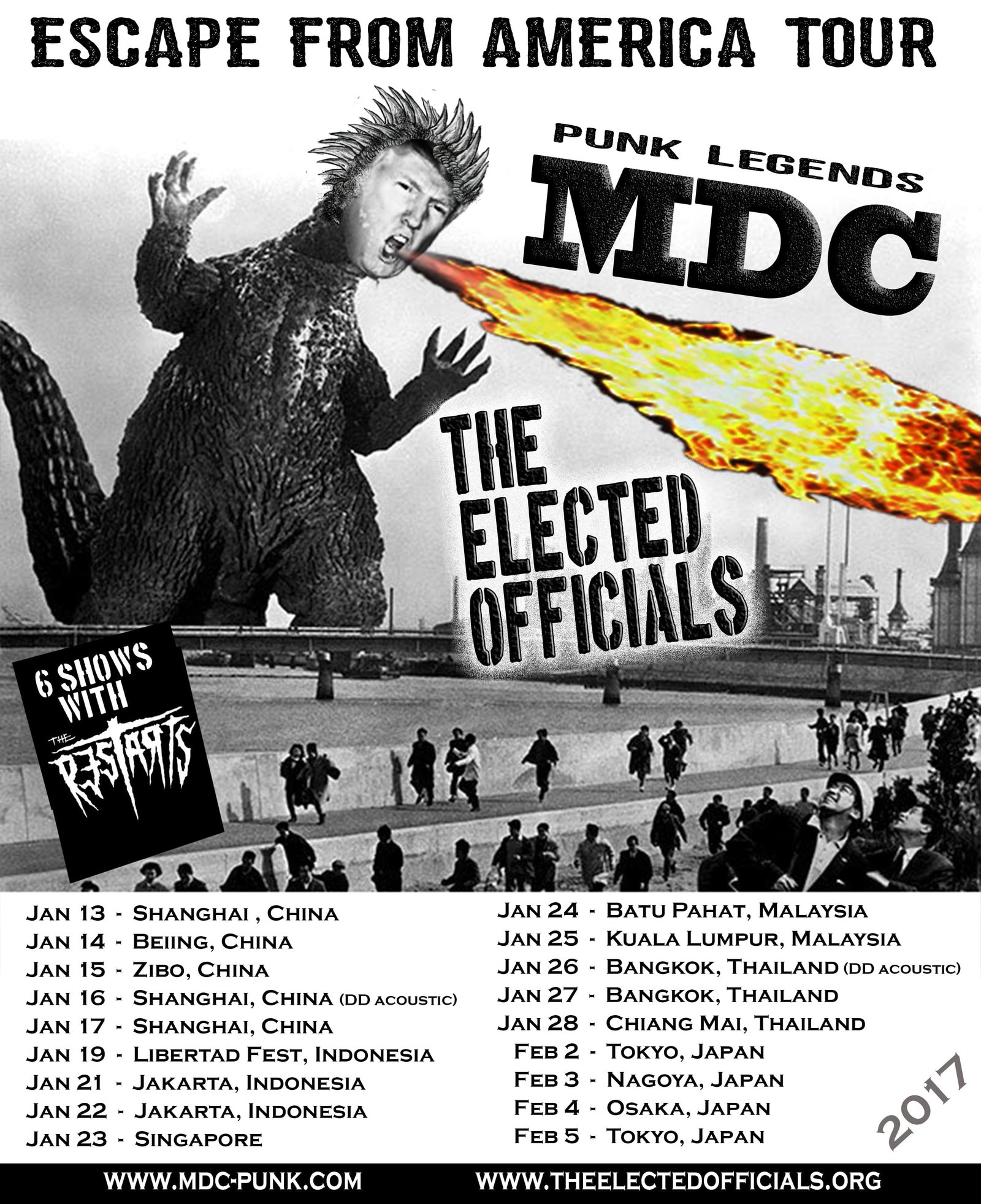 The joint tour is the second outing in Southeast Asia for political punk band The Elected Officials. They're known for ripping hardcore punk lyrics with topics dealing both with political and daily life issues, ranging from the problems of rampant consumerism to the problems of globalisation.
Vocalist Sophie Rousmaniere has a personal connection with the punk scene in Thailand. She owned an iconic punk rock in Chiang Mai called Chaos City from 2000-2005, helping spawn the vibrant scene Thailand has today.
See also: It's This Lifetime after all: Guns N' Roses confirm Bangkok concert in 2017
Active since the early 80's, MDC (Millions of Dead Cops) are political punk rock pioneers. Founder and frontman David Dictor leads the band with their original lineup: drummer Al Schvitz, bassist Mike Smith, and guitarist Bill Collins. MDC have played all over North America and Europe but this is their first trek to the Asian continent.
MDC have recently made headlines as their lyrics, "No War, No KKK, No Fascist USA," from 1981's track "Born to Die", were used by demonstrators in reaction to the current political climate in America and the election of Donald Trump, and, perhaps most notably, by Green Day at their American Music Awards performance.
Have something to add? Tell us!