The Legendary Superstar and Master of Ballads, Engelbert Humperdinck, will return to Singapore to bring his 'The Angel On My Shoulder' Tour on November 05, 2019 at University Cultural Centre Hall.
For more than five decades, the renowned romantic crooner has shared a love affair with fans of every age, on every continent. One of the world's most instantly recognized voices, Engelbert's music has withstood the test of time, and remains as the exemplary global entertainer – having one of the largest fan clubs, sold more than 140 million records, including 64 gold albums and 23 platinum, four Grammy nominations, a Golden Globe, and stars on the Hollywood Walk of Fame and Las Vegas Walk of Fame, and with his sold-out shows all over the world.
As a boy, Humperdinck never wanted to be a singer. A career in music, yes, but he was extraordinarily shy. He knew he could sing harmonies, but the power of his own voice came as a surprise to him and other people.
"It's just so loud, but I discovered I can be tender with it at the same time."
– Engelbert Humperdinck
Like all great icons, he is a man of great depth – masculine and loving, shy inside and uninhibited onstage, prepared to play the sex god to the hilt and still, at this stage of his career, managing to get away with it.
"My mother's side of the family had the singing voice so I must have inherited that from her. My father was a man's man – strong, athletic, and charismatic. And I like to do all kinds of men things. I love sports, golf, tennis, martial arts, soccer, skiing, but at the same time, yes I do appreciate women."
– Engelbert Humperdinck
The singer exploded onto the music scene in the sixties with The Beatles and the Rolling Stones. His sixties did not so much swing as rage. The shy handsome boy catapulted almost instantly to world icon. He became great friends with Elvis Presley and the two legends often performed each other's songs. His first single in the charts was "Release Me", which went into the Guinness Book of Records for achieving 56 consecutive weeks on the charts. It was No. 1 in 11 countries. The song was re-released after being used for a UK national television commercial for John Smith's beer.
The following decades saw Engelbert touring the world to sell-out crowds. Engelbert seems to take great pleasure in every moment on stage, a place where he can lose his inhibitions and no longer be the child who was once shy.
Engelbert's music has transcended time and his voice still continues to reach out to people now – serving to transport and inspire, to embrace and to provoke feelings and emotions…ingredients that are no doubt the essence of his long-lasting success.
Witness the melodic tunes that this first-class singer has to offer and sing along to classic hits like 'Release Me", 'The Last Waltz', 'Quando Quando Quando', 'There Goes My Everything', and more!
Engelbert Humperdinck will perform at the University Cultural Centre Hall on 5 November 2019. Tickets are priced at $78, $98, $128, $148 and $168 via SISTIC. Pre-show party tickets, which includes a variation of house pours and finger food are also available here.
For more information, please visit LAMC Productions.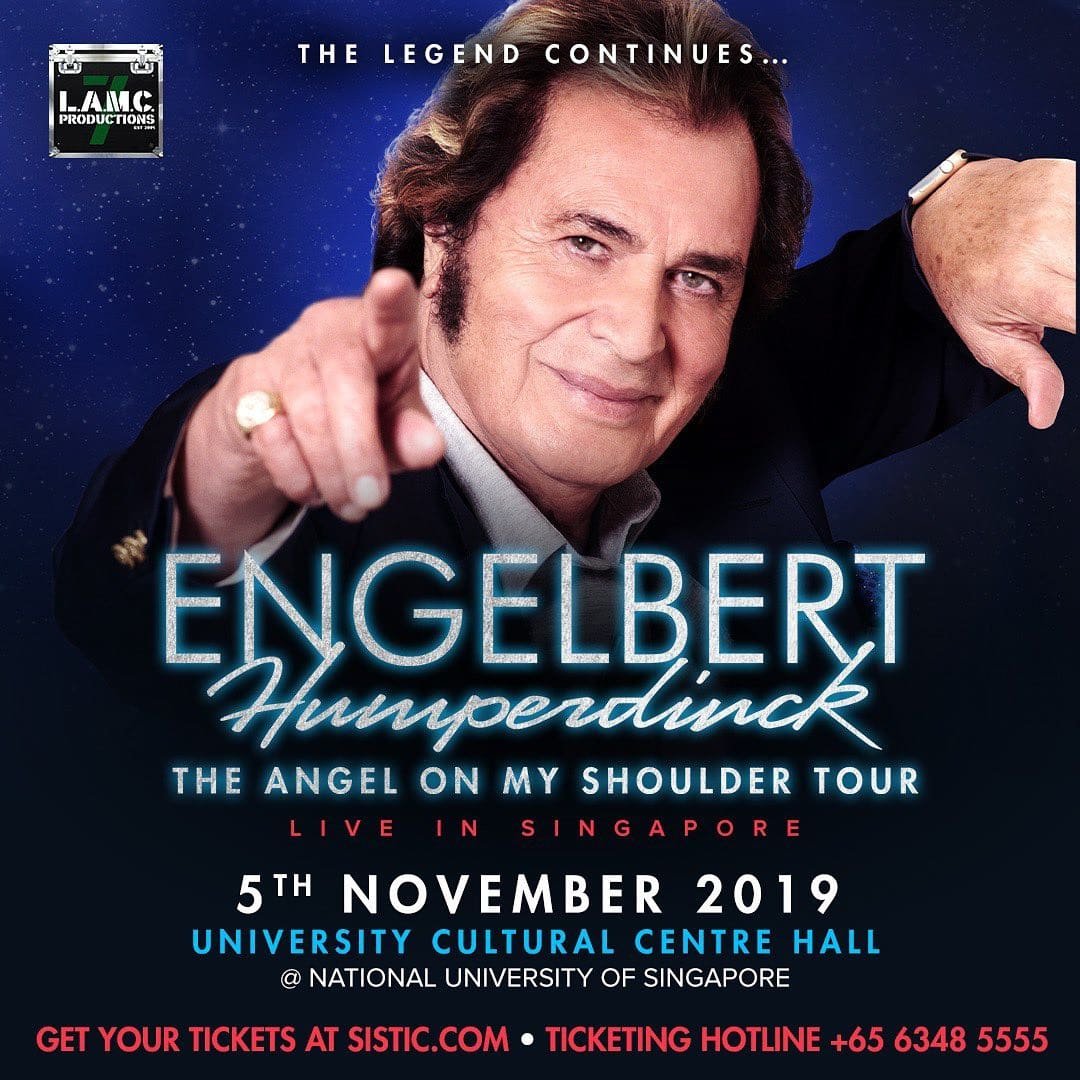 Have something to add? Tell us!