So we know Ariana Grande will be leading the entertainment lineup at this year's Formula 1 Singapore Grand Prix on September 16, but does she have plans to serve up her Dangerous Woman Tour elsewhere in the region?
The answer is almost certainly. Fans in Asia usually take it as a good sign when global superstar acts announce Australia-Oceania dates. This was the case for "Arianators" too, but they weren't left hanging on to a Daydream for long because the "Side To Side" singer herself took to Twitter to give an unofficial confirmation.
See also: It's Britney, babe! The Pop Princess is coming to Southeast Asia
Yesterday Grande replied an Indonesia fan's message, "asia is waiting for a tour date ok ok love u so much," with this very promising tweet.
@purposerealest they're coming !! i'm coming !!! i love u

— Ariana Grande (@ArianaGrande) April 25, 2017
Asia. Tour. Dates. Are. Coming.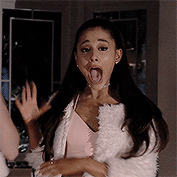 According to the pop star's Wikia fan community, this is not the first time she's talked about her visit. Grande reportedly told fans at her Denver show soundcheck party on April 3 that the Asian leg was abrewing.
What's more, a source has tipped us off that a giant promoter in Thailand has already sealed the deal with Live Nation, who's handling Grande's entire tour. Only the date is yet to be set in stone though it should be a spitting distance from the R&B diva's F1 Singapore stint.
See also: DNCE and Dua Lipa round off In The Mix Manila 2017 lineup
As for other countries, knowing how successful her Honeymoon Tour was in Jakarta and Manila in 2015, these two stops are easily a no-brainer.
When If made official, Ariana Grande's Dangerous Woman Tour would add to Southeast Asia's already exciting concert calendar for the rest of 2017, which includes Britney Spears in June, Phoenix in August, Ed Sheeran in "Oct/Nov", and Shawn Mendes in December. While we're at it, can we throw Justin Bieber, who's recently announced three shows in India, into the mix?
Stay tuned as AsiaLive365 brings you the latest.
Have something to add? Tell us!