Alongside the shows in Hong Kong and Japan, Scottish indie rock band Franz Ferdinand is slated to perform in Singapore in November.
See also: In Flames are ready to make a Singapore debut
Music promoter Secret Sounds Space Now/Live confirmed Franz Ferdinand for Singapore. The post-punk revival vanguards is slated to take the stage [email protected] on Wednesday, November 21. The band will, then, take their tour to Hong Kong on November 23 and Japan on November 27-28.
There might be destinations added to the schedule soon (hopefully) which we will definitely give you an update. For now you can check out tickets details for their Singapore show below.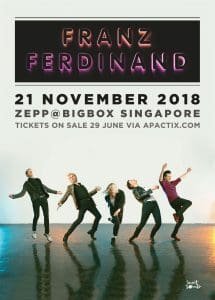 Advance tickets will be on-sale this Friday, June 29 through APACTix. Prices are SGD99 (fee excluded) and will raise to SGD120 at the door.
Formed in 2002, Scottish rock heads are known as the post-punk revival vanguards. The five-piece is consisted of Alex Kapranos (vocal/guitar/keyboard), Bob Hardy (bass), Paul Thomson (drums), Julian Corrie (keyboard, synthesiser, guitar) and Dino Bardot (guitar).
Don't miss: (Live Review) Suuns slays Bangkok with their aggressively aesthetic krautrock music
The band rose to prominence with the multi-chart topping singles like "Darts of Pleasure", "Take Me Out", "Do You Want To" and "Always Ascending". Besides the singles, the band also received critical acclaims from music critics and won two Brit Awards back in 2005. Currently, Franz Ferdinand are touring to promote their fifth studio album "Always Ascending". As we are waiting for their Asia visit, here's the taste of their new track "Glimpse of Love":
Have something to add? Tell us!