(5 / 5)
Canadian experimental rock band Suuns left the crowd in awe of their first show in Bangkok over the last Wednesday (June 20). Literally, it was impeccable. 
This such a once in a blue moon night wouldn't happen without Have You Heard?, the promoter who has recently brought Rhye and Devendra Banhart to town.
On the night, people gathered together at a medium-sized live house-slash-bar in the back of Thonglor alley, De Commune. The place is widely known for its nights of underground music showcases ranging from electronic to rock music.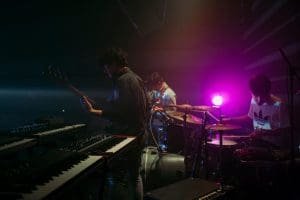 Around 9.15PM, a homegrown underground scene's favourite rock trio PLOT infused the atmosphere with their aggressive roars of post-punk sound. Their songs sounded like an art with the unique blend of heavy instrumental sounds and some ambient electronic touches. Those went aesthetically well with the blunt vocal part. The whole room appreciated this art with a crazy head shaking throughout the performance.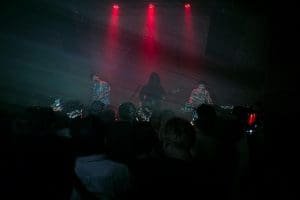 Soon after the clock ticked 10.30PM, the Montreal 4-piece jumped up on the stage with red lights stirring the room. This show marked Suun's first return in Asia after their tour to promote the second album Images Du Futur in 2013.
The band let their music greeted the audience. And within the first verse of "Control", everybody was completely under the band's spell. People heedlessly strutted their stuff along the followed tracks like "Instrument", "Translate" and "Watch You, Watch Me".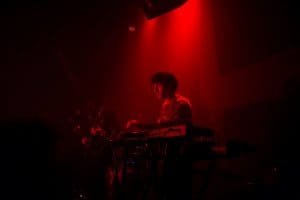 Suuns escalated the crowd's pleasure with "Powers of Ten" and "2020" before continuing to blow everyone's mind with "Make It Real". Suun's setlist was uniquely astounding with the combination of electronic, rock, psychedelic and art elements.
The only way that I could describe their performance was that it felt like they took us on an endless out-of-space journey on an alien battleship flown by Dominic Toretto.
Before the tranquility succeeded to this such entertainment, Suuns signed off the show with "Pie X". "We really appreciate to be here" said the frontman Ben Shemie before continuing to express the band's gratitude towards this impeccable night.
For me, the commonly-heard comment "Damn! They are way better than what I heard on YouTube." was an inevitable audience's message of the night that could possibly be the perfect explanation of Suuns' Bangkok debut show. 
For more reviews from AsiaLive356, click here.
Have something to add? Tell us!