The London-based hard trance producer shares his thoughts on his newest track, live streaming, and the current trance music scene.
Carl Nicholson is no stranger to the dance music scene. A veteran in the hard house and hard trance genres for over 25 years, the London-based DJ has come a long way on the path of electronic music.
Starting out as an MC at a young age to learning the DJ craft from the late hard house legend Tony De Vit in the 90's, Nicholson has gone on to play in major venues such as Fabric in London to festivals such as Glastonbury before making waves in the UK hard trance scene in the 2000's.
Since 2013, the producer has shifted towards his love of trance music, releasing songs across multiple labels such as Universal Nation, Pharmacy, Discover Dark & Rise and remixed tracks of prolific trance music artists such as Binary Finary, Marmion, and Quench. His music has been played by global trance superstars such as Armin Van Buuren, Ferry Corsten, Paul Van Dyk, Jordan Suckley, Alex M.O.R.P.H and Sean Tyas.
His latest track, 'Inflicted', delves into the super-fast and powerful sounding world of psytrance. The track, released on legendary English DJ Paul Oakenfold's Perfecto Fluoro label, comes with a haunting and sinister vocal that contemplates well with the overall sound.
We had a chat with the producer as he talks about his thoughts on the track, the rising trend of DJs live streaming and the current trance music scene.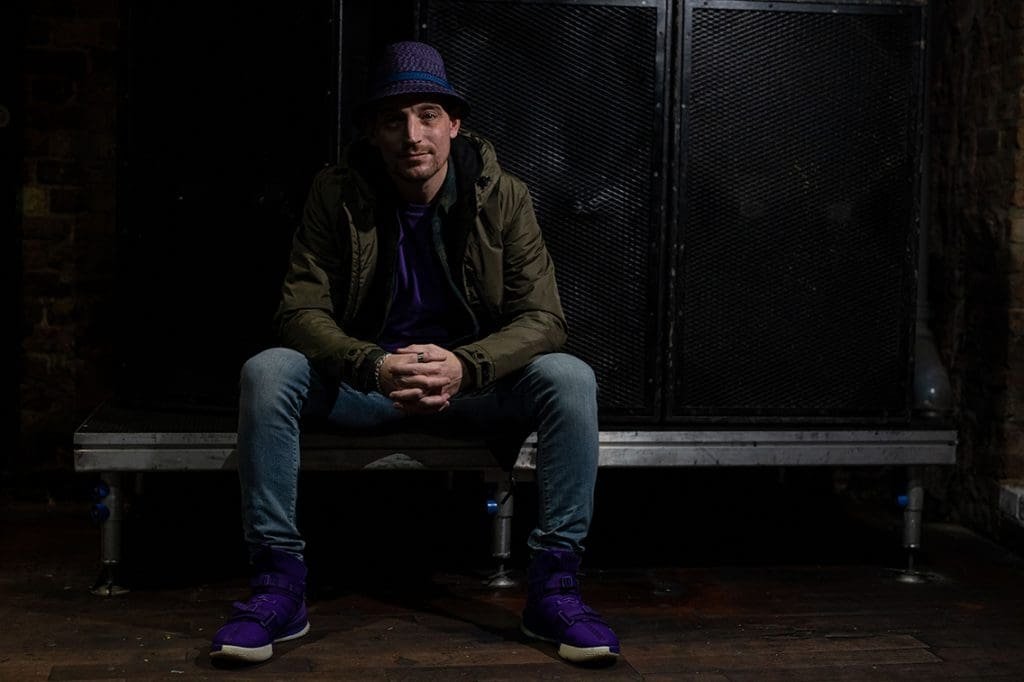 AL365: Congratulations on the release of your newest track, 'Inflicted'! How are you during lockdown?  
Nicholson: Thank you, I'm good.  Just using the time to get even more new music done.
AL365: First of all, I noticed right away that the vocals are sampled from the movie 'American Psycho', specifically the ending monologue delivered by the great Christian Bale. What's the story behind the decision to use it for this track?  
Nicholson: There isn't any particular link to the vocal, I tend to listen out for vocals that fit the feel of the track, 'Inflicted' is a bit sinister, so the words and music just sounded right together.
AL365: Your track 'Inflicted' hits hard! You are known for your hard / tech trance productions but the song incorporates elements of psytrance. Why did you choose this choice of sound and what was the creative process like compared to your other tracks? 
Nicholson: Psytrance is always harder work than your normal 138 bpm track, there's a lot more to think about with the creative flow.  Perfecto Fluoro are well known for their cross over sound, so the track fitted perfectly into their ethos.
AL365: The track definitely wants me to go to a club and dance to some trance, but clearly that's not possible at the moment. Why the decision to release the track now during a time when there aren't any clubs or festivals to play this sort of music?  
Nicholson: Unfortunately, some release schedules are months upfront, and of course, we had no idea this was going to happen.  It's certainly not an ideal time to release music if you want it played in clubs, but at the same time people need to keep busy, so it's a double-edged sword.  It has both good and bad points.
AL365: You have been around the trance scene for quite a few years now, is there anything in the scene that has changed since you started out?
Nicholson: The scene changes weekly, and I'd say it's unrecognisable from the scene I first started in.  Back in the 90's DJ's didn't necessarily have to produce, as it was classed a craft in itself. 
AL365: What are your thoughts on live streaming? Especially now that more DJs are playing live stream sets due to COVID-19?
Nicholson: I like the streams, but there is a massive oversaturated edge to it. I suppose it's just a consequence of the current situation.
AL365: Any chance you will play a live stream set for your fans?
Nicholson: Sadly my studio is in pieces currently, due to it being rebuilt. I'd say I'll be ready in about a month. If we are still in lockdown. 
AL365: In your opinion, which trance producers or artists should we be on the lookout for right now? 
Nicholson: Giuseppe Ottaviani is smashing it right now, he's been around a long time and certainly deserves all the attention he's getting.
AL365: Who are your biggest inspirations in terms of production? 
Nicholson: My biggest production influences would be Liam Howlett (Prodigy) & the late, great Tony de Vit.
AL365: Once the quarantine is over, what would you like to do and where do you want to be?
Nicholson: I'd like to go to a pub garden and have a beer with my mates.  Always good times.
Start off your weekend with Nicholson's hard-hitting trance tune 'Inflicted' out now via Perfecto Fluoro.
Have something to add? Tell us!