D'Angelo & Francis drop by Bangkok to say hi to this lively city after their big moment at UNiTE with Tomorrow in Taiwan. And that's how we ended up at this dining table at Octo Seafood Bar.
In the late evening of a pretty much casual day, AsiaLive365 got to share our dinner with one of the most to-watch spinners D'Angello & Francis at Octo, a seafood landmark in Sukhumvit Soi 24 (See below for more restaurant's information).
On this dining table where plates and cutleries lay before us, we took off our jackets for a casual yet profound talk with our Belgian beatmakers. There, in that seafood bar and restaurant, D'Angello & Francis reveal us about their unexpected success and how their lives have changed after "All Abroad".
Welcome back to Thailand you guys! And congratulations to your brilliant set at UNiTE with Tomorrowland! How are you feeling? This is not your first time here, right?
D'Angello: Actually, this's our third time in this country as we can recall. Still, we haven't got time to see that much of local stuff around Bangkok yet. Last time we were here, in Thailand, we went to Pattaya and that beautiful island.
Francis: Oh, I think it's Samed. We rented a motorbike and we rode around the places. We tried to escape parties and be more harmonious with nature and culture there. Since we don't really have much time to explore the whole thing.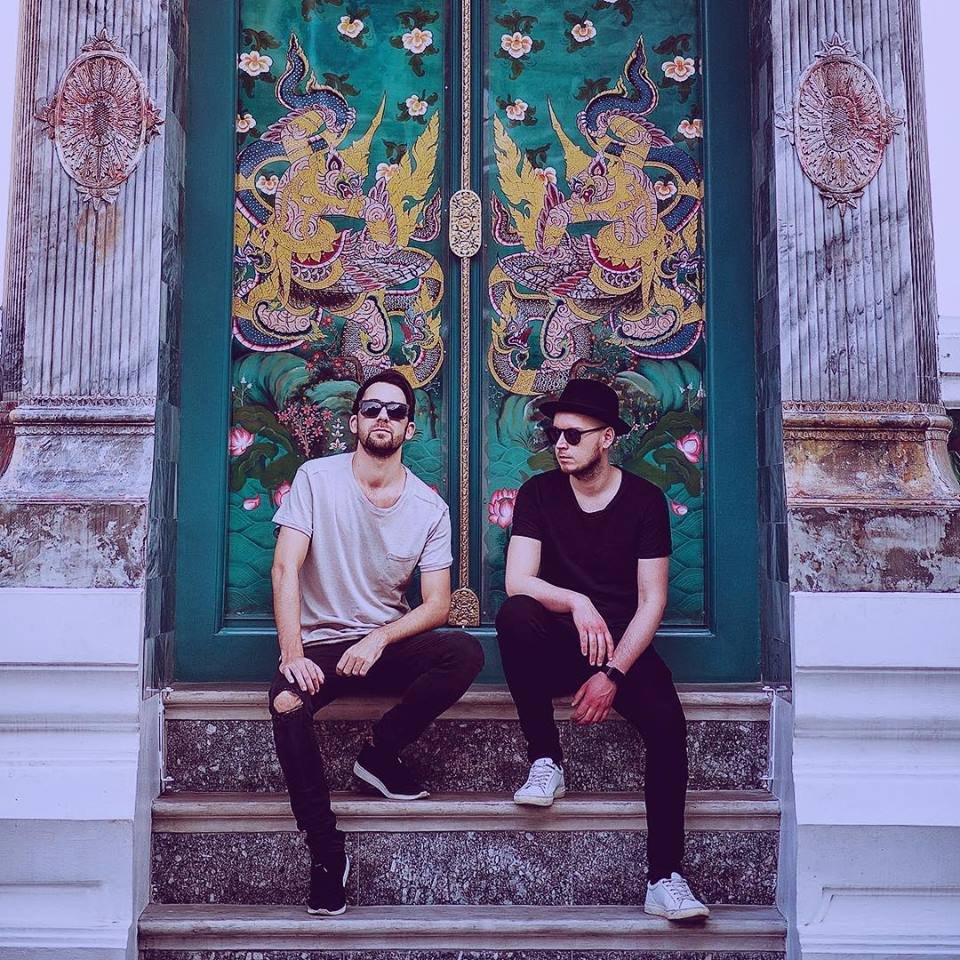 About Tomorrowland, is this your second time on the stage?
D'Angello: It's our third time. Our first time was with Smash The House stage, the second was Smash The Generation. This time, we were back on Smash The House again. It was great.
What's the secret or tips for music production in order to keep up with not just only quality tracks but also something that can actually create a good sale?
Francis: To make a good sale means that you have connections, you know the market trend, the show production and stuff. But for us as producers, we don't take business as our first priority. We are the artists and producers so, in our view, we believe that our focus should be mainly on our quality of music. And make sure that the works from us are authentic, fresh and that we love them.
Have you guys ever expected that "All Abroad" will be a big breakthrough?
Francis: We know that it's going to be great because the track was made to be played at the set of Dimitri Vegas & Like Mike. And the thing about Dimitri and Mike is that they'll only play your track if they really like it. I think what attracted the audience's attention the most is the 'train gimmick' we designed for the set. (Check out the track below.)
D'Angello: Yes, the train gimmick! That was really cool on stage. So in the making of "All Abroad", as you know now that we intentionally produced the track for them. So we studied Dimitri and Mike's stage and we came out with that sound and the presentation. Dimitri and Mike loved it and you know those two are like one of the world's biggest DJs so we knew since the beginning that it would be widespread around the world. We appreciated the result in a way. But as a producer, you have to never stick with the same old success. Now, we have moved on to 'airplane gimmick'. Actually, we did try it at UNiTE.
After being signed to Dimitri Vegas & Like Mike's Smash The House, how's everything going?
D'Angello: Well, as the whole world knows, Dimitri Vegas & Like Mike aren't just big in only Europe but also the whole world. So we've been feeling great that our production and music will be in good hands of the people who are professional, creative and realistic. They care and love what they're doing.
Francis: Those two know exactly what they are doing and they give us the freedom to do everything our own ways. They want us to be the most of ourselves. However, they know when they heard something that's going to be legit or big hit. And if they love your creation, they'll just play it on their tour. Therefore, that's a huge shot there.
What are the differences you've noticed among European and Asian fans?
D'Angello: The crowd's excitement. You know, in Europe, we have so many EDM festivals. It's been there for ages. Of course, we have super cool and loyal audience as we can see from the numbers of attendees. And they love to come and party and cherish our music. But for Asian countries, this such festival is still something very new to them.
Francis: So from touring across the world, the difference that strikes us the most is the fresh excitement from Asian fans. They still have that 'wow' wide-eyed faces that literally lit up the dance floor. It's amazing to see them dancing around like crazy. We love it.
Any upcoming songs or projects that fans can keep counting down for?
Francis: Yes, we are going to release our new track(s) with Bassjackers in a month or two.
In your opinions, is playing in big festivals like Tomorrowland important to the DJs and why?
Francis: Because it's one of the world's top and biggest festivals for electronic dance music circuit. Everyone wants to at least once in their life play on the stage there. It's a huge door of opportunity for your fame and the industry.
Now, you've been one of the world's favourite spinners and are booked for countless parties and big festivals. Is there any other achievement that you are pretty much looking forward to at this moment?
D'Angello: We want to try something different like producing songs to air on the radio. We do want to make music for Asian artists as well, even though it's not happening yet but we're looking forward to such chances.
Francis: We always look for something different. We don't only want just to produce EDM forever, even though we love it. It's important to us or, I think, any producers of nowadays' world to go out of their comfort zone and come out with something innovative. Try something that breaks their boundaries.
D'Angello: Also, we want to play at Ultra and a big cruise as well. A big boat party sounds awesome.
Any advice for the beatmaker in the making or the amateurs out there who are trying to grow?
D'Angello: Being famous is like winning a lottery so I'd suggest that if you love what you're doing, you just keep doing it, practicing it. However, keep your mind opened is the key as well.
Francis: Always try different things. Don't just stick with your former success and be creative, be bold. And always know what you are doing.
Is it true that the DJ circuit in Europe, especially in Belgium, is quite competitive and that hardly had any DJ from another side of the world can actually find the breakthrough there?
Francis: Kind of but it's not as cruel as it may sound like. I think it's because EDM culture has decades-long been established in Europe. So for a DJ to shine or be remembered in a party or a festival, that one must really have a highlight of his/her own for real. Keep in mind that your audience have heard tons of EDM tracks already. And that's just the story from the people inside the circle already. But once you got support from the labels, they are like family, they won't abandon you.
D'Angello: I'd admit that it's quite hard to try squeezing more names from other places to the records labels in Europe. But it doesn't mean that it's not possible. We are still open for new and different styles.
Nowadays, we will see lots of DJs started producing their own music or records labels. Therefore, we are wondering whether these titles are considered essential to DJs?
D'Angello: Yes, pretty much. As you can see, nowadays, there are so many new and emerging DJs out there as well as parties and festivals. I think the most influential drive is the crowd that go for the shows. People go there to seek for authentic pieces from the DJs. Absolutely not for the songs the DJs selected for their sets from other artists or producers anymore.
---
About Octo: 
Nestling in Sukhumvit Soi 24, the place is known among the local and the visitors as a fascinating seafood landmark of the area for its delicacy and decor. Stepping inside, the giant octopus wrapping its tentacles on the front pillar gives a friendly welcome to all seafood lovers with bright eyes shining through the warm lights and shipwreck-like architecture.

Aside from the family-friendly vibe, the restaurant also feeds its customers with the affordable fresh-out-of-the-boat dishes like Thai-styled fried snapper served with sour and spicy sauce, stir-fried crab topped with curry paste and stir-fried squid with salted yolk.
Well, titled the name with "bar", the customers surely won't be disappointed by Octo's wide selections of drinks. The signature cocktails like White Rabbit Fizz, Bikini Sunbath and Surf Boy Cooler are a must try! Plus, we just heard that Octo has finally launched the beer buffet promotion, starting at THB599.
Address: 88/2, 88/9 Sukhumvit Soi 24. Open daily: 5pm-1am.
Have something to add? Tell us!