As the opening of the 32nd Singapore International Film Festival approaches, we at AsiaLive365 took a closer look behind 'Scene UnSeen' – a heartfelt documentary about the underground music scene that has caught our eye.
Taking place at the Esplanade Theatre on 28 November, 'Scene UnSeen' presents itself as a heartfelt and honest documentary that takes the audience on a journey through a series of interviews, archival footage and animation as it captures the pleasures and pains of Singapore's underground music scene. Lovingly stitched to show the ethos of the community, special live performances by pioneering rock band The Oddfellows, and Singapore's first all-female hardcore band, Obstacle Upsurge will also follow the screening.
We interviewed the producer Panuksmi Hardjowirogo as well as the bands to find out more about their insights on this piece of film.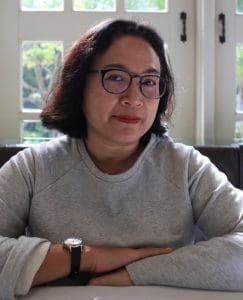 AL365: Hi Panuksmi, Vanessa here from AsiaLive365. Thanks for taking the time to talk to us. What can you share with us about the journey in producing this documentary?
Panuksmi: In 2015, I approached Abdul Nizam to direct a documentary on the underground music scene in Singapore. Nizam was a filmmaker/musician that belonged to this community. He passed away too soon in 2016, before the completion of the film. We sat on the footage for some time and from 2017 – 2019 with the tenacity of Michel Cayla (editor) and Mark Ravidner Frost (writer), devised the narrative of the documentary with existing and additional interviews with the help of Nina Chabra and Shaiful Risan.
AL365: Were there any difficulties that you faced in producing it?
Panuksmi: Funding, or the lack of it, was always an issue but we were not deterred and with the help of many, we completed the film which took several years to complete.
AL365: We love how the documentary is such an insight into a scene that is pretty much "unseen", hence the name. How do you feel about the world premiere of it and what can we expect from the screening?
Panuksmi: We are really pleased to premiere the documentary at SGIFF and that it is programmed as an event at the Esplanade to include conversations with several involved in the film and with two live performances by the Oddfellows and Obstacle Upsurge. The audience will see certain band members speak their minds about how they have continued to create despite the challenges they had to face. We hope that their perseverance and resilience comes through in the film.
AL365: What are your thoughts on the underground music industry in Singapore and what are your hopes this screening will evoke in the minds of film goers?
Panuksmi: I learned by being involved in this film that the underground scene is not part of an industry but a community of artists who take their art seriously and get it out into the world with their respective DIY methods. Their need to create will never die.
AL365: Is there anything else that you would like to share with our readers about this documentary and why one should watch it?
Panuksmi: The film is told by several creatives from the Singapore scene. Music is what they make but it is not necessarily what fully defines them.
AL365: Hi The Oddfellows and Obstacle Upsurge. We heard that you all will be playing at the Esplanade on 28 November after the screening of 'Scene UnSeen'. How stoked are you about this and your forthcoming live performance in the theatre?
The Oddfellows: Abdul Nizam, who started making the documentary until he passed away five years ago, is a dear friend of ours. He used to play drums for The Oddfellows in '91 and '92 so this means a lot to us. We're very excited to be performing as it's a way to honour Nizam's memory and it'll also be our first time performing in the Esplanade Theatre and sharing the stage with Obstacle Upsurge.
Obstacle Upsurge: Words cannot illustrate how delighted we are to be performing live as part of the event in the theatre.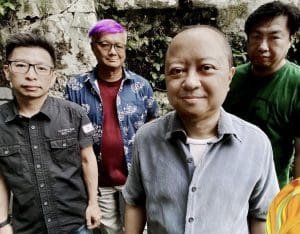 AL365: The documentary looks like such a heartfelt insight into a scene that is pretty much "unseen", hence the name. How did you feel when you found out about its release? Have you seen it? What emotions did it project in you? 
The Oddfellows: I've not seen it yet but from the trailer, it'll be a pretty good insight into the music scene. We are looking forward to watching it.
Obstacle Upsurge: Oh yes, we did watch the screening, and it was amazing. We felt touched that MGO Films produced documentaries to convey our voice to members of the public. It will enable viewers to interpret better about our art.
AL365: As musicians in the industry, what are your hopes this screening will bring to light or evoke in film goers?
The Oddfellows: We hope that people watching it, especially those unaware of the scene, will see the passion and challenges that musicians face in Singapore and hopefully it will also inspire the viewers to find out more about Singapore music or get out there to create something for themselves.
Obstacle Upsurge: As musicians, we yearn to have more filmgoers appreciate the sweat and struggle we had to bring this art for everyone.
AL365: What are your thoughts on the underground/indie music industry back then and how do you think it has changed over the years?
The Oddfellows: It was a very DIY movement from the grassroots level back then. It is still very much like that today. The only difference is that young people have a lot more resources now than before, and there's also social media to connect with people directly. We relied mostly on word-of-mouth and fanzines a lot back then.
Obstacle Upsurge: Back then, our scene was more expressive, and unity among us was more heartfelt. Over the years, the venues lessened. Our underground performances hence are forced to be exclusive.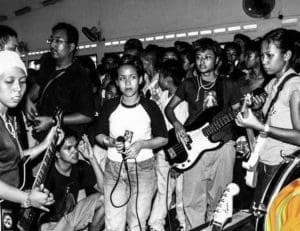 AL365: Besides SGIFF, are there any projects that you are involved in at the moment? What's in the pipeline ahead?
The Oddfellows: The Oddfellows have just released a new album, What's Yours and Mine, on streaming platforms and the physical formats should be out in the next couple of months.
Obstacle Upsurge: Currently, we are not involved in any additional projects. What we hope is to have more venues presented to us for our performance.
AL365: Is there anything that you want to add or share with our readers about the screening, industry or your music?
Obstacle Upsurge: Through the screening, we aim to develop more recognition towards the Underground Music Industry to everyone.
AL365: Thank you everyone.
Catch the trailer of the documentary below.
Tickets are priced from $15 – $25 and can be purchased via Sistic.
For more information about the 32nd Singapore International Film Festival, visit SGIFF.
Have something to add? Tell us!