It's been fifteen years since Dutch duo Showtek began their music career. From techno to hardstyle, EDM to bigroom, Wouter and Sjoerd Janssen have mastered and contributed to different styles, and every time continued to reach new heights.
The world-dominating, globetrotting brothers are making the rounds back to Thailand again after over a year, performing at Maya Music Festival 2017 which is happening this February 17-18 at Pattaya, Chonburi.
See also: Fedde Le Grand on GRAND show, Darklight Sessions and Mystic Valley Festival
AsiaLive365 caught up with Showtek ahead of their appearance on Sunday to talk about their current (industry) affairs, their label Skink, and the "magic of music".
Electronic music has taken over the Top 40. As the propellors of this phenomenon, how would you describe the relationship between pop, electronic and your music?
In 2013 and 2014 our music crossed over and we had a lot of radio play all over the world. Dance music took over pop music but it was still a genre on its own. Nowadays the genres have blended together and pop music has dance influences and the other way around. Our newest single ("Believer" with Major Lazer) has a pop vibe in the break combined with a big typical Showtek dance drop.
Every year you play at all these big festivals and new ones popping up in this side of world. What are the challenges you face in creating new dance experience for the crowd? How big a part technology has in this?
We think it comes all down to good music. You can bring on board what ever you want, it's all about the music. People just want to sing along or dance to a certain drop and nobody really cares how it's being played. We try to implement more live elements into our shows by having a live singer with us, or an MC, or playing live keys but there is no technology that makes the show in itself. Of course, there a lot of cool technology to support the show and to make it look and sound better.
How would you describe your fan base now compared to five years ago?
Five years ago we just had diehard hardstyle fans. We still have some, because most of our fans grew with us into our new sound. Some of our fans just love to rave, some of them love us like they would cry when they see us, but what they all have in common is they share a passion for the same music and, when they come see us play, share at the same moment.
For many people, starting their own label seems like the ideal scenario. What motivated you to start Skink?
In 2013, we wanted to create our own platform with a signature of its own. Till now we're still building it. We want to be independent and not to be part of something big necessarily. Maybe it's an artistic thing. It would be great to work with bigger labels but it's also good to have our own label with our own sound and maybe a more underground kind of thing going on.
How will Skink shape landscape of electronic music?
We had some really cool and very diverse releases last year. We're still building the label though, to make it bigger and more independent. Overall, we are doing very well so far. The Showtek name has become influential in the dance industry and it's cool that we can try to build our label around it.
We hope to sign more talents this year. Supporting is something we're going to focus on way more this year. We want to make Skink less of a Showtek label, but more a label that's created by Showtek, that builds up a platform for other artist and trying to support them to the next level by helping them with producing, trying to get them on some support shows.
Can you give us a teaser of what we can expect from Skink in 2017?
We're trying to go for more crossover, more diversity in sound and styles. We wanted to really go all the way from the left to the right. We have a remix of our song "Mellow" by YDG, which is doing very well. We hope to have more different music like that to release!
What new product, service, or idea that you think will radically change the music industry?
We liked the way Shazam entered the music industry, it became so democratic. Back in the day, the big labels were running it. Now the Shazam list is a huge influence on where a song is going. The more people search for the song the bigger chance it's getting picked up by radio and that's actually a good thing.
What's the secret in crafting anthems that will go on to be club and festival staples?
Guess that's the magic of music—you never really know. But music brings emotions alive and it's very much based on momentum. The fact that we can't really tell makes it so beautiful. Obviously, we always try to use our signature, a big melodic hook, and try to create a lot of energy, but that never guarantees a hit.
What would be the most effective ways to fight a jet lag? And what should we never eat on the plane?
We don't think about the jet lag; just go and sleep when ever you tired. We never really spend more than a few days somewhere so to fully adapt to jet lag isn't the smartest. Guess we don't even know what jet lag is anymore—we just live through it. But if you want to try to adapt the best way is to go see the sun go down and eat in the same time zones and stay away from sleeping pills and all that crap!
Sjoerd is a vegetarian so no meat or fish on the plane. If it's possible, we'd rather not eat plane food at all.
Any pre-show rituals? And how do you cope with nerves before gigs?
Have a glass of wine or a beer and just laugh it off, try to focus on something else. That's why we go to dinner before show, just eat, laugh and relax. Being nervous is good, it means you still love your job!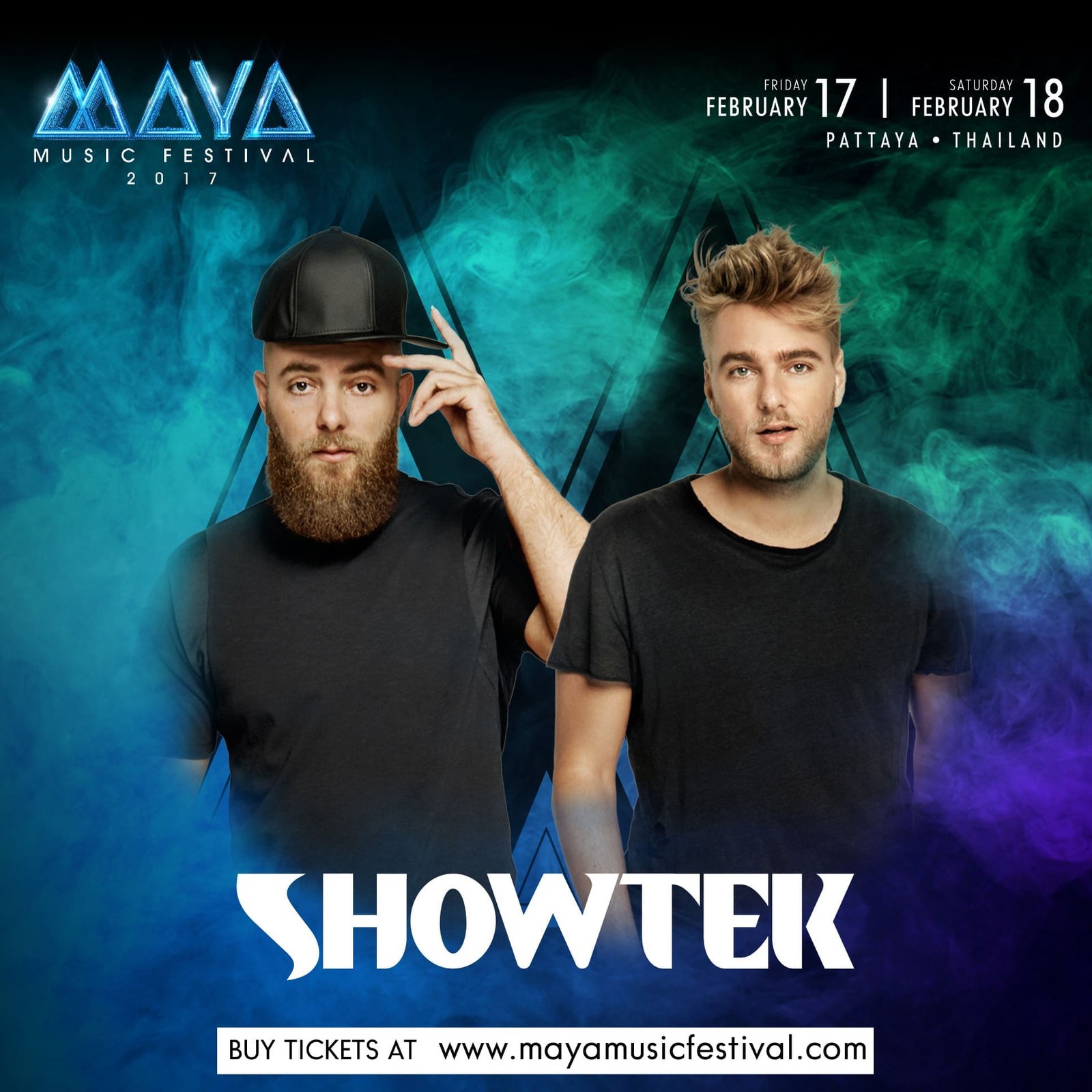 Catch Showtek live on Saturday, February 18 (11PM-12.30AM) at Maya Music Festival, Pattaya. Also performing are Zedd, Tiësto, KSHMR, Wiwek and more. Tickets are sold at door for THB5,000 (2-day General Admission) and THB8,000 (VIP).
Have something to add? Tell us!