Ahead of the album's release next Friday (April 24), we asked The Used's bassist Jeph Howard what they've been up to and what Heartwork means to them.
Formed in 2001 in Utah, The Used consists of vocalist Bert McCracken, bassist Jeph Howard, drummer Dan Whitesides, and guitarist Joey Bradford.
Now into their eighth album 'Heartwork' which will be released next Friday (Apr 24), the band is also known for songs such as 'The Taste Of Ink', 'Pretty Handsome Awkward', and 'All That I've Got' – which have had at least 20 million hits in Spotify.
The band released their single 'Cathedral Bell' today on Spotify and YouTube – and it is a banger!
No surprise that it has close to 10k views since its release a few hours ago.
Prior to this, the band have also released 'Blow Me', and 'Paradise Lost, a poem by John Milton' – both songs of which define the band's post-hardcore and pop punk styles.
ASL365: Hi, The Used! Vanessa here from AsiaLive365. Congrats on the upcoming album Heartwork.
Bassist Jeph Howard: Hello Vanessa! Thank you I'm super excited about it coming out.
ASL365: Tell us more about the conceptualisation of Heartwork.
Jeph: We went into the studio with around 20-30 ideas, ended up scrapping them all and starting over from scratch. We really wanted this album to be an updated continuation of the first three records which I think we captured. It has the heart of the first record mixed with the soul of In Love And Death and the production of Lies For The Liars.
ASL365: How has 2019 been like for you guys and, besides the new album, what do you have planned for 2020?
Jeph: 2019 was spent mostly working on the album, it's been great splitting up all of the recording and writing into 3 separate times in between touring.
ASL365: The album artwork for Heartwork looks like a tarot card of some sort – where did the inspiration come from and who was the artist?
Jeph: The artist is Cam Rackam and the cover is a mix between a bunch of different literary influences of ours, plus of course our lovely noose heart being in the center. Lots of hidden items and meanings, worth a long long stare if you like to read.
ASL365: 'Blow Me' sounds a tad more heavy, while 'Paradise Lost', a poem by John Milton has more of an emo and pop punk feel. What sort of sound or variations of colours can we be expecting in its full release in April?
Jeph: The record has a lot of ups and downs, if it were a rainbow it would have the visible as well as the non-visible spectrum like ultraviolet and infrared. Heartwork does have an even heavier song on the record that features Caleb Shomo from Beartooth as well as some incredible melodic singing from Bert himself. If you were stranded on a desert island and you could only bring one album to listen to, this would be the record to bring.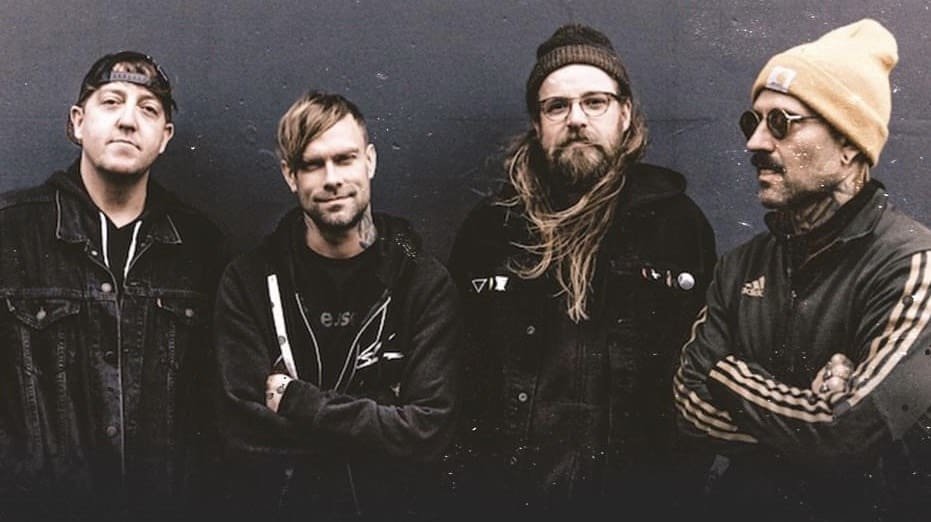 ASL365: What was it like collaborating with Jason Aalon Butler from Fever 333 for 'Blow Me' as well as members of Blink 182 for 'The Lighthouse' and 'Obvious Blasé'?
Jeph: It was great, I had so much fun jamming with and watching the ways inspiration comes to these incredible musicians. Really excited for everyone to hear.
ASL365: If you could collaborate with a band/solo artist that you haven't collaborated with before, who would it be?
Jeph: Ebo Taylor, Marvin Gaye, the African 70 or the Egypt 80 depending on if time and space don't matter.
ASL365: If you could pick a favourite song from all your albums, which one would it be and why?
Jeph: 'Cathedral Bell' and 'Pieces Mended'. Yup had to pick two. For 'Cathedral Bell', I've been jamming over and over again. There is an older version that's more basic, and I still love that version as well as the vocals are just too damn good to deny. 'Pieces Mended' is a favorite because the music is really well thought out, and the ending music/vocals is great too. This one has always been an all-time favorite.
ASL365: You guys were last here in 2013. Any plans to return to the region for a gig?
Jeph: Yes, I personally miss Singapore and all of SEA so much. There is always talk of returning, it's all about timing and love from fans.
ASL365: Thank you The Used and we hope to see you in Singapore again soon!
Jeph: Thank you, please help bring us back soon!
'Heartwork' will be out on April 24, 2020. https://theused.ffm.to/heartwork
Have something to add? Tell us!