Not for long now, UNITE with Tomorrowland will launch its first edition in Taiwan. The country's southern port city Kaohsiung will join seven other cities around the world in giving dance fans global and unique Tomorrowland experience on Saturday, July 29.
Beside headlining sets of Armin van Buuren, Dimitri Vegas & Like Mike, KSHMR and Alesso that are livestreamed straight from Tomorrowland Belgium, UNITE with Tomorrowland Taiwan will see epic live performances unlike anywhere else on the Main Stage. Joining us this year are Showtek, Dannic, Florian Picasso, Shogun, DJ Feel, and more.
We talk to each lineup performer about their Tomorrowland memories, Taiwan and their upcoming gig. Here's part 2 of the interview featuring Shogun, the first Asia producer to be signed with S107/Armada, and Russian trance meister Philip Belikov, better known as DJ Feel.
Shogun
When UNITE with Tomorrowland was first launched, what was your impression?
A lot of people want to attend the Tomorrowland festival in Belgium. For some, it is simply too far away, and for many that do want to still go. Still, it is very hard to get a ticket in time because of such a huge demand. So having Tomorrowland reach out to the fans globally by bringing the experience right there in their country is a brilliant thing.
Why did you choose Taiwan as the stage for your UNITE with Tomorrowland debut?
Well, what better place to celebrate the expansion of the Tomorrowland brand than right back in my home country, a place which I am truly connected with and love profoundly? There is no place like home and that's why I'm so pleased to be part of this exciting adventure from day one.
You have a lot of fans in Taiwan. Knowing that, how will you prepare your set?
I think they're in for some big surprises. I cannot say much at the moment but I've been going towards a different sound both with my new material that will start to come out as soon as this August and with live performances. This show will be the first time I will showcase both the new music and musical direction. It never felt so right to do this in front of the fans in Taiwan. I want to share this very special and important moment of transition with them first!
Fill in the blank: What we can expect from Shogun at UNITE With Tomorrowland Taiwan is…
The sky will be on fire and we will light this one up together!
For die-hard EDM fans, it is a dream come true to set their foot in Tomorrowland. What is Shogun's dream come true?
Right now my dream is to bring the new music to my fans all over the world and the bigger dream is they will enjoy it as much as I did making it!
Any message for your Asian fans?
Asia is a place close to my heart. And Taiwan is my home country. So I really hope that everyone will come out to the show so we can be truly UNITED on that day!
DJ Feel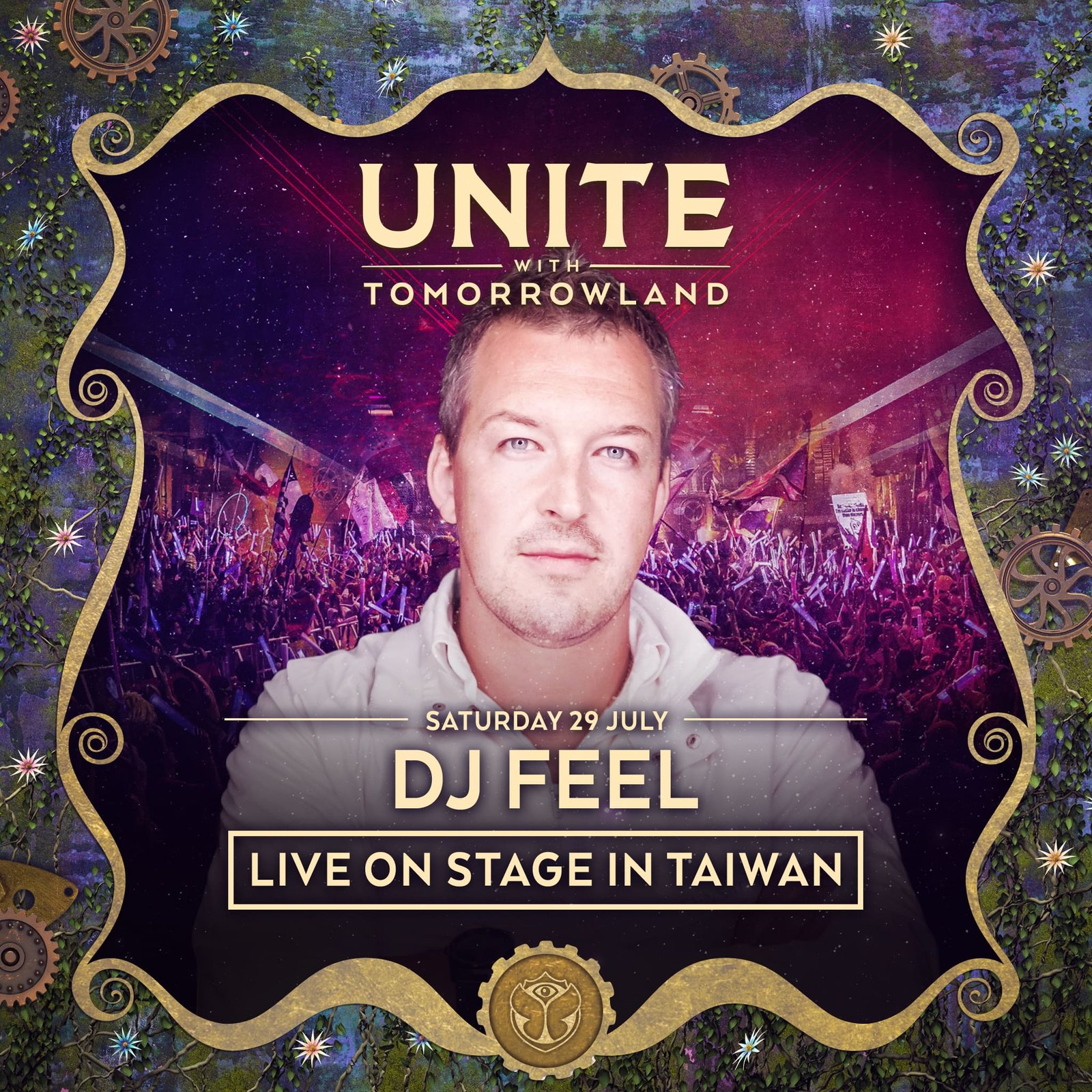 How would you describe your music?
My music is different, but always from the heart. On the radio, I can be more melodic, romantic and melancholic. And on the dance floor I can be more aggressive, more clubby, but still melodic. I'm a DJ, so I can try to find the right music path for every moment of my DJ set and production.
What is your impression of Asia?
I love Asia. The dance scene in Asia is growing up and this is a fantastic feeling, that you are the part of it. You have many great clubs, with massive sound systems and amazing light installations. But the main atmosphere depends on people in the club, people on the dance floor. And I can say, that Asians are very opened and ready for the dance music and club culture.  I have many gigs in China clubs – people are always very positive, they prepare special posters with your name for parties. It's unique.
Will this be your first trip to Taiwan? What have you heard about the country?
Yeah, this would my first time in Taiwan. I've been in China, Indonesia, South Korea before but never been in Taiwan. I've seen many photos of the country's beautiful nature so I hope to have some time to check out some places around festival. I know that the club scene in Taiwan is booming, so I think this festival will have a big success.
What's your most favourite Asian dish??
I like Chinese food. We have some restaurants in my city, St Petersburg, that I often visit. Rice with chicken, pork and pineapple in sweet and sour sauce, noodles, those are my favourites. I'm not a big fan of soups.
Why did you choose Taiwan as the stage for your UNITE with Tomorrowland debut?
I'm always looking for new places and cities. I'm happy that my profession as a DJ gives me the opportunity to play my music in different parts of our wonderful world. And of course, UNITE with Tomorrowland is a very big cultural thing so when I heard that I will be part of this festival I felt like the luckiest guy on the earth.
Fill in the blank: What we can expect from Feel at UNITE With Tomorrowland Taiwan is…
I've already started preparing something special for Taiwan – strong, musical energy with full of positive melodies. And of course, something very special from my production. Keep your eyes and ears open at the Main Stage during my set.
In three words, what is Tomorrowland to you?
Global musical earthquake!
Do you still experience nerves before gigs? Do you have any pre-show rituals?
I think every artist is always nervous a little before the show. It's a very special feeling; it gives you the right push and adrenalin to perform on the stage. I don't have any special ritual before the show, but you always have to prepare for a particular city, make special playlists and do a soundcheck.
What plans do you have to make an impact in electronic music this year?
I'm working more and more with Armada Music and Armin van Buuren himself. This helps me expose my music to more people around the world. I'm so proud that I've just released my remix of the super hit, Armin van Buuren ft Christian Burns's "This Light Between Us". It's on the new album, The Best Of Armin Only. I've also got more singles already signed to Armada. I'm ready to push DJ Feel further.
Read part 1 of the interview with Showtek and Florian Picasso here.
UNITE with Tomorrowland Taiwan is happening on Saturday, July 29 at E-DA World Theme Park, Kaohsiung. Tickets available via 

KKTIX

 (Taiwan), 

Ticketbox SG

 (Singapore) and 

Ticketbox VN

 (Vietnam). Exclusively for AsiaLive365 readers, you can secure your UNITE with Tomorrowland Taiwan tickets through us See 

here

 for more details. 
Have something to add? Tell us!