HAVE YOU HEARD? brings Jerry Paper to captivate you with his smooth sound and expressive vocals!
The newcomer Lucas Nathan, namely Jerry Paper will fill your heart up with his creative persona and mellow melody. Previously having toured along with Mac Demarco, Mild High Club and Badbadnotgood. Nathan is also known for his unconventional performance on stage and his diverse musical influences including Steely Dan, 70s Brazilian records, Stereolab.
Nathan is interested in what is beyond the binary numbers of zero and one. In his opinion binaries are a good tool when it comes to categorizing the world and figuring things out, but it isn't how the world works. This is where his Diane Kensington Project and the title track of the Jerry Paper album "Fuzzy Logic" came from. "Like Baby" was another album that was co-produce by Nathan and Matty Tavares of BADBADNOTGOOD. Inspired by the move from LA to his hometown New York.
By using the name Jerry paper as an alter ego allowed him to figure himself out more about his actual self, as he is able to push boundaries of the perception of what his identity is capable of achieving. See below for his songs.
Catch Jerry Paper on the 21st June at Goose Life Space, Sanam Pao, Bangkok Thailand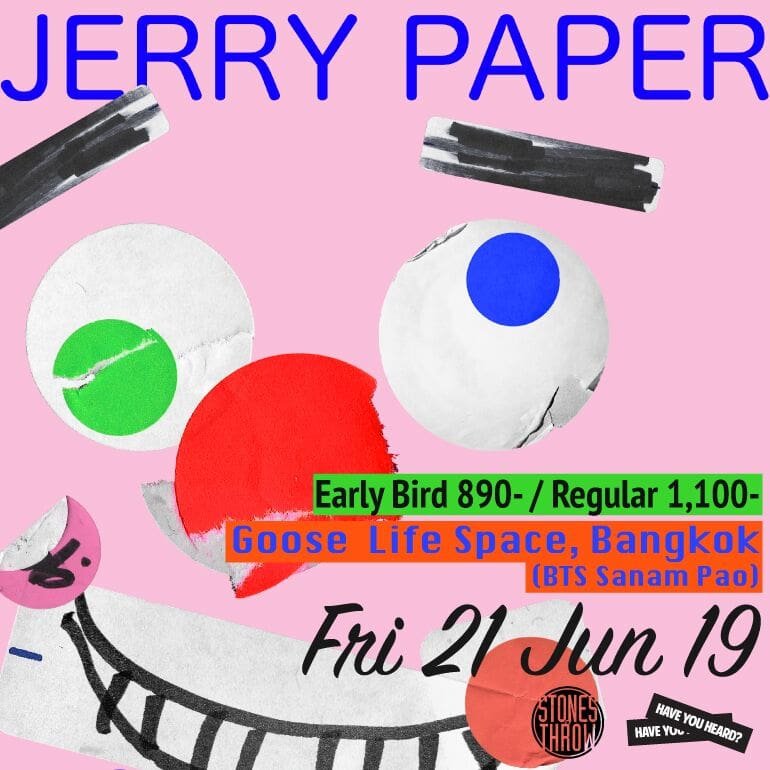 See event 

page

for more information
Tickets are now available at

Ticketmelon.com

**
Prices are (Early Bird): 890 THB // (Advance): 1,100 THB
Jerry Paper – "My God"
Jerry Paper – "Your Cocoon"
Jerry Paper – "Grey Area"
Have something to add? Tell us!